Adult Coloring Books: Complex Designs, Pictures and Patterns for Coloring
by Pastiche
Printable adult coloring pages, posters and complex design patterns for coloring appeal to grownups and older kids who enjoy arts and crafts
Relaxing Art for Everyone - Adult Coloring Books
The Joy of Coloring for Adults and Older Kids: Challenging Coloring Books and Posters
Adult coloring books are wildly popular with a wide range of creative types: older kids, ordinary folks like you and me, crafts designers, seniors and yes, artsts all enjoy coloring books with challenging,

detailed pictures to color in.
Many artists and illustrators publish reproductions of their art as adult coloring books. Fine art paintings from the great masters are available as coloring pages for adults. My favorite adult patterns for coloring are the detailed design, complicated line drawings and fantasy scene coloring pages with a psychedelic or pop art influence.
Coloring is a Lifelong Art Hobby, Fun for All Ages
Coloring inside or outside the lines, color pictures of your own or of your favorite subjects
Whatever your favorite art topic, subject or genre, you can find an adult coloring book with pictures you'll enjoy coloring in or using to make crafts.
Challenging coloring book topics range from abstract shapes, fantasy pictures, mandalas, paisley designs, kaleidoscopes and geometric designs to realistic scenes from history, fine art reproductions, flowers, plants and animals,costumes, animals,  nostalgia, abstract images, 3D designs and just about any type of picture you could possibly imagine.
Markers for Adult Coloring Artists
Brilliant colors, thick and thin lines, permanent or watercolor markers
As an adult, do you enjoy coloring pages or adult coloring book art?
Don't be shy ... lots of grown ups and big kids like to color!
Abstract Design Coloring Books
Beautifully drawn and detailed adult coloring books with challenging patterns for coloring
Coloring Page Craft - Design Inspirations Make Everyone an Artist
Use coloring pages for off-paper crafts, design work, or personal artistic projects
Many artists and designers  find inspiration in the fanciful pictures and complex patterns found in adult coloring pages. I like to scan simple patterns and then use various graphic editing tools to make
my own iron on transfers, morphed and warped drawings - my own kaleidoscope coloring pages.
Sometimes I combine multiple pictures to create a mural or poster design. I've used coloring pages to make other crafts with fabric, fiber and wood. I like to print a favorite picture from a coloring page onto a sh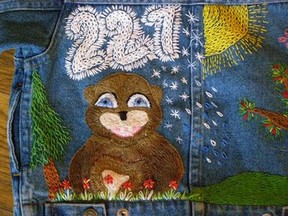 irt or jacket then stitch over the outlines with thread  or embroidery floss by hand or machine to make a unique fiber painting.
I've used coloring pages as iron on transfers for my grandkids to color in on tee shirts and bags with special heat-set crayons and fabric paints. I've even decorated denim jackets with embroidery using a coloring page as the pattern. Coloring pages lend themselves to many different arts and crafts like embroidery, paper piecing or quilting.
Think outside the lines and the paper sheet ... coloring pages offer design inspiration to anyone - not just artists!
Photo: denim jacket free hand embroidery design copyright Lee Hansen, 2008. This design was based on a printable holiday coloring page image I created for my web site in honor of my grandson's birthday - he was born on Groundhog Day in 2007!
Mandala Coloring Books
Coloring a mandala can help clear your mind or help you relax
How to Make Your Own Artistic Coloring Pages
You Can Make a Coloring Page from a Photograph or Graphic File
Make a personal coloring page from a photograph or any digital graphic you have on your computer - it's not difficult and you can use your coloring page to create very special artwork or gifts for family and friends.

 

The easiest way to make a coloring page from a photo is to use an online service that will automatically do the conversion for you.

 

If you don't have access to or don't want to work with a graphics editor you can use a free online service from a  site I've checked out. The small coloring picture to the right was created from one of my own photographs. It took less than one minute to upload the picture and change it to a coloring page. The online services to make your own coloring pages are easy to use - all you need is an existing graphic file or scanned photo.

 

If you're comfortable with Photoshop or a similar graphics editor, follow the instructions in the video tutorial or follow the steps in the simple instructions for Photoshop or Corel.

 

Make Your Own Coloring Pages
My Favorite Adult Coloring Tools: Colored Pencils
Blend colors, add textures, create watercolor effects wth art pencils for coloring
Printable Mural Coloring Pages
Free mural art projects for coloring
The Umbrella Coloring Mural Project
ll you need is a large sheet of mural paper about 3 feet by 6 feet and paints or crayons. Click on the small pictures to download the full sized artwork, or click on the link below each picture for the PDF version. Then color, cut out the images and paste to the mural. Print as many copies as you wish.
Noah's Ark Jumbo Mural Art Coloring Craft
Print and color detailed animals, people, scenery and the Ark then assemble on a large piece of paper to create a large coloring pictures art mural.
G-Rated Adult Coloring Pages and Coloring Books
Suitable for all ages, these adult coloring pages are safe to share with Grannie or your Mom.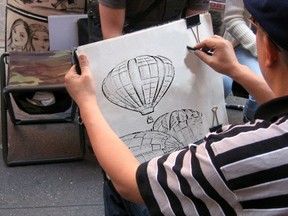 Although there are web sites and coloring books that publish erotic or explicit adult pictures to color - suitable for mature audiences only - they're not part of this story. 
When I started to research adult coloring as an arts and crafts hobby, I set out to find the very best G-rated adult coloring books and detailed coloring pages with line art that's challenging, detailed and recommended for grownups, teens and older kids who enjoy coloring.
I've been drawing coloring pages and complex designs for coloring for most of my life - more than 50 years. I've always been a doodler, and many of my doodles become free printable coloring pages that adults enjoy. As an artist, I've discovered many great adult coloring books featuring new and classic art made into coloring pages and posters. I'm sure you'll be able to find interesting adult coloring book pages from the resources I've gathered,  or they'll help you to do additional research and find just the right coloring pages and adult coloring designs to enrich your personal pursuit of coloring pages as an adult.
Art Coloring Books for Adults
Folk Art and Fine Art Coloring Books - Artistic Masterpieces You Can Color
Ad
Free coloring pages for adults and teens
Printable adult coloring pages for grownups and older kids who like to color
Complex Coloring Pages for Adults
Details, Designs, Inspiration, Relaxation with Adult Coloring Pages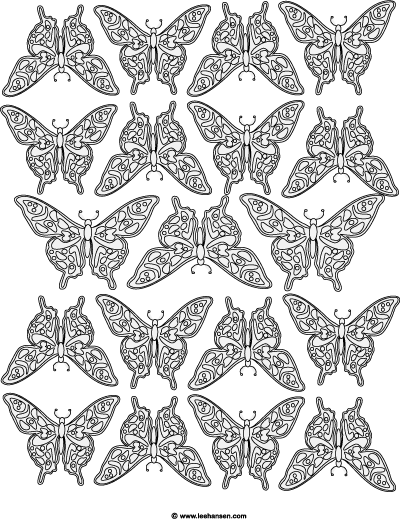 Butterflies Design Coloring Page
---
Disclosure: This page generates income for authors based on affiliate relationships with our partners, including Amazon, Google and others.