African Violets
by BrendaReeves
Baron Walter von Saint Paul, while serving as governor of an African providence in 1892, discovered African Violets growing on shady rock ledges.
Houseplants
After Saint Paul sent some African Violet seeds home to his father in Germany, the colorful flower spread throughout the world. By the early 1900s African Violets were in homes in Europe, and they became a houseplant favorite in America in1936 when "Better Homes and Garden" published an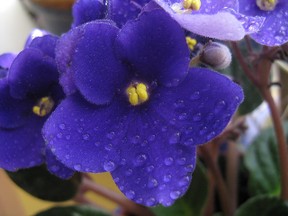 article praising their beauty. The easy to grow houseplant now adorns winter households throughout the world colorfully brightening their caretakers' long bleak days with almost every hue imaginable including pink, red, white, green, and a buttery yellow. There are now more than 3,000 cultivars of these prized beauties.
Lighting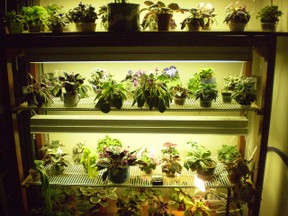 While they do need good light, they cannot tolerate direct sunlight. An East or North facing windowsill will keep them blooming happily. An alternative is to place them under a grow light with a timer. If the plant doesn't flower, it's not getting enough light. If the plant has brown spots or brown edges, it's getting too much light.
Many African Violet enthusiasts make grow shelves as seen at left.
Watering
As with most houseplants, over watering results in a quick death. Once the top dirt is dry, the best way to water African Violets is by placing a dish beneath the plant and filling it with pebbles and water. Use tepid water: not too hot or too cold. Filling a watering can and letting it sit for a day or two guarantees room temperature, and the chlorine and flouride dissipates. After the water is absorbed, fill the dish again and leave it until next watering. According to the African Violet Society of America, the potting mix most African Violets are sold in is primarily peat moss. The prepared mixes are sprayed with a chemical that causes the peat moss to absorb water. This places the plant in danger of being too dry or too wet.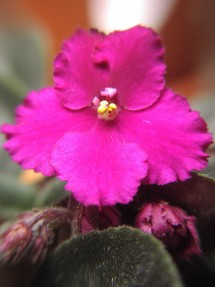 The solution: repot it as soon as it's brought home. A mixture composed of about two parts fertile loam, one part leaf mold or peat, and one part sand or perlite is ideal. Unlike most other houseplants, the African Violet must be root bound to thrive and bloom. Choose a pot that is 1/3 the diameter of the plant. A pot of the proper size also helps prevent root rot. Repot the plant every six months. The plant will get new nutrients through having fresh soil, and will also get rid of fertilizer salts that may have accumulated. Also repot the African Violet if it has developed a neck: a place where the leaves have fallen off. Make sure the neck is covered with soil so it can grow new roots.
Propagating
African Violets are one of the easiest plants to propagate. Simply take a leaf cutting with 1 to 1 1/2 inches of the stem in spring. Then make a hole in the growing medium (such as a half sand, half vermiculite mix) with a pencil, insert the leaf stem into the hole. Roots normally appear at the base in 3 to 4 weeks, and leaves of the new plants appear at the medium surface 3 to 4 weeks after root formation. In two to six months; young plants start from the base of the stalks which you'll be able to repot once they've formed two to three leaves. Another way to propagate is by division. Cut each crown away from the plant carefully so that each plant has its portion of the root system, and plant.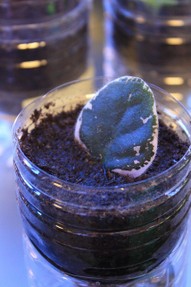 Most African Violet enthusiasts have dozens of the plants in their house. These easy care plants require nothing more than correct potting, watering, lighting, fertilizing and room temperature. They're easily propagated making them easy to share with friends and family. No longer do collectors have to settle for the purple and blue colors their grandmothers cherished. They have access to a plethora of colors including variegated varieties
---
Disclosure: This page generates income for authors based on affiliate relationships with our partners, including Amazon, Google and others.