I Love my Autoharp
I love instruments with strings, and few instruments have more strings than the Autoharp. The autoharp is a folk instrument that almost anyone can learn to play at any age.
Introducing My Autoharp
I'm thinkin' she's about 30 years old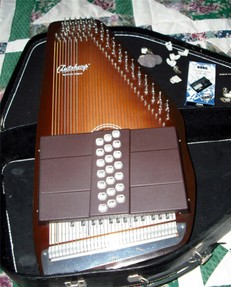 This is my 21 chord Autoharp.  I've written about her before here and there, but never have used my own picture, so thought I'd take one this time.  Later I'll have links to other places that I've written about my autoharp that people seem to enjoy visiting fairly frequently.
As I shared on my "Who is happynutritionist..." bio page, I learned to play the Violin to some degree as a younger girl, but the school I attended didn't have a place for violin, so I was discouraged. I put aside the instrument even though I loved it.  In recent years I sold the violin, and purchased my first autoharp.  Since I didn't know much about the autoharp at the time, and didn't know that more chords was better, at least for me, I sold the 15 chord autoharp for more than I purchased it and purchased this one with 21 chords.
The Oscar Schmidt label inside says across the top "1879-1979" and then goes on to give the CR-21 model info., so am I to assume that my autoharp was manufactured in 1979, the year that I was married 32 years ago? 
I'm not sure, but do know that it was in perfect condition, not a scratch or mark anywhere, when I received it.  The outside of the case I received it in and still keep it in is a bit beat up, the inside is in clean perfect condition.  Was it an autoharp that someone purchased and just let sit in a closet unused?  It looks like it.  Whatever the case, I love everything about my autoharp.
by Claudia aka happynutritionist
Updated 11/2/11
This is the same model that I have
Learning to Play the Autoharp Isn't Hard
I taught myself with the help of some books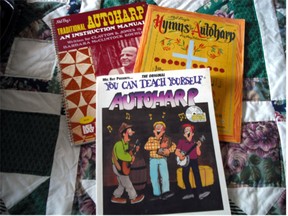 I learned a lot about playing the autoharp by watching others play, both "in person" and on video. If you find song chord notes written above the music, it's a great start.  The next thing is to see whether those chords match the chords you have on your autoharp...for me this is one reason why having 21 chords as opposed to 15 was an advantage, you can just as easily push buttons on one as the other, so why not have as many as possible?
It's even better if you can get music books written especially for the autoharp.  Some of the ones I have are pictured here, and below.  I particularly like "You Can Teach Yourself the Autoharp" - it's very helpful and includes a CD in a pocket in the back so you can visually see how the instrument is played.  You can also see 3 different ways to hold and play the autoharp at my "Strumming the Autoharp" page. 
I believe my next purchase is going to be the "Celtic Autoharp" book, it comes with a CD as well.  And I included the thick red "Maranatha Praise" book below because the spiral bound edition (not to be confused with the small books you can buy with only words for people to sing along) has many contemporary hymns with music and chords.
Tuning an Autoharp can Make you Crazy if you Let It, I don't
Just sit back, relax, and give it a try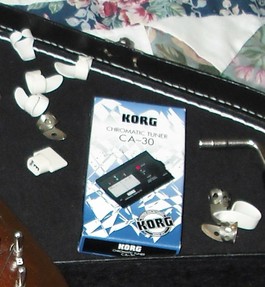 I have a friend who takes her autoharp to a music shop to have it tuned professionally, that's probably the easiest thing to do if you have the money and don't want to bother tuning it yourself, but you can do a pretty good job yourself if you have a good ear, tuner and autoharp tuning wrench.  You need a sturdy wrench to do the job.
I have the Korg CA-30 Chromatic Tuner, there may be more advanced models now, but it works for me.  I set it on the autoharp, and it "hears" the chord and shows you on the display whether you're playing the right note or chord.  You have to get used to how to work with it.  I use an electric keyboard to help as well, as the autoharp has a template I guess you'd call it, under the strings at the wide end that looks like the black and white keys of a piano.  So I play the note on the keyboard, tune as close as possible to the note by ear, then refine with the Korg, or something along those lines.  You do have to be patient, there are lots of strings on an autoharp.  Once it's tuned, push each chord button and strum through the strings...believe me, you'll know if it's off key, it's painful to listen to:-)
How to Use Finger Picks on an Autoharp
It varies with what your playing, how your feeling, it's a personal thing
I have plastic thumb picks and metal finger picks, this is pretty standard for playing an autoharp.  I also have a regular guitar type pick...did you know some people strum an autoharp like a guitar?  It's not typical, but there are those who enjoy doing that.  The more I learn about playing the autoharp, the more I see that almost anything goes as long as your music sounds like it's something worth listening to and your having fun.
But I'm pretty traditional, play by holding the instrument up against me, hugging it is what I like to call it, right hand strumming, left hand working the chords.  More often than not, I use 3 fingerpicks, 1 thumb, and 2 finger, and only occasionally a full hand of picks.  The links below will take you to other pages I've done about the autoharp, I hope you enjoyed this page, and will enjoy them as well. Most of all, if you don't own an autoharp, or haven't started playing, I hope I've talked you into buying and learning to play the autoharp, it's worth a try, and I think you'll enjoy it. 
Links to other Autoharp Sites
---
Disclosure: This page generates income for authors based on affiliate relationships with our partners, including Amazon, Google and others.