Barnyard Animal Birthday Party Ideas
by JS0425
Barnyard parties are a great way to celebrate children's birthdays! You will learn how to host a barn party throughout this article!
Planning a Barnyard Birthday Party!
Are You Looking for a Birthday Theme?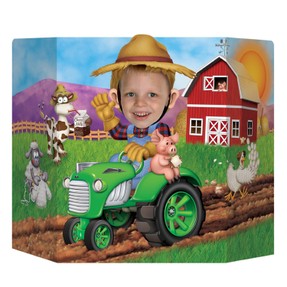 If you are trying to plan a child's birthday party, especially a party with girls and boys invited, you may be challenged to find the right party theme.  One of my favorite party themes for kids is a barnyard animal birthday party theme.  There are a few reasons why!
First of all, the barnyard animal theme can be used for boys or girls.  This means that you can host this party for any of your children, and have them invite anyone!  Also, there are many fun activities that you can do at a barnyard birthday party, which I will explain further in this article!
Hopefully you are able to help your children get the same enjoyment out of barnyard birthday parties, as I have seen!
Are you planning a barnyard birthday party for a boy or a girl?
Invitations for your Barnyard Birthday Party
The first thing you need!
Invitations for your barnyard birthday party are the first thing that you should purchase.  You should mail out your invitations for your child's birthday party early so that the guest have plenty of time to fit the party into their schedule.  Also, so that when they RSVP, you know how many guests to expect, and can plan accordingly! 
Barnyard Party Invitations on Amazon
Barn animal Cakes
Make Barn Animal Cakes for your Party!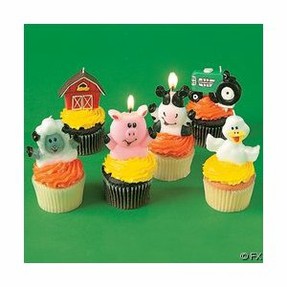 The next thing that you will need in order to host an amazing barn animal birthday party is a barn animal cake, or barn animal cupcakes.  These are very simple to make, if you use barn animal cake toppers, or cake pans.
Also, you can just follow the simple directions on my Squidoo article, which is shown in the link directly below!
Learn How To Make Barn Animal Cakes and Cupcakes!
Barn Animal Cakes
Here on this article (or lens) you will learn how to make all different types of barnyard animal cakes, cupcakes, and even cookies! For example, you will learn how to make cow cupcakes, and dog cakes! Almost every farm animal will be included!
Good luck making your barn animal cakes, cupcakes, and cookies!
Farm and Barnyard animal Cakes on Flickr
Barn Animal Food Dinnerware
Plates, Cups, and Utensils
The next step, after planning whether you are going to make your own cake, or purchase one from a bakery, you will have to purchase plates, cups, and utensils. 
There are a few options for what types of barn animal dinnerware you can purchase.  You could buy dinnerware with actual barn animals on them, or just regular dinnerware.  If you decide to purchase regular dinnerware, why not purchase red dinnerware?  It would match your barnyard animal theme, and is inexpensive.  Below are numerous options in barn animal party dinnerware from Amazon.
Barnyard Party Dinnerware on Amazon
Activities for a Barnyard Birthday Party
When hosting a barnyard birthday party, there are many activities that you could have to entertain your children's guests.  Look below for a list of great activities for your party!
Pin the tail on the donkey (Fun for kids and adults!)
Barn animal crafts
Barnyard animal cupcake and cookie decorating
Animal mask making
Hay rides (If you are having your party on an actual barn.
Sing Old McDonald (Thanks Jimmie for the idea!)
Do the chicken dance!
Barn Animal Party Favors
The last thing you will need for your barnyard animal party is party favors.  There are numerous things that you can use as party favors, such as small trinkets like tattoos, stickers, bubbles, candy, and many other farm toys. 
Another alternative for you, instead of buying a bunch of trinkets, is giving each child a movie theatre styled candy.  They will love having the big box of candy, and most likely enjoy it more than little toys!
Barn animal Party Favors on Amazon
---
Disclosure: This page generates income for authors based on affiliate relationships with our partners, including Amazon, Google and others.