Bento: Nutritious and Healthy Packed Lunches
by Marelisa
Bento are nutritionally balanced lunches packed in special boxes or containers. Although they originated in Japan, anyone can prepare these healthy recipes.
What is Bento?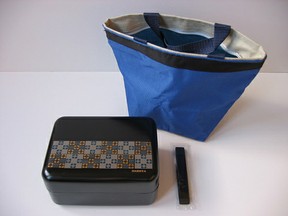 Bento are Japanese packed lunches. They're characterized by small portions of healthy, nutritious foods packed in special Bento boxes, or containers. There's an emphasis on including different food groups, so that you end up with a balanced meal. An added characteristic of Bento is that the meals are decorated with different shapes--including animals, flowers, stars, and smiley faces--, so that they're fun to look at. These meals are healthy, cute, and economical!
Traditionally, Bento boxes are packed by Japanese mothers for their children. However, Bento have become very popular in the West, and there are many recipe books that "westernize" the traditional Japanese recipes. In addition, they're not just for kids: adults take these meals to work.
A Bento will usually consist of the following:
A cup of cold, cooked white rice, dressed up with different spices (sometimes the rice is substituted with noodles).
Protein, such as meat, poultry, or fish.
Two vegetable side-dishes.
Fruit for dessert.
The food is presented in bite-sized form, which means that it can be easily eaten with chop-sticks (although you can use a fork or spoon if you prefer). The Bento box is usually wrapped in a cloth, or placed in a pouch, along with the eating utensils, and the goal is to make the package as attractive as possible. This article will introduce you to Bento, Bento recipes, Bento-making equipment, and Bento boxes or containers.
---
(Image: Men's Hakoya Bento)
Bento on Wikipedia
:For other uses see Bento. is a single-portion takeout or home-packed meal common in Japanese cuisine. A traditional bento consists of rice, fish or meat, and one or more pickled or cooked vegetables, usually in a box-shaped container. ...
The Just Bento Cookbook
Everyday Lunches to Go
Makiko Itoh and Just Bento
Bento has been popularized in the West by Makiko Itoh. She has a blog titled, Just Bento, in which she shares delicious recipes and practical bento-making tips. Itoh has packed her expertise into a book, titled "The Just Bento Cookbook", which you can purchase on Amazon.
Her cookbook contains 25 Bento menus, and 150 recipes. She includes a section in the book in which she shows how Western food can be adapted to the bento concept.
This is the perfect recipe book for the Bento beginner, so if you've never tried Bento before, this is the book to get. However, even if you're a Bento aficionado, you'll find lots of new Bento recipes to add to your repertoire.
How to Make Bento (Japanese Boxed Lunch)
Bento Boxes
Bento boxes have internal dividers, and usually have two or more stacked layers, so different kinds of food sit in their own little compartments. There are many different variations:
Handsome lacquered wood boxes
Plastic lunch boxes decorated with cartoon and anime characters
Bento boxes a business man would be proud to take to work
Bento boxes any little girl would love
Bento boxes little boys would be glad to take to school
Egg Molds
Kotobuki Plastic Egg Mold, Rabbit and Bear

Shape hard boiled eggs into rabbit or bear faces with this easy to use egg mold. Place a just cooked shelled hard boiled egg into the mold bottom, slowly close the top and ...

Kotobuki

Only $0.01
Kotobuki Plastic Egg Mold, Set of 2, Fish and Car

Shape hard boiled eggs into fish or car shapes with this easy to use egg mold. Place a just cooked shelled hard boiled egg into the mold bottom, slowly close the top and ...

Kotobuki

Only $0.01
Plastic Egg Mold Heart and Star

Shape hard boiled eggs into hearts or stars with this easy to use egg mold. Place a just cooked and shelled hard boiled egg into the mold bottom, put the top over the egg, ...

Kotobuki

Only $1.19
Egg Molds
Eggs are an important source of protein, and they're often included in a Bento meal. In addition, the eggs can be molded into fun shapes, such as the following:
Rabbit
Heart
Fish
Star
Bear
Car
In addition to the egg molds, you can get rice shapers, cookie cutters, plastic skewers shaped like animals or flowers, and so on, to mold the rice and vegetables you include in your Bento.
Benefits of Bento
One of the reasons that Bento is becoming so popular in the West is due to its many benefits. Here are some of them:
Bento boxes are reusable, and the fact that they contain different compartments means that you don't need to use plastic bags and disposable containers. This reduces waste.
The size of the compartments allow for portion control.
The attractive presentation of the food makes lunch fun, even for picky eaters.
It's a lot cheaper to pack a lunch than it is to eat at the cafeteria or go to a restaurant for lunch.
Bento recipes are nutritious and well-balanced.
You can let your creativity shine as you find creative ways to present the food.
Bento Tips
Here are some Bento Tips:
1. Portions. Generally, the portions are as follows:
3 parts grain (e.g. rice or noodles)
1 part protein dish
2-parts vegetables
However, you can change the portions to suit your nutritional needs.
2. No junk food. Make sure that you don't include candy, junk food, or fatty food in your Bento.
3. Pack tightly. The food is supposed to be packed in such a way that it doesn't move around during transport. This means that there can't be any empty space. If you pack your Bento and there's empty space, fix this by including grapes, a cherry tomato, a  pickle, a quail egg, and so on.
4. Calories. Bento boxes come in different sizes, which means that you can control the amount of calories that you pack for lunch. The number of milliliters that a Bento box can hold corresponds roughly to the number of calories it holds.
5. Colors. Look for brightly colored foods, and choose several different colors. It adds to the appeal of the Bento, and it also assures that you're choosing healthy, varied foods.
What do you think of Bento?
---
Disclosure: This page generates income for authors based on affiliate relationships with our partners, including Amazon, Google and others.