Bible Cartoons For Kids
by CWAHM
Teach your child valuable Bible lessons and enjoy learning about God and Jesus. Watch Christian animated movies!
Christian Bible Cartoons For Kids
Teach Kids Important Bible Lessons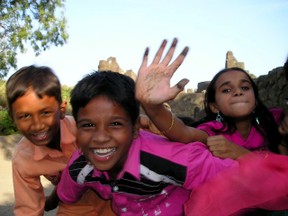 Christian parents today are looking for tools that will teach valuable character-building traits and provide inspiration for their children. In a world of secular schools and television, you may be worried about what your child is learning. Kid's will imitate what they see and hear. Your home is a place to teach your children values and morals. Try watching a Bible or Christian cartoon to instill strong faith-filled lessons.
 You might be a Sunday school teacher and looking for extra help in teaching a Bible story. I found using about 10 minutes of a Christian cartoon will engage the class and the children love watching and learning! Most of these animated movies can be used over a few weeks, a section at at time. Add your own  Bible lesson or use ideas provided on most of these DVD's. Add a Bible craft, activity page, coloring page, a question/answer time and you have just completed a Sunday school class!
Be sure to view each and every cartoon or movie the enters your home. Most of the cartoons listed here will have a "Rating" from other parents, just like you! I have found parents provide a valuable resource and often trust their opinion.
Here are some resources and some of my favorite Bible cartoons. There are so many available, it is easy to find one to fit your needs.
Greatest Adventure Stories From the Bible
By Hanna & Barbera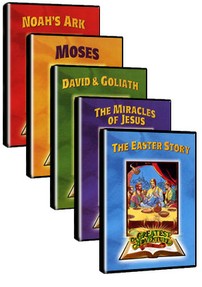 Probably my favorite animated Bible series yet! I have the this collection on video and still use them. This set is a wonderul introduction to the most popular Bible stories.
This Animated movie Set includes:
Noah's Ark - Noah is a Godly man. The people of the earth are not following God and do sinful things. God commands Noah to build an ark and fill it with 2 of every kind of animal. And it begins to rain...here is the story of the great flood.
 Moses - Moses was saved from the river his mother placed in to escape the wrath of the Egyptian Pharaoh. Found by Pharaoh's daughter, Moses becomes a Prince. Moses finds out his is actually a Hebrew and is dismayed at the brutal Egyptian solders. Moses kills a solder and is sent into exile from Egypt. God will use Moses to bring the Jewish people out of slavery, but not without a fight with Moses!
David and Goliath - David is man after God's heart! As a young shepherd boy, David loves the Lord! He is small, but with God by his side, he will defeat the giant Goliath in a fight with a stone and slingshot! David later will become one of the most beloved Kings of the Bible. A beloved story of boys, as they can relate to little David.
The Miracles of Jesus - In this cartoon, kids will journey back to the Holy Land. Witness the miracle in Cana, the widow's son brought back to life, the healing of the Roman centurion's servant, Jesus walking on water, the feeding of the 5,000, and more wonders Jesus did!
The Easter Story - The most important of all Bible stories! Told by the Disciple, Mark. The unforgettable true story of the betrayal by Judas, arrest, crucifixion, and the wonder of the resurrection, and ascension into Heaven! This is what I base my whole life on! I believe that Jesus Christ, is my Savior, died and took my sin upon himself as a sacrifice, he washed all my sins clean, and made me acceptable to God our Lord and live with them forever and ever in paradise! AMEN!
 Don't miss the Greatest Adventure Stories From the Bible!
What's In The Bible?
Great Sunday School tool
Need some help teaching "What's in the Bible"? This new series will have 11 DVD's  from the creator of VeggieTales, Phil Vischer!
These animated teaching cartoons work for home, Sunday school, children's ministry, or family movie night.
Each DVD is filled with animation, puppets, original music, and writing that will teach kids about God and His Word, The Bible!
Since this page was created, 5 of the 11 DVD's are available:
"What's in the Bible" series include:
1. In the Beginning! This is the first "What's in the Bible" series! Meet your zany host and crazy cast of characters in this cartoon. It will explain the Bible book of Genesis. That's a tough book to teach! Approximately 56 minutes.
2. Let My People Go! Brings  the book of Exodus to life!  Answers the questions "Who choose the books in the Bible" and "What is salvation"? Approximately 58 minutes.
 3. Wanderin' in the Desert! Buck Denver and his cast of friends take us through these 3 books of the Bible, Leviticus, Numbers, and Deuteronomy. This movie will help kids understand how these books fit in with Genesis and Exodus. 58 minutes.
4.  Battle for the Promised Land! Come along and meet our  zany cast of characters for a wild ride as they search the Books of Joshua, Judges, and Ruth for the answers to more of life's BIG questions. Ages 5 to 9.  Approximately 60 minutes.
5. Israel Gets a King! In the newest DVD, Buck and the cast take us through the next books of the Bible: 1 and 2 Samuel. The 2 episodes focus on 3 of the first 3 kings of Israel. Saul, David, and Solomon. Each episode about 30 minutes long. And more!
Each cartoon is available individually or as a bundle. See the series "What's in the Bible" today.
Animated Bible Story Movies
NEST Family Entertainment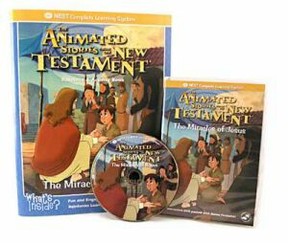 If you are looking for quality Bible stories and cartoons for children, NEST offers a large and  comprehensive selection. Check out the award-winning Christian movies just for your kids in mind!
These animated movies on DVD teach quality Christian values to your children. They will learn biblical truths and be entertained at the same time. Nest Family cartoons are better for your children then secular cartoons on television.
Each DVD includes a FREE "Instant Download" of our 64-page activity and coloring book! NEST Family Entertainment is one of the most trusted producers of Christian educational materials in the USA.
 Photo: NEST Animated Bible Stories from the New Testament: The Miracles Of Jesus Video On Interactive DVD.
Old and New Testament Cartoons
Bible cartoons about Jesus Christ!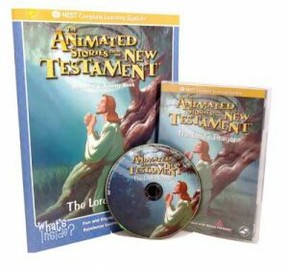 These DVD's s are completed Animated cartoons from the Old and New Testament. There is a one to go with almost every Bible chapter! All of the DVD's are available in single copies or save even more when you get a bundle. With each DVD purchased, you get a FREE activity book to download instantly. The books are filled with  activities kids LOVE to do. These include: word games, puzzles, coloring pages, and more all to go with the Bible story.
Photo: NEST Animated Bible Stores from the New Testament: The Lord's Prayer Video On Interactive DVD.
VeggieTales Cartoons
By Big Idea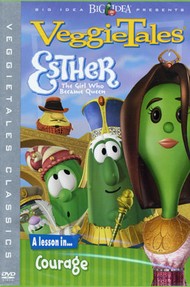 VeggieTales is the most popular Christian animated Bible cartoons and films ever! Created by Phil Vischer and Mike Nawrocki under the company name Big Idea Productions. They have been on God-filled adventures with the beloved VeggieTales friends since Big Idea began almost 15 years ago!
Since the conception of VeggieTales, Big Idea has had several other animated shows like Larry-Boy, 3-2-1 Penguins, Christmas and Holiday animated movies, and now, "What's in the Bible" series.
In addition to VeggieTales animated movies, there are VeggieTales Bibles, toys, games, playsets, clothing, books, sunday school & VBS material, posters, and more!
The DVD pictured is my favorite VeggieTales movie, "Esther The Girl Who Would Become Queen"!

In "Esther The Girl Who Became Queen"  teaches kids how to be courageous! Filled with wonderful music, song, and cast members as we watch Esther become a Queen.
Meet the cast Esther, Mordecai, King Xerxes, and the evil Haman in this production of the book of Esther.
Queen Esther risks everything for the sake of her people. Sometimes the hardest thing in life to do is overcome your fear.
"I will go to the king, even though it is against the law. And if I perish, I perish." Esther 4:16.
Learn About VeggieTales
Big Idea Products
VeggieTales
is an American-English series of English language children's computer animated films featuring anthropomorphic vegetables. Developed by Big Idea, the films convey moral themes based on Christianity spliced with satirical ...
The Ten Commandments Animated DVD
The story of Moses and God's Laws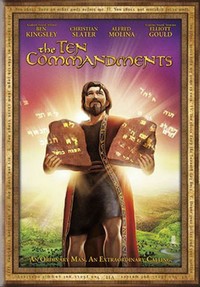 The original movie, The Ten Commandments, is a favorite of my husband! We we thrilled to find this animated version for kids (and adults)! This animated feature has the voices of Ben Kingsley, Christian Slater, Alfred Molina, and Elliott Gould.
The beloved Bible story of Moses comes to life in this film. Moses is placed in a basket and into the river by his mother and sister, so the  Pharaoh's solders will not kill him. The  Pharaoh's daughter finds the baby Moses and raises him as her son....here begins is the story of Moses and The Ten Commandments in a form children will love!
Another popular cartoon about Moses is The Prince of Egypt, by Dreamworks Pictures. Don't miss this blockbuster hit! See movie clips below!
The Prince of Egypt & Joseph: King of Dreams
The movie is a "Double Feature"...what a deal!
Watch The Prince of Egypt clips
The story of Moses in animation
Do you like Old or New Testament Cartoons?
I love both the Old and New Testament movies!
Beginner's Bible Cartoons
Popular Animated Christian Cartoons For Kids
Old Sunday School Photos
School School is been around for decades!
Christian Resources for Kids
Updated: on 05/20/2014, CWAHM
---
Disclosure: This page generates income for authors based on affiliate relationships with our partners, including Amazon, Google and others.