Bridesmaid Gifts To Remember
by mnlewis
Best Bridesmaid Gifts; Congratulations! You're getting married and one of the most important tasks, is what to give to the ladies who have consented to share this special day with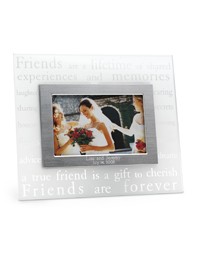 So, you're getting married. Congratulations! You're getting married and one of the most important tasks, is what to  give to the ladies who have consented to share this special day with you, your bridesmaids.

Whatever theme you have chosen for your special day, should be a perfect place to start. Are your planning a beach wedding? Do you have a tropical destination in mind? Is your wedding a summer wedding, a winter wedding, or a spring wedding? These are all perfect clues for your gift giving needs. Bridesmaids come with their own unique personalities. Do you buy the same gift for all, or do you buy a unique gift for each one? 

First let's tackle the theme or time of year of your wedding. For a summer wedding there are the usual flip flops, candles, and soaps. Here's a unique idea. A set of towels maybe in your maids favorite color or the color of their dresses. Embroider these towels with their initials and below, thanks for saving the date, and the date of the wedding. Real impressive! For a winter wedding, an ice bucket with their initials, or the saying your special to us and the brides and grooms initials. A gift that will last forever. For a spring wedding, how about a pair of silk pajamas with the maids initials embroidered. 

These gifts can be lavish, but if you shop around and plan way ahead, you could find them at reasonable prices. If money is an issue, that's when you sit down, give it some thought, and let your creative juices flow. If you're talented, and sometimes you really don't have to be all that talented, you just might surprise yourself, you could string some really nice beads together in your maids favorite color, and come up with a very beautiful bracelet. Add a wedding theme charm to this bracelet, and you've really got something special! Or how about getting on your computer  and playing around with some creative software that allows you to create stationary, thank you cards, personal calling cards, and the like. These with your maids name or initials could make for a very surprising and much appreciated gift. 

You could also play off of your maids passion. Each one is passionate about something, and if they're in your wedding, chances are you know exactly what that passion is. Is your maid a dancer? Try a gift certificate to a salsa or ballroom dancing class. Is she obsessive about her health? Then a gift certificate to a wellness center or spa is a great idea. Does she garden? How about signing her up for a years supply of seeds. Does she cook. A fabulous set of pots found on sale along with a great cookbook by a famous television cooking channel star is just the ticket.

All it takes is some time well spent reflecting on the ones you love to come up with a gift that will fabulously convey what they mean to you, and how much you appreciate them spending your special day with you and your groom.
If you are looking for the best bridesmaid gifts or the best groomsmen gifts, then visit my Squidoo lens find out who has the best selection of bridesmaid and groomsmen gifts.
Buy It Now at Amazon
Gifts for your Bridesmaids
Ad
Great Bridesmaid Gift Ideas
---
Disclosure: This page generates income for authors based on affiliate relationships with our partners, including Amazon, Google and others.