Chiang Mai Thailand - Travel and Tourist Guide
by JackWalker
Steeped in tradition and Thai culture, we'll show you why Chiang Mai is the perfect place to spend your time in Thailand.
A popular alternative to Bangkok, the leafy Northern capital of Chiang Mai attracts visitors with its laid-back lifestyle, exciting leisure options and fine wining and dining.
These aspects of easy living are complemented by inexpensive accommodation and comprehensive tourist amenities, meaning many visitors end up staying here much longer than first anticipated. It's one of the most desirable places to live in Thailand.
The moated city celebrated its 700th anniversary in 1996 and has a rich cultural heritage, having once been the capital of the mighty Lanna Kingdom. Reminders of the Chiang Mai's golden age in the 15th century can still be seen in the Old City's ancient temples. However, despite being firmly rooted in its heritage, Chiang Mai has moved with the times and new developments are cropping up by the day.
A love for coffee along with the Thai's passion for shopping has ensured a growing café culture as well as two large shopping malls and a number of local markets. Tourists are also catered for with dozens of guesthouses and hotels ranging from five-star to no-frills, with that typical Thailand charm.
Eating out is a way of life in the city, with an ever increasing number of establishments catering to western palates, while all the usual Thai favourites are also on hand. The dining options in the city are becoming increasingly sophisticated, with outdoor seating accompanied by live music being a popular choice. A handful of nightclubs and dozens of expat pubs stay open late.
Chiang Mai is also known as something of a hub for adventure activities and outdoor pursuits, including trekking. Organised tours will take you through hill tribe villages and give you the chance to ride an elephant and partake in bamboo rafting before transporting you back to the city. If you prefer something more sedate, why not try a short Thai massage, cooking or language course.
There are plenty of attractions in Chiang Mai and taking tours of the historic and natural sights is memorable. The Old City is largely accessible on foot, while tuk-tuks and taxis can be hailed in the street to shuttle you farther afield. The city's convenient airport is just a short ride from downtown and provides frequent connections with Bangkok, being the primary international gateway to the north.
Above all Chiang Mai is one of the cheapest foreigner-friendly towns in Thailand. It has a laid back atmosphere, modern facilities, plenty of services catering to tourists and expats and friendly locals. It's also a great base for getting into the mountainous North, with fantastic national parks on its doorstep. The climate here is also more temperate than anywhere else in Thailand, with cooler and less humid weather.
The Vagabond's Guide To Chiang Mai, Thailand

Thailand's "Jewel Of The North," Chiang Mai, is the arts and cultural center of the nation, as well as stunningly beautiful, filled with charming people, and a hotbed for advent...

Nancy Chandler's Map of Chiang Mai, 19th Ed.

For many visitors, Chiang Mai's real appeal is in its secret sights, shops and cafes hidden down side streets and back alleyways, behind temples and inside otherwise nondescript...

$15.95 $12.75
Chiang Mai Thailand

Popularly known as "The Rose of the North" and with an enchanting location on the banks of the Ping River, the city and its surroundings are blessed with stunning natural beauty...

Lonely Planet Chiang Mai Province: Chapter from Thailand Travel Guide (Country Travel Guide)

'Lonely Planet guides are, quite simply, like no other'. New York TimesThis eBook offering is an excerpt of Lonely Planet's latest Thailand guide book and includes:Chiang Mai pr...

Chiang Mai & Northern Thailand (Footprint Focus)

Roam ancient ruins, immerse yourself in the serene monasteries of Chiang Mai, or trek into the mist-cloaked hills of Mae Hong Son, the northern region of Thailand offers travell...

$11.95 $6.43
Chiang Mai Attractions - Things to See and Do
There's an endless amount of things to do whilst in Chiang Mai from jungle trekking, bamboo rafting and visiting the numerous temples to shopping at Chiang Mai's famous night bazaar and Sunday market. Jungle treks, trips to the golden triangle and visiting the long neck hill tribe can easily be arranged from the many travel agents scattered around the city, most will pick you up from your hotel or guest house or you may even be able to book where you are staying if there is a travel agent in the reception. If you're only going to visit one temple whilst in Chiang Mai make sure to visit Wat Phrathat Doi Suthep. Located high in the mountains it provides a stunning view of the city below.  When it comes to shopping the Night Bazaar is a must visit, with hundreds of stalls selling all kinds of things from local handicrafts to cheap DVDs and CDs. This nightly market also known as the night market is located along chan klan road. The Sunday market runs along Ratchadamnoen road starting at Thapae gate and starts weekly at 4pm till midnight and is a much more relaxed affair.
Eating Out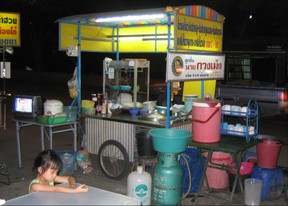 Eating out in Chiang Mai really is a pleasure, with so many restaurants catering for many different tastes and budgets. The real attraction of eating out in Chiang Mai though is eating where the locals eat from the street vendors, market stalls and small food shops. There's a wide variety of food you can get from stir frys to Noodle soups, including the regional dish kow soi, a curry flavored chicken soup with soft and crispy noodles. As you'd expect eating from the street vendors is very cheap but what may surprise some newcomers to Thailand is how nice the food is. If you're new to eating from street vendors then try and find one that's frequented by local Thais, that way you can be assured of its quality. There is of coarse more to eating out in Chiang Mai than street vendors. Some of the most luxurious restaurants here are adjoined to hotels but there are still some great independent restaurants too, a couple of places worthy of a mention are The Riverside on Charoenrat road, with a great mix of Thai and western food, regular live bands, indoor and outdoor seating and a relaxing atmosphere, it's a popular place to spend an evening. If you're craving western food then the Chiang Mai saloon serves some great steaks and burgers at very competitive prices. Coupled with very friendly staff it's a great place to stop in at. They're original branch is ideally located on Loi Kroh road, just a short walk from the night bazaar.
Where to Stay
Accommodation in Chiang Mai really does cater for all comers from the expensive resort type hotel s, like The Amari Rincome Resort and The Four Seasons Resort which are frequented by tourists and wealthy Thais to the inexpensive family run guest houses catering for budget travelers. The mid range business class hotels include the BP city hotel where rooms can be reserved for under 1000 baht and the Lotus Hotel Pang Suan Kaew where rooms start from just over 1000 baht, this hotel is actually adjoined to one of Chiang Mai's major shopping mall's, so it's ideally located for shopping. Guesthouses are abundant in Chiang Mai with most situated in or around the moat. Some popular choices include royal guesthouse, Julie guesthouse and the Lai Thai guesthouse.
Chiang Mai weather and Seasons
Chiang Mai is said to have some of the best weather year round in all of Thailand and is considered to be a welcome respite from the tropical mugginess of the lowlands around Bangkok. This is just one the reasons why Chiang Mai is popular with Western and Thai tourists.
It has three very distinct seasons typical of many tropical areas. Yes, Chiang Mai, located at 18 degrees north is still technically in the tropics, but its climate is more varied than other tropical locations. This is because of its elevation of approximately 1000 feet and the fact that it's far from the ocean. The three distinct seasons are best described as cool season, hot season and rainy season, but locals typically refer to them as winter, summer and rainy season respectively.
The best time to visit Chiang Mai is during the cool season. This winter season usually is found during the months of November, December and January. The cool season typically begins as the rainy season ends. The skies become clearer and cold fronts that come in from China affect the weather. Before you think about breaking out the winter coats, cool season is very relative. Typical temperatures during the cool season range from 25 to 30 degrees Celsius in the day and from 13 to 17 at night. Cold spells do come from time to time when the temperature can fall into the single digits, but they do not last long.  The cool season typically ends in February. In some years, it can come on very suddenly. One day it can be comfortably cool and the next day it can become hot and stay that way for several months.
When traveling during the cool season, rain is rare, but cool temperatures aren't. It's a good idea to pack a light jacket or sweater, especially if you are doing any trekking into the nearby mountains or want to do shopping at the many different night markets. Since the weather can be comfortably warm during the day, you should pack shorts and t-shirt's.
The hot season includes The Songkran Festival in April can come on suddenly or it can slowly build. It usually begins in February as the temperatures begin climbing into the low 30's Celsius during the day. During February the nighttime temperatures are still quite comfortable, but by March, daytime temperatures stay in the mid 30's and nighttime temperatures falling into the low 20's. This summer season that starts in February lasts until May. At the height of the summer season, temperatures frequently climb into the high 30's. The summer season usually ends as the rainy season begins. May is very much the transition month where rain and hot temperatures alternate.
When traveling during the summer season make sure you pack plenty of sunscreen and cool clothes. Shorts and t-shirt's are usually all that you need and sometimes you will feel like you need even less than that! It can be cooler in the mountains, but travelers from western countries will typically find mountain temperatures as refreshing rather than cool.
The rainy season lasts from May until November. Rains can come at any time and some of the rains can be quite heavy at times. Typically, rainy season temperatures range from 30 to 35 degrees Celsius during the day and about 22 to 25 degrees Celsius at night. During the rainy season, rain can come at any time, day or night. Frequently these are accompanied by lightning and thunder. By October, the rainy season begins to taper off. The cool temperatures remain while the skies begin to clear. This marks the transition to the cool season.
When traveling to Chiang Mai during the rainy season, it's important to make sure that you pack along a plastic rain poncho or other wet weather gear. Since the weather is typically still warm during the rainy season, the lined rain parka can probably stay at home. Smart travelers make sure that they have a small plastic rain poncho or umbrella whenever they go out.
Chiang Mai Transport – How To Get Around
The most common way for tourists to get around is on the ubiquitous tuk-tuks that can be found on just about every corner. They are like taxis in that they will take you to whatever destination you want to go to, but they lack meters. This means that you need to negotiate with them to get the best fare. One sure fire tip is to ask a local how much the tuk-tuk fare is to your destination. Armed with that information, you can negotiate before you get into the tuk-tuk.
Songthaews are covered pickup trucks with two benches along the sides. In fact, the word songthaew literally means two benches. The fares are quite reasonable and they run a set route. Different routes utilize a different color. While the routes are displayed on the sides of the songthaews, the destinations are written in Thai. The best way to find out if a particular songthaew is going to your destination is to ask a local waiting to get onto a songthaew. They are usually quite helpful. Another option is to ask a driver because they will usually help you get to the right songthaew.There is a limited city bus service in Chiang Mai. There are 7 routes to choose from and they cover the major destinations in the city. Remember that they are geared towards locals so they might not go to some of the tourist sites that you want to visit. A good idea is to ask around if a particular bus line goes to the destination you are visiting.
There are taxis in Chiang Mai, but they are more expensive and not as common. Of course you can take taxis from the larger hotels and major destinations, but they tend to be overpriced. Many people choose tuk-tuks over taxis for these obvious reasons.
If you are a bit more adventurous, you might want to rent a motorcycle for your time in Chiang Mai. You can rent these from shops around the city. The rates are pretty standard so it's a good idea to rent a motorcycle near your hotel. Renting a motorcycle can be a good idea if you are staying more than a few days in Chiang Mai. It's important to wear your helmet when you travel by motorbike because the police will ticket you. It's also important to have insurance in case of an accident. Motorcycle accidents are quite common in Chiang Mai so it's important to make sure that you are cautious when riding. >Warning to anyone thinking of hiring a motorcycle in Thailand. Please only do so if you're used to riding a bike in your own country<
The video below gives you a great feel for the sights and sounds you can expect when your in a tuk tuk in chiang mai
History
King Mengrai of the Lanna Kingdom founded Chiang Mai in 1296. Chiang Mai was built to replace the northern city of Chiang Rai and was made the new capital of the Lanna Kingdom of northern Thailand. The words Chiang Mai mean new walled city in Thai and reflected the goal of King Mengrai in making Chiang Mai the most important city in the Lanna Kingdom.
In the early days of Chiang Mai, a moat and a city wall were built to keep out the Burmese invaders. This moat is still visible to this day and is a tourist site in itself. Chiang Mai grew and prospered as the capital city of the Lanna Kingdom and because of its important position on existing trade routes, such as the Ping River and overland routes to Laos, Burma and southwestern China.
Wat Chiang Man was the first temple constructed in Chiang Mai and served as the home of King Mengrai during the construction of Chiang Mai. Wat Phra Singh was constructed in 1345 and serves as an educational center to this day. In 1383, Wat Phrathat Doi Suthep was constructed on a hill overlooking Chiang Mai. It's said that the location was selected by putting a Buddha relic on the back of an elephant and following the elephant around until such time as the elephant decided to trumpet and take a rest. On the location, one of the most important temples in all of Thailand was constructed. In 1401, Wat Chedi Luang was built and stands today as an example of traditional Lanna architecture.

As the Lanna Kingdom prospered, so did Chiang Mai, but as the Lanna Kingdom began to wane, so did Chiang Mai. The weakness of the Lanna Kingdom led Chiang Mai to wane in importance and dwindle in its population. The Lanna Kingdom was unable to support an important city like Chiang Mai. By 1774, Chiang Mai was nearly deserted and was absorbed into the Kingdom of Siam, the precursor to modern Thailand. Fortunately, Chiang Mai quickly recovered and took its place as one of the most important cities in Thailand.
Because of its comfortable climate and location near the hills and forests of northern Thailand, it long has been an important city in Thailand. Kings have long spent their summer months in the city to take advantage of the favourable climate and early foreign visitors to the Kingdom sought out the comfortable environs. Hospitals and churches are testament to the work of early visitors to Chiang Mai. Because of the importance of Chiang Mai, Chiang Mai University has served as one of the premier educational establishments in all of Thailand. Students from around Thailand come to study at this world-renowned university.
With such a rich history, it's not surprising that Chiang Mai is considered to be a must see location during any visit to Thailand and is a great opportunity to experience history and all that it has to offer up close and personal.
---
Disclosure: This page generates income for authors based on affiliate relationships with our partners, including Amazon, Google and others.