Choosing A Trendy Baby Diaper Bag
by selecteddee
Looking attractive and trendy while on an outing with your new baby is so much easier when you carry a trendy diaper bag.
Trendy Diaper Bags - What To Look For When Choosing The Right Trendy Diaper Bag For You
Trendy Good Looks And Full Functionality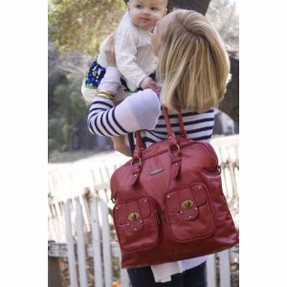 Being a new mom can be extremely stressful.  Staying as trendy and attractive as you were before baby came along can be a challenge, and even more so when you have to drag a frumpy, boring diaper bag around with you every time you and baby go out. 
Timi and Leslie designers know how important it is for new moms to look good, and that is why the great range of convertible diaper bags were created.  Taking into account the necessity for moms to have everything they could possibly need for their baby's comfort, Timi and Leslie created a range of diaper bags that are designed to look like trendy, fashionable handbags.  In great fashion colors and a range of styles to suit every Mom, these trendy diaper bags really fit the purpose as well as look good.
Choosing The Right Trendy Baby Diaper Bag
What Features Are Vital? What Features Are Desirable?
When choosing from the great range of Timi and Leslie trendy diaper bags, there are some important points to remember:
1.  Will the diaper bag be big enough to hold everything you will need for baby's comfort? Take into consideration how many changes you will need to do while out and how much gear you would need for an average outing.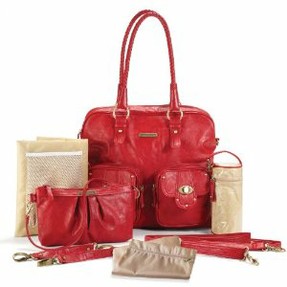 2.  Will it become too heavy to carry when full?  If you have to carry it for too long, a fully packed diaper bag can become heavy.
3.  Does it come with a shoulder strap that is fully adjustable, and detachable when not required?  The shoulder strap can be extremely helpful when you have to carry your diaper bag for any distance.
4.  Does it come with straps to enable the diaper bag to be hung from the stroller?  When out with baby in the stroller, being able to hang the diaper bag on the stroller prevents the need to carry it.
5.  Does it come in a color that you will like?  Consider what color is the most practical for you, while still being trendy and fashionable.
6.  Does it include the essentials, such as a changing mat, an insulated bottle holder?  A good diaper bag should include these items.
7.  Does it have sufficient pockets to keep all the baby gear organized and easily found?  When baby is upset, being able to retrieve the items you need quickly can mean baby is happy again quicker.
These are just some of the considerations you need to take into account before making the right decision, and getting a trendy diaper bag that is perfect for you and your situation. 
Timi and Leslie Trendy Diaper Bags come in several different sizes, so you can find one that is suitable for you, and in a range of colors to suit any new mom's style, such as versatile Black, stunning Raspberry, the prettiest Cloud Blue, Taupe, Brown, Silver and more.  Almost all of the bags come with a shoulder strap, stroller straps, an insulated bottle tote with handle that will keep your baby bottle either warm or cold, a separate clutch for Mom to keep her essentials in, a key fob to keep keys from being misplaced, a padded changing mat with attached pocket for diapers/wipes, and a separate bag designed for dirty/wet clothing.  The water-resistant lining is a major plus and is a standard feature.  Designed to look like trendy handbags, these fully functional diaper bags can be used as a handbag, and overnight bag, a beach bag, and some can even be used as a laptop bag after baby has grown.
---
Disclosure: This page generates income for authors based on affiliate relationships with our partners, including Amazon, Google and others.