Choosing the Best Front Loading Washer and Front Loading Dryer | Energy Efficient
Over the long term the energy efficient water efficient front loading washing machine saves you lots of money in electric bills, water bills, and detergent.
Replacing Your Old Washer and Dryer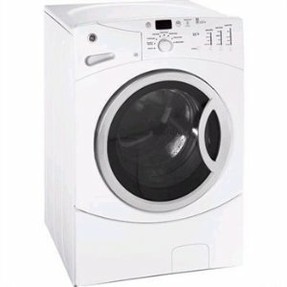 My husband and I just bought a brand new GE front loading washer and dryer at Home Depot this afternoon.  We had known for months that our old washer and dryer were failing, especially our dryer.  It had gotten to the point where we had to dry our clothes 2 or 3 times in the dryer to get them close to dry, so we started doing our research to learn what the best deals were on new washers and dryers.
Like most people, we have had our washer and dryer for many years, in our case since we got married 19 years ago, so we really got our money's worth out of the first set, and felt that we were ready to invest in newer models that would save us money, and were more energy efficient than the older pair.
Our old washing machine was a top loading machine with an agitator like most machines that were built during the time we bought ours.
While we did our research over the last few months, we learned that experts were recommending front loading washers because of several reasons:
The agitator in the top loading machines causes a lot of wear and tear on your clothes.  Front loading machines do not have an agitator, and that means that your clothes will last longer, saving you money on clothes.
Front loading washers use much, much less water than top loading machines which saves you money on your water bill, and saves water which is better for the earth.
Front loading washing machines are more energy efficient as well, (although I am sure any new machine is more energy efficient than our old machines), which saves you money on your energy bill, and also uses less natural resources from the earth.
In addition to all of these improvements, the front loading dryers take much less time to dry now than our old dryer did which will save additional money and energy over the old machines.
Saving Money on Washers and Dryers Long Term vs. Short Term
One of the most important factors we had to consider when choosing our front loading washer and dryer was saving money long term vs. short term. The new washing machines and dryers are more expensive than the old ones. And front loading washers are more expensive than the top loading machines.
However, over the long term the energy efficient water efficient front loading washing machine saves you lots of money in electric bills, water bills, and detergent and saves you money on your clothing as well because you don't have to replace them as often.
You can also feel good about reducing your carbon footprint on the earth when you buy the efficient front loading washers.
We got a really good deal on our machines and bought both of them together for $904 which included a free delivery, picking up our old machines, new electric hook ups and new air duct vent. We ended up with two GE modelsGFDN100ELWW and GFWN1000LWW. The washer (GFWN1000LWW) has 3.8 cubic feet inside space, 1000 RPM spin speed, and 10 wash cycles and 3 wash/rinse temperatures. This machine holds a lot more clothes than our old washer, so it will be more efficient in that way too, because we will not have to do as many loads of laundry. The dryer (GFDN100ELWW) has 7 cubic feet.
Cutting Down on Washer and Dryer Noise
One of the things that sold us on this particular washer and dryer set was that when it is on, it is so much quieter than our old set, we can hardly hear it.  We never realized how loud our old washer and dryer were until we didn't hear the noise with the new washer and dryer.
Whichever new washer and dryer you choose this year, do your research, check reviews, and then you can feel confident that you are getting the best deal for your budget.  After all, you will be living with your choice for a very long time.
---
Disclosure: This page generates income for authors based on affiliate relationships with our partners, including Amazon, Google and others.