Which brand is the best coconut oil?
by tssfacts
I started using coconut oil because my doctor told me to. He did recommend a brand to use.
Cooking With Coconut Oil
Because the Doc said to.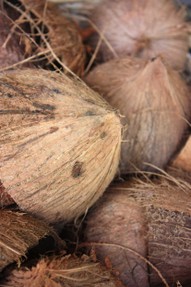 I started using coconut oil because my doctor told me to.  He did recommend a brand to use. Since I wasn't that familiar with coconut oil I decided that following his instructions would be best. So I purchased the brand he recommended and was on a food adventure that I have never regretted. Some months later I wanted to do some research of my own.  I began to investigate the different brands that were at my local health food store.  Now I know the old adage you get what you pay for and that is true. At the same time I didn't want to waste my money either.   So I went to the one of the largest online stores, Amazon, to see what they had to offer me.  I found all the brands that were offered at my local health food store and noticed that the prices were either the same or I did get some savings.  Since then I have tried several of these different brands and they all seem to work alike.   Below are my findings and reviews on five of the best coconut oils available.
Barlean's Organic Coconut Oil
Health Benefits of Barlean's Coconut Oil
According to Barlean's these are just some of the health benefits of this product.
has the right kind fatty acids
gives good cholesterol readings
increases energy levels
nourishes skin and hair
The coconuts are hand picked.
Barlean's Coconut Oil comes from the island of Quezon, Philippine. The coconuts are hand picked at the peak of the nutritional value. Oil is extracted without chemicals or solvents. It is USDA organic certified and supports the immune system, helps to increase metabolism and the cardiovascular system. It can be taken as a supplement or used on the body for hair and skin care, and used in cooking.
Information found on the Barlean Coconut Oil label. 
serving size 1 tbsp
calories 125
available size, 16 oz.
100% expeller-pressed extra virgin coconut oil
use in cooking, baking, frying, spread on breads, massage oil, hair tonic
does not require refrigeration after opened.
FAQ
A common question that is asked Barlean's is "How do I know my oil is fresh"? That's a great question. Their answer is that every bottle comes with two dates. You can find these on the bottle label. The first date tells when that bottle oil was pressed. The second date is the date that the bottle should be opened. If opened by this date (or before) it will still have it's full potency and freshness.  If opened on the second date you still will have up to eight weeks to use the oil. 
More info on Barlean's
The Barlean's farm is located in Ferndale, WA. This is where the other essential oils are processed. Their flax seeds come from Canadian farmers and Dakota farmers. They produce organic oils. What got them started in the business was the fact that too many Americans are deficient in their essential fats. Omega-3 is another name for essential fats. Although, Bruce Barlean is the farm's owner it's really a family affair. The "departments" of the farm include flax production, and the fishery. Nothing is wasted on the farm.  It is said that the grass really is greener on the farm because the "sludge" ( by-product) of pressing the seeds is put on the farm grounds. 
Garden of life coconut oil
More info on coconut oil.
What makes coconut oil better than vegetable oil? MCFA (medium-chain fatty acids) is what makes coconut oil the healthiest of all oils. These fatty acids protect against heart disease and some even think it may cure it. Vegetable oils along with seeds oils are made up of LCFA (long chain fatty acids) which promote heart disease. Studies done on coconut oil shows it to reduce cholesterol, reduces chances of getting blood clots, lowers body fats, and delivers a higher level of antioxidants to the body. 
Coconuts grown by certified organic farmers
Jordan Rubin founded Garden of Life in 1994. His sole purpose was to create products that are "whole foods" and something that the body could thrive on due to good ingredients. Garden of life Coconut Oil is made from the fresh meat of the coconuts. It's organically grown. It contains NO GMO (Genetically modified organism).  It's not hydrogenated, heated or bleached. The meat of the coconuts are cold-pressed to produce the milk then fermented to produce the oil.
Garden of Life Coconut Oil
certified by organic by Quality Assurance International
coconuts are grown by certified organic farmers
comes in two sizes 16 oz.  and 32 oz. 
serving size 1 tbsp calories 125
calories 125
Garden of Life Mission Statement
The company that produces a product is just as important to me as the product itself.  I want to know what makes the company tick. The first thing I try to check out is the mission statement if they have any and what are their other interests.
Mission Statement of Garden of Life
Empowering Extraordinary Health®
EMPOWER. Our products are designed to let you take control of your own health. 
EXTRAORDINARY. We believe in premium nutrition that goes beyond the ordinary.HEALTH. Your health is a gift, and extraordinary health is a goal worth pursuing—both for you and for your family.
Other activities: Charities they give to.
SOS Children's Villages International
Vitamin Code
WomenHeart, the National Coalition for Women with Heart Disease
National Parkinson Foundation
This is the brand the doctor put me on.
What I really enjoy about this coconut oil is that I can use it either in the solid or liquid forms. The oil comes in a jar and if you want softer or liquid form just put a small amount in a container and let it turn to liquid. It doesn't take long to do so. It has a great shelf life and doesn't have to be refrigerated after it is open. I especially like to use it in frying my meats like country fried steaks or just for any kind of baking or cooking.

Ways to use this oil.
 use as skin care, liquid form works best
 makes great popcorn oil
 any recipe that calls for shortening, butter or vegetable oil
 use the solid form to spread on bread or vegetables
 use it in smoothies (one of my favorite way)
Nutiva Coconut Oil Organic
How Nutiva got started.
Founder of Nutiva is John Roulac. He has several passions: holistic living, whole foods, natural healing; and organic farming are just a few of them. Nutiva became a physical part of his dream to have a society that puts people above money. He also believes that having "access to wholesome and organic food is a God-given right. A right for people regardless of where they may live.  Since 1999 Nutiva has operated as a company dedicated to nourishing people". 
Nutiva's coconut oil is
 cold-pressed
 extra virgin organic oil
 unrefined
no trans fat
Label Facts for Nutiva Coconut Oil
Some of the benefits of Nutiva Coconut Oil  are
Made from fresh coconuts, not dried copra
Certified organic and non-GMO coconut oil
Cold-pressed
Tastes like fresh coconut
Charitable works
Nutiva donates 1% of its profits to companies and organizations that promote sustainable agriculture. The companies purpose is provide the highest quality organic superfoods, support sustainable agriculture, and giving a fair return to the farmers that grow products. The business was built on high standards, from the farmers, to production, to packaging and even transportation of their products.
Spectrum Naturals - Coconut Oil Organic
USDA organic
Spectrum Organic grown saturated fats plants (like coconuts) provides these features:
cooking with Spectrum makes cakes very moist
provides a great source of energy
gives a great taste to foods
expeller pressed
kosher organic seal
USDA organic seal 
No chemicals in this coconut oil
Spectrum Naturals  was founded in 1986. The main purpose of creating this company was to create products made from non-harsh chemical processing. Jethren Phillips, the founder of Spectrum Naturals, introduced the process called expeller-pressed. This is a chemical free process to get oils from seeds and nuts using a screw type machine.
The company believes in the source of their products. For this reason they work with small farms sometimes called "small-scaled farming" vs the larger corporations of farms.  The small farms are family owned and are committed to the products that they produce. The farms that work with Spectrum grow their produce without any kind of pesticides. Spectrum Naturals organic coconut oil follows the strict guidelines of organic growers.  
Crops are rotated to 
decrease the depletion of the soil
compost is used on regular basis
other plants are planted for pest control
sustaining the health of the soil (land) is a major concern with these farmers
Label Facts
If you or someone in your family is allergic to peanuts then this product wouldn't be what you would want to purchase.
Label Facts on Spectrum Organic Virgin Coconut Oil 
Ingredients: "Naturally unrefined expeller pressed virgin organic coconut oil".
Serving Size 1 tbsp (14.0 g)   
Calories Per Serving 
Calories 120

Special note:  "Bottled in a facility that produces peanut oil".
Fresh clean smell
When you open the jar of Spectrum Organic Coconut Oil the first thing you will notice is the fresh clean smell of coconuts.  Some people report they don't notice the smell till they are cooking with it. Others say that the smell is just enough to notice but not overpowering. This oil is great for sauteing any type of foods. Packed with antioxidants this oil can be used for both cooking and skin care. It contains no trans fats so it makes your healthy lifestyle a snap to incorporate into your daily routine. When cooking with coconut oil just substitute the oil requirements in your recipes with coconut oil. No harmful chemicals or pesticides was used in the growing of the coconuts and does have the organic seal of approval.
Tom Murdock founder of Nature's Way
Nature's Way company was born out of passion and love for his wife. Tom Murdock's wife became very ill in the late 1960's. Nothing was working. Like any loving spouse he began the search for a solution. He tried everything that conventional medicine had to offer. After a time both of them agreed that they should search the Native American knowledge of healing,"medicinal plants" found in the Arizona deserts.  She recovered and lived another 25 years.

The extra virgin organic coconut oil is
natural source of energy
certified organic
No-GMO
cold-pressed
Certified Organic by OCPP/Pro-Cert.
Product of the Philippines
Essential Fatty Acids
EfaGold® Coconut Oil or Essential Fatty Acids Coconut Oil is
 free of hydrocarbons
 unrefined
 non-bleached
 no trans-fats
no hydrogenated fat
available in two pack 16 oz jars
available in single 16 oz
What does the label tell us?
Nature's Way Organic Coconut Oil label states that this oil can be used as spreads on breads, added to dressing and smoothies. It can be used to replace butter, margarine, shortening or other cooking oils. Good for baking or frying up to 350 degrees. For skin care just place jar under warm water to soften the oil into a liquid then apply to the skin and massage. Use this oil as a hair conditioner: liquefy two teaspoons to hair a couple hours before washing. Serving size is 1 tbsp and has 130 calories. 
Meaning of the green leaf.
Nature's Way logo is a green leaf. This logo represents the motto, "Trust the Leaf". 
they provide funding to groups that protect the world's rainforest
donate vitamins to developing nations because the daily nutrients are in short supply
they support programs for homeless and offer physical needs and dignity of each individual
they contribute to ongoing research for breast cancer cure and other diseases.
40 years plus
Phytomedicines is an herbal based medical practice that uses plant materials that are considered preventive and therapeutic.
Nature's Way has been a pioneering force for the last 40 plus years.  In their work to re-educate America about natural medicine they have created a list of "first" in their career.
Below are just a couple of these first.
first major supplement company to be an organic food certified processor 
first to provide clinically proven phytomedicines to United States from Europe
My personal testimony using coconut oil.
Health benefits that I have experienced since using coconut oil
immune system improvements
increases metabolism therefore can help in weight loss
improves the look and feel of the skin 
provides increase in energy helps with thyroid functions
promotes healthy heart (circulatory) functions
---
Disclosure: This page generates income for authors based on affiliate relationships with our partners, including Amazon, Google and others.