Cooking With Coconut Oil
by tssfacts
I sat there stunned. I couldn't believe what my ears where hearing. I asked the doctor to repeat what he had said. I was just as dumbfounded as before.
Eating Coconut Oil
err Cooking with coconut oil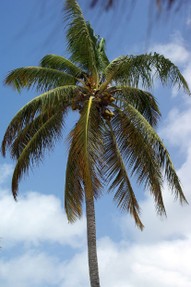 I was just as dumbfounded as before as I repeated "You want me to eat coconut oil?" "I want you to cook with coconut oil. I guess you can say yes, I want you to eat coconut oil".  Thoughts ran through my head like you have gotta be kidding me! Don't you know I can't stand coconut period: not the coconut meat and surely not the coconut milk.  Unfortunately, as I was talking to myself so was the doctor talking to me.  I had gone in for a yearly checkup and my weight was one of my "problems".  I hadn't been able to lose weight and keep it off because of thyroid problems.  So the doctor was going to put me on a "different" type of eating plan.  It consisted of eating organic or truly natural foods.  I could still fry foods as long as it was cooked (fried) in coconut oil.  My main source of cooking oil was to be coconut and I could use olive oil in some instances.   I was game after all I did seek him out for help.  I did lose weight and today I still cook with coconut oil.  I will fight anyone who tries to take it away from me.
Photo credit royalty-free graphics
Cold pressed coconut oils
Is it the best way to get to the oil of the coconut?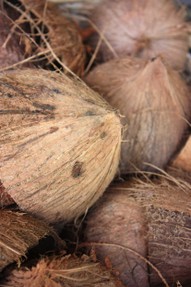 It doesn't take a brain surgeon to figure out that coconut oil comes from coconuts.  Most everyone is aware of the milk of the coconut; but perhaps you are not familiar with coconut oil. Coconut oil can be used in almost anyway.  I enjoy cooking with it along with the other ways to use it.  There are two main ways of getting the oil from the coconut.
The cold press method involves pressing the dried part of kernels of coconut, also called copra. There are several ways to press the copra. The most common are machine and bullock/manual.   Machine pressing requires the aid of electricity or gas engine oil mill.  There is some heating that occurs during this process but lot less than the boiling method.  Mills driven by men or animals will yield less oil due to the fact it consumes more manual energy for the oil to be produced. The heating method boils the milk of the coconut.   As far as taste goes people report no difference in taste.  The main difference is that when the milk is boiled the heat kills or destroys many of the nutrients along with the vital components of the coconut oil.  Regardless what method you prefer always be sure to check the label to be sure that there are no artificial or synthetic additives in the coconut oil.
Photo credit royalty-free graphics
Virgin Coconut Oil
vs Regular Coconut Oil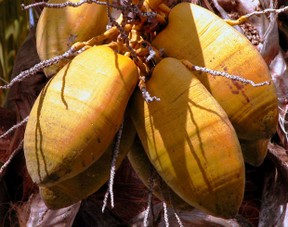 To be honest I had heard of coconut oil before, in my sun protection.  I didn't know that it came in another form.  My doctor sent me on my way with instructions for my new way of eating and said, "Only use virgin coconut oil, as the regular type has lots of impurities in it and won't benefit you".   Well, if I was going to be "eating" this oil I wanted to be sure that I had the correct type and wanted to get all the benefits that was provided for me. 
Below is a quick list of the difference.
 
Photo credit royalty-free graphics
Virgin Coconut Oil properties
extracted by cold compression or cold milling
oil is non-refined
smells like fresh coconuts
minerals and vitamins stay intact
not bleached
shelf life is long, doesn't goes rancid
Regular Coconut Oil Properties
boiling or  fermentation

oil is refined 

smell will vary from name brands 

loses effects of the minerals and vitamins

bleached

shelf life is short and goes rancid 
Coconut Oil as my main cooking oil
How easy is this?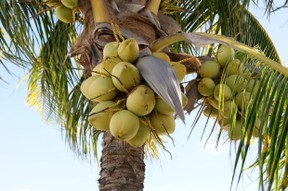 Obviously I have tasted coconut before.  How else would I know that I didn't like coconuts?  I was a little hesitant in switching completely over to cooking with this oil.  I had determined that whatever it took to get this weight off of me, I would do it.  I also told myself that I was going to like the taste of this oil.  So I got my first jar of this solid oil and opened it.  I was amazed that it had a good smell, not like what coconut had tasted like; well to me at least.  I cooked my first meal, country fried steak, and was anxiously waiting to eat this meal.  I couldn't believe it.  I could smell a faint coconut smell when cooking: but when I ate the meal the meat wasn't saturated with the taste of this plant based oil.   Use this in any manner that you would use any other type of cooking oil.   If you want a great taste use it instead of butter on your toast and roasting veggies. If you make your own salad dressing add this oil to the mixture.  I like it in a smoothies of any kind.  I even bake with it too. Some people who cook Thai or Indian foods will use this because it can present a tropical taste. I love cooking with coconut oil.  An easy way to get started is just to substitute this for any other type of oil.
Photo credit royalty-free graphics
Coconut oil benefits
Is this a good kind of oil?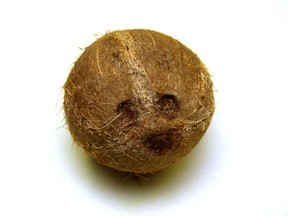 Not all oils are created equal.   Most of us are concerned with oil and cholesterol and rightfully so. Coconut oil has saturated fatty acids: Capric Acid and Lauric Acid to name a few.  Both of these saturated fats causes the good cholesterol HDL (High Density Lipoproteins) levels to be increased. At the same time the bad cholesterol LDL (Low Density Lipoprotein) are lowered.  A side effect, if one can call it a side effect is that coconut oil increases the rate of metabolism and people reports while using coconut oil they have lost weight.  I can testify to this fact. 
This amazing oil is an antibacterial agent and antioxidant.   It's no wonder people who suffer from several diseases report a marked improvement or no longer have the disorder after using coconut oil.  Some diseases that have been improved or "cured" are: arthritis, blood pressure, some types of skin cancer, yeast infections, cholesterol, diabetes, heart disease, other skin problems,  thyroid functions and even anti-aging.  

Disclaimer:  As with any kind of treatment consult your doctor first.  I use the same coconut oil that I cook with that has improved my thyroid functions and other ailments I have had.
Photo credit royalty-free graphics
Brands of Coconut Oil
Which is the best?
By now I am hoping that you are wondering where can I purchase coconut oil.  Before you do be sure to read my coconut oil review. Then pick one and start using this healthiest oil in your food, on your skin and any other way you may think of.


Have you ever cooked with coconut oil?
---
Disclosure: This page generates income for authors based on affiliate relationships with our partners, including Amazon, Google and others.