Frisbee Golf
by ravenko
Frisbee Golf also known as Disc Golf, is gaining popularity among the outdoor enthusiastic...Lets explore the world of Frisbee Golf!
Disc Golf - Frisbee Golf
Whatever you want to call it
Disc golf
is a disc game in which individual players throw a flying disc into a basket or at a target. According to the Professional Disc Golf Association, "The object of the game is to traverse a course from beginning to end in the ...
Frisbee Golf A Great Sport
I'm not one for golf, I've tried playing a few times and after the nineth hole I usually become bored from hitting that little white ball...
Now frisbee golf what a great time, I went to a frisbee golf course right here in my city this past weekend and did we ever have a lot of fun...
I'll tell you what I know about the game, the little things I learnt on the frisbee golf course and what you'll need to play too...
What A Great Game
We Had Never Played Frisbee Golf
I had found frisbee golf on the internet and after showing the videos to my husband and friends we all decided to give it a try...What a surprise I even was able to find a frisbee golf course right here in my city thirty minutes from our house, we had no idea we even had one...
Off to Toys r Us we went and all bought frisbees, then we drove to the frisbee golf course...With frisbees in hand we were all excited to try out this new game...
The Frisbee Golf Course
We had no idea what we were in for, it turned out that half of the course was under water, it's been a wet year here so most of the course was flooded...We were able to play about twelve of the eighteen holes, yes just like regular golf there's eighteen holes or baskets as their called...
The course was centered threw out the park with a lot of obstacles like the trees for example, it seemed we were always in the trees, don't know how many times a tree got in the way of my frisbee...
Just like regular golf the scoring is the same, there's eagles, birdies, pars and yes even boggies or if your like me triple boggies...
What we didn't know is there is specialty frisbees to play the game of frisbee golf, not the ten dollar frisbees we picked up at Toys r Us earlier that day...
It wasn't until the end of the game that we ran into a few guys that play frisbee golf regularly and they were able to tell us a few tricks of the game...
Frisbee Golf Discs For Your Game
Do You See The Basket At The End?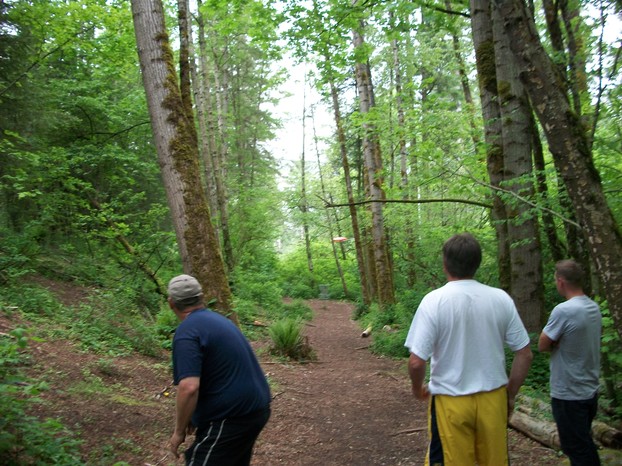 The Seventh Hole
We All Agreed
We had so much fun that we have decided to continue playing every Sunday, and are going to invest in the special frisbees that are used for the game...These frisbees go farther, and your able to get them to turn right or left, that would of been handy in amongest the trees...
If you haven't given frisbee golf a try I highly reccomend it not just for you but your entire family, it's a great sport to get the kids involved in...
Learn To Play Frisbee Golf
---
Disclosure: This page generates income for authors based on affiliate relationships with our partners, including Amazon, Google and others.