Funny Road Signs
by Pukeko
Need a laugh? Sometimes you don't need to look any farther than the road signs.
I Stop at Funny Road Signs
Road signs that make me giggle are often one of the first obvious signs that I am somewhere else.
Most road signs are pretty straight forward.  Generally they are similar yellow or orange for warning, red for danger and simple graphics to let you know when there is something to keep an out for - like cows, falling rocks or other impending doom.  Sometimes, however the signage is so culturally different it appears funny and other times, let's face it - at times it is just hilarious.
I love to travel and I love to take photographs, of unusual or different things.  Road signs make it high up on my list.  Often they are commonplace to the people who live nearby, but as a visitor, if it catches my eye, I stop and take a shot. 
So, if you should be traveling with us, you have been warned.  Two things to be aware of before you get into our car: Regardless of where we are headed, if I haven't been there before I will most likely  stop, get out and take a photo; and, from the back seat you will hear, "Mom, don't we have a photo of that already," or similar remark.
You (the reader of this page) get benefit of my behavior as you will find some of my favorite funny road signs on this page.  I haven't been everywhere, so I also combed the net for a few more funny signs. My general rule, if it made me laugh, it found it's way here. 
My amusement far exceeded the boundaries of this page. So, when you are done here be sure to visit Funny Animal Crossing Signs, Funny Warning Signs and Funny Bathroom Signs.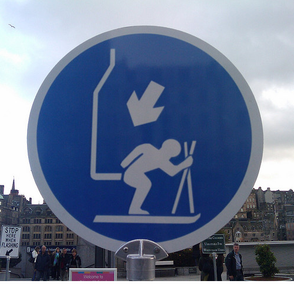 Funny Signs from Edinburgh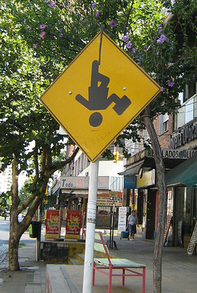 Buenos Aires
A Sign in Edinburgh
I Have to Wonder What This Funny Sign Is Trying to Say
More Giggles for these Funny Signs
| | |
| --- | --- |
| Sign of the Day | Found it in Australia |
| Funny Torture Chamber Sign | Sharp Edges |
We Traveled to Australia Last Year (2010)
A country loaded with funny signs.
Of course we saw lots of interesting animal signs like kangaroos, koalas, cassowary and even an echidna.  You can see these at Unique Animal Crossing Signs.
One of my favorites signs from the trip, wasn't actually a road sign, but rather a sign at the entrance to the membership seating area at the horse races in Caloundra on the Sunshine Coast (Queensland, Australia).  Have a look yourself and see if it doesn't make you laugh, for a variety of reasons.  Not the least of which those who can afford to join the members area and frequent it, would probably be able to comprehend the acceptable attire section, without the graphic description as to what is unacceptable.  Personally, I was also amused by the over the top impeccable dress of so many of the patrons. (But that's just me, we only went as the girls had never seen thoroughbred racing before and we thought it would be entertaining for a few races, which it was, but not for the reasons we expected).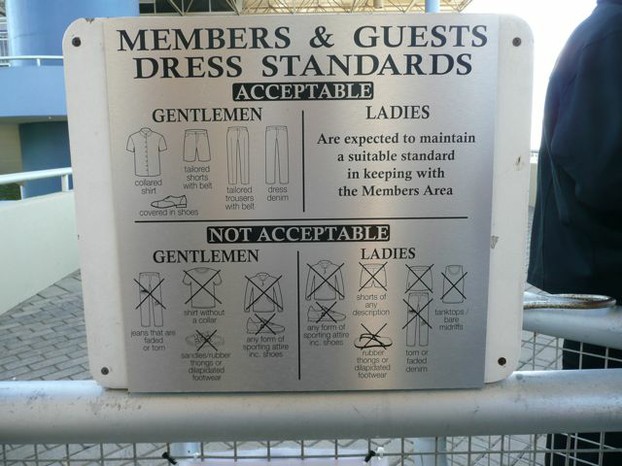 At the Race Track in Caloundra
Funny Road Signs Make Great T-Shirts
Available in adult and children's sizes, plus on mugs, keychains and more
Check Out This Collection of Funny Road Signs
I had to watch far to many videos to find one this funny!
In 2009 We Visited America
I am an American expat which is probably the reason I don't find most American signage as funny as other non-US residents often find it to be.  I grew up with it, so it all makes sense to me.  However, in 2009 we headed to the east coast, and there were a few signs that did make me laugh.  Being that it was winter in Vermont (not my favorite outdoor temperature) we didn't stop and shoot them all.  But I had to get out of the car to take a photo of crossing sign.  (I imagine that laughing at this sign is probably politically incorrect, so my apologies for my twisted sense of humor).
Sometimes It's Not the Sign, But Rather The Location that Makes it Funny
I Love the Funny Road Signs in New Zealand
It didn't take very long to adjust to driving on the other side of the road when we first moved to New Zealand.  Actually, when comparing it to learning the new signage, the driving part was easy.  Here are four signs I have seen recently.  The first one is in Auckland, and I really have no idea exactly what it was trying to say.  It was quite near the tracks for the electric tram, so I can only assume the message here is that touching those connector pieces will give you a shock. 
The second sign I took while sailing under the Auckland Harbour bridge.  There is now a commercial platform making it an "official" bungy jumping site.  I would hope that the sign is really there as a promotional tool for the Bungy jump and that the bungy operators are well aware of any marine traffic in the area before the let a jumper leap. 
The next sign is alerting you to bumps in the road however I have seen it on rude t-shirts suggesting it has to do with women body.  More funny warning signs can be found in this page of the series.
The final sign is a Kiwi bird, a national icon and a rather funny looking flightless creature.  The kiwi bird is one of the many bizarre animal crossing signs found in this series.  (Click here to jump to the Animal signs).
See All of My Favortie Funny New Zealand Signs
Funny Road Signs - Driving In New Zealand is Hilarious!
We have driven around nearly all of New Zealand. This is my collection of the funniest and most unusual signs we encountered. I even included a short quiz to see if you would know what to do when you came upon a few of these seemingly random, yet funny signs.
Literally, a Funny Road Sign
Don't Miss the Others in the Funny Signs Series
Here is a Listing of All of My Wizzley Articles
Updated: on 08/13/2013, Pukeko
---
Disclosure: This page generates income for authors based on affiliate relationships with our partners, including Amazon, Google and others.