Funny Warning Signs <-- Don't Miss These Real Signs
by Pukeko
Need a laugh, check out these funny warning signs that will leave you giggling, rolling your eyes and wondering what their creators were thinking.
Funny Warning Signs Really Catch My Interest
Most road warning signs are posted where they are for a purpose.  They are generally either altering us to a potential danger, warning us of an impending danger or re-directing us away from a known danger.  So, why would I write a page entitled Funny Warning Signs?  Well, that's easy.  Some of these signs are just plain funny. 
Sometimes it is by intent. They need to stand out from the bombardment of materials cluttering our vision and our minds. The actual warning is important and must get to us.  Humor is often a great way to to do distinguish a sign - to have it stand out from the crowd. It certainly is my favorite approach to most situations. 
Other times I think it just an error.  A misspelled word, a misplaced comma or hyphen or just a blatant mistake. Sadly quality assurance goes hand in hand with the reduced labor force found in poor economic times. 
More often than not, I think humor is cultural.  I am an American expat living in New Zealand, so when I first arrived all the signs were funny, as all were different from what I was used to seeing on the roads.  Parking lot suddenly became car park.  Elevator turned into lift.  Keep right, became keep left (this one took a bit more getting used to). 
It is in the vein of humor that I present these signs to you.  I do realize that in actuality, minefields, explosions, falling, dangerous edges and injury are not actually funny.  So, the issue here isn't about the actual danger, but rather the humor of the sign itself. The criteria for a sign to be on this page is that it must warn the reader of something, and it had to have made me laugh. 
When you are done here, be sure to visit the other pages in this series, Funny Road Signs and Unusual Animal Crossing Signs. 
Nothing Quite Like Stating the Obvious
More Funny Warning Signs to Bring a Smile to your Face
| | |
| --- | --- |
| What? | China |
| Lion Sign | Falling |
Warnings of Live Fire and Explosions?
I remember the first time we drove from Auckland to Wellington.  It is an eight to eleven hour drive depending on which route you take, how many stops you make and the speed in which you travel.  However, regardless which way you go, from about the center of the island for the next four hours heading south there is not much variety in what you will see.  Just farm land, with distant hills in the background.  Kilometer after kilometer of the same.  Radio on, singing along or engaging in converstaion.  The drive is dull.  Until you come to Waioru and see this sign. Now, suddenly, you are awake and alret and wondering: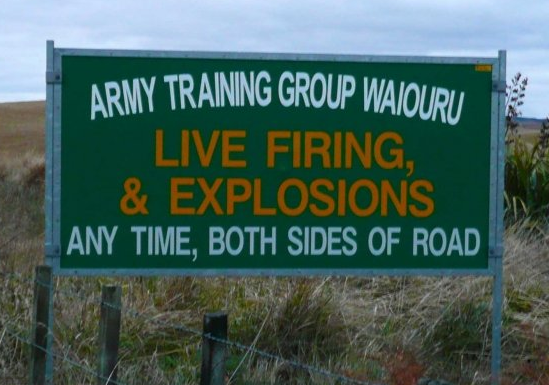 North Island, New Zealand
Don't Miss More Funny New Zealand Signs
Here is One From Australia
(I think the funny part was just how many people were swimming and completely ignoring this sign.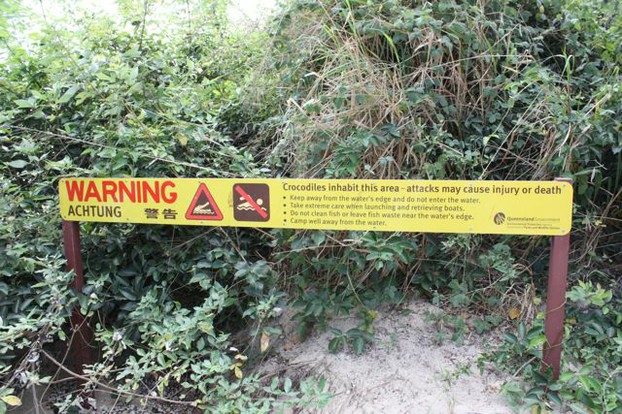 Crocodile Warning
Funny Collection of Warning Signs from Youtube
Warning - Slippery When Wet
Lots of ways to show this . . .
| | | |
| --- | --- | --- |
| Florida, USA | New Zealand | Queensland, Australia |
Don't Miss the Rest of the Funny Signs Series
More Coming Soon!
See All of Pukeko's Wizzley Articles
Updated: on 08/13/2013, Pukeko
---
Disclosure: This page generates income for authors based on affiliate relationships with our partners, including Amazon, Google and others.