Gift for Her: Bathtub Caddy
I do not know a woman that would not appreciate a bathtub caddy for a gift. A bathtub caddy is the type of gift that most women would never buy for themselves.
The Perfect Gift for Mom at the Right Price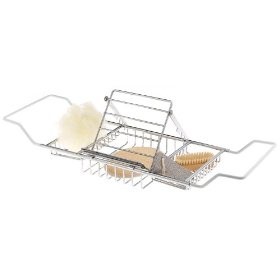 If you are looking for the perfect Mother's Day gift or Christmas gift that won't be expensive, then you should consider a bathtub caddy.  I do not know a woman that would not appreciate this bathtub caddy for a gift.  A bathtub caddy is the type of gift that most women would never buy for themselves, but would thoroughly enjoy.
Bathtub caddies run about $20 to $40, sit right up across the rim of your bathtub while you take your bath, and you can settle in for a long, luxurious soak in the tub, with your book, candles, and bath salts within easy reach.
Frankly, most dads would probably like one of these bath caddies, too, but they just won't admit it.  They will probably just borrow mom's caddy.
If You Are Buying This for Dad, Don't Forget the Boat
If you Google "Chandler takes a bath" then you will see the kind of bath I am talking about.  In this scene from Friends, Monica talks Chandler into how much she likes taking a bath, and he gets caught in the tub by all of the friends. 
But seriously, how many women get the time to take a long soak in the bathtub.  I know that I hardly ever do, but I would love one of these bathtub caddies.  If I had a caddy, I would take more baths instead of showers.
Bathtub Caddy
Umbra Aquala Bamboo and Chrome Bathtub Caddy

A bath tub caddy designed for ultimate luxury and relaxation! The Aquala bathtub caddy is made from bamboo, a highly renewable resource.  This expandable tub ...

$50.00 $45.00
Taymor Spa/Bath Chrome Caddy with Pillow

Baths have never been so luxurious! This silver chrome bathtub caddy includes a book/magazine reading rack and a super-soft spa pillow for a truely relaxing atmosphere. Rests ...

Only $24.99
Taymore Bathtub Caddy
Taymor Chrome Soap and Sponge Bathtub Caddy

This bath caddy is so quaint that you may want to take it with you on vacation. This no fuss caddy has a place for your soap and bath sponge just the items you need during a ...

Only $16.00
Taymor Bath Caddy Spa/Gift Set

Bathtub Caddy Gift Set Baths have never been so luxurious! This silver chrome bathtub caddy includes a bookstand, loofah pad, bathing poof, nail brush, and a pumice stone for ...

$60.00 $26.99
Things to Put in Your Bathtub Caddy
Once you purchase your mother, sister, wife, or daughter a bathtub caddy, you can also purchase other things to put in the bathtub caddy or you can package them together to make one larger gift package.
Some of the best items to include would be bubble bath, bath salts, or bath oil.  There are many, many versions of bath products.  And they come in all price ranges.  I like to buy organic bath salts myself, but if you want to keep the price down, you can find bath products for just a few dollars. 
A romantic novel is another great addition to a bath caddy.  Some caddies are designed especially for books that will hold them up so that they won't get wet.  Find out who your mother's favorite novelist is, then buy the next paperback.  Another inexpensive gift for about $5.
Romance Novel
Shades of Seduction, An Erotic Romance Boxed Set

Meet eight new lovers to keep you busy on Valentine's Day. All That He Wants (The Billionaire's Seduction Part 1)- Olivia ThorneLily was having another miserable day at work whe...

The Secrets of Sir Richard Kenworthy

Sir Richard Kenworthy has less than a month to find a bride. He knows he can't be too picky, but when he sees Iris Smythe-Smith hiding behind her cello at her family's infamous ...

$7.99 $3.81
Every Bathtub Caddy Needs a Sponge
Bath sponges are a much more luxurious way of bathing then using a washcloth.  Sponges are softer, and they hold more water, so you don't have to keep refilling them.  Natural sponges are the best. The fluffier and rounder the better, but you can also find some great synthetic sponges.  The only thing about sponges is to make sure that they dry thoroughly between uses.
Lighting a few aromatherapy candles around the bathroom is another way to help relax.  However, there are some women who react negatively to strong scents, so check this first before you buy scented candles.  If you do not have a way of checking, then you can usually buy a vanilla or almond scented candle that will appeal to anyone.  Try to find a candle that will fit nicely on the bath caddy in case there is no where else to put the aromatherapy candle in the bathroom.
Bath Sponge
Cain and Able Bath Sponge

The Bath Sponge is very soft and helps create a luxurious lather when used with the handmade dog shampoo or soap-on-a-rope.

Aquasentials Mesh Pouf Bath Sponge (4 Pack)

AquaBella Mesh Pouf Bath Sponge will make your shower gels and soaps last longer, and keep skin healthier with daily sudsing and gentle exfoliating using a classic mesh ...

Only $7.99
Relaxation is a Terrific Gift
Since most mothers have very little time to relax in a bath, the last part of this gift can be the time to take the bath.  If this is a gift for your wife, offer to watch the kids for an hour so that she can really relax in the tub without worrying.  Or if it is for your mother, offer to take over a task so that she has more time to herself.
Your mother will love this gift, and appreciate the thoughtfulness that it took to give it to her.  It truly is the thought that counts.
---
Disclosure: This page generates income for authors based on affiliate relationships with our partners, including Amazon, Google and others.