How to Feed Hummingbirds by Hand and Pretty Hummingbird Photos
While I watch hummingbirds at my feeder every day, others watch them up close by hand-feeding them. I hope you enjoy this information on feeding hummingbirds by hand.
Getting close to feeding hummingbirds by hand
But not quite....yet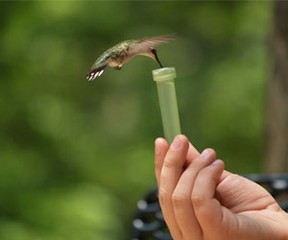 We never thought we would have as many hummingbirds as we do at our feeder here in Northern NJ.  When we first moved into our home almost 28 years ago you rarely saw them...but you never saw bears either, time changes things and we see both.
In our part of the country the only variety of hummingbird that we have is the Ruby Throated Hummingbird.  I learned to love hummingbirds when we were out west staying in Arizona for an extended period of time due to a business trip my husband was on.  Numerous hummers would come to our feeder at one time, there never seemed to be a moment when there were no hummingbirds.
Another year we were in Colorado at a beautiful location for the night in the outdoors, and the people we were visiting showed us that if you put your fingers on either side of the feeder, the hummingbirds would land on your fingers like a perch while they ate.  All of us tried it successfully.
But actually getting them to come and eat from your hand like the picture from birdfeeders.com shows takes a little patience. 
by Claudia aka happynutritionist
Updated 9/9/12

This is what our male Ruby-Throated Hummingbirds look like
The females and young are brown in color
A program in Ohio devoted to Hand Feeding Hummingbirds
See the video below, it's great!
At Lake Hope State Park in Ohio in July and August there is a program devoted to hand feeding the local hummingbirds.  They teach you how it's done.  It looks like they use the little things that I have removed from the bottom of the stem of single red roses my husband has given me.  I've never saved them before...the next time he brings me a rose I just may be more excited about the little thing-a-ma-jig on the stem (I don't know what they're called) than the rose.
Enjoy the delightful video below, you'll get the idea of how it's done.  These hummingbirds are very familiar with taking food this way, I'd have to "teach" ours, but I don't think it would take long.
Watch someone handfeeding hummingbirds at Lake Hope State Park in Ohio
A very popular thing to do there in July and August
Here's How to Feed Hummingbirds by Hand
Patience, stillness, quietness, and more patience
Here are a few tips on feeding hummingbirds by hand:
Mix the right proportion of suger and water...that would be roughly 1 part sugar to 4 parts water.
Find the right kind of feeder.  Actually, you could just sit and hold the feeder you are using right now.  I'm thinking of trying that tomorrow.  When I go out to fill the feeder, I am close to assaulted by hungry hummingbirds buzzing so close to me I can feel the wind from their wings.  I'm sure if I sat down holding the feeder, they would eventually come and eat from it, if I'm very quiet and very patience, because this would be a new thing for both of us.  I expect the young hummingbirds born this year to be the most daring, they have "grown up" seeing me every day of their life.  I'll let you know how it goes when I try it.  You can go ahead and try one of the flower stem/bud holders with some red wrapped around the top if you want to use something smaller, or a very small, clean glass vial or bottle with something red wrapped around the top.  I think I will start with the feeder they are accustomed to, then move on to something smaller.  You could hold your smaller feeder near the one they are used to if you like and see if that will draw them.
Be very patient and quiet, no sudden moves, no sudden noises. 
Wiki information about the Ruby-throated Hummingbird
The
Ruby-throated Hummingbird
, is a small hummingbird. It is the only species of hummingbird that regularly nests east of the Mississippi River in North America.
Hummingbird Feeders
We have the first one pictured. With this type the hummingbirds can sit on the perches while they eat. At first I was concerned about it being glass, but it's worked out just fine. It's very heavy duty and washes in the dishwasher
Pretty photos of Ruby Throated Hummingbirds
Other Stories about Animals I Love
Passing on a tradition of loving nature and animals
Birds and Blooms ~ A gift I've given to my Mom
We just love this magazine, such well written down-to-earth articles, no ads
---
Disclosure: This page generates income for authors based on affiliate relationships with our partners, including Amazon, Google and others.