Happy 40th Birthday to The Vegetarian Epicure
by clouda9
My favorite vegetarian cookbook has stood the test of time and celebrates 40 years in publication! Here's why I love it, plus learn more about the 40th birthday celebration!
The Vegetarian Epicure Cookbook - Celebrating 40 Years in Publication
A well worn copy from my kitchen :)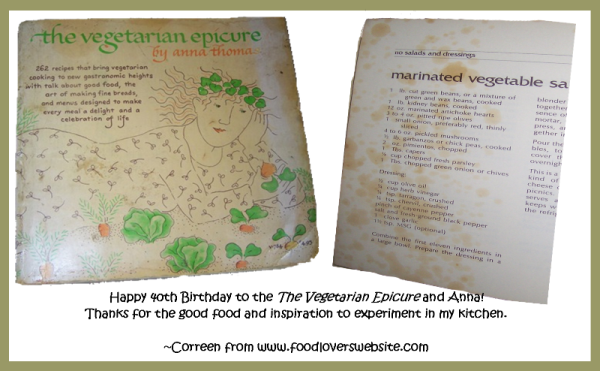 My Happy Birthday Message
"Feeding people graciously and lovingly is one of life's simplest pleasures: a most basic way of making life better for someone, at least for a while." ~Anna Thomas, From The Vegetarian Epicure
Why I Love The Vegetarian Epicure Cookbook
Let me count the ways :)
The Vegetarian Epicure has stood the test of time both in my kitchen and throughout the world. With over a million copies sold, it's a cookbook that easily delights anyone that loves to eat good food - not just vegetarian's either.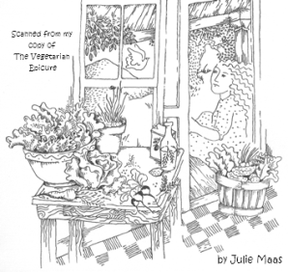 My love affair with Thomas' cookbook (yes, I am a foodie and I have love affairs with "certain" cookbooks...lol!) started the first day I opened its cover. I can't pinpoint the exact date that I got my copy of the cookbook, although as I sit here writing this, memories of my newlywed days and making bread with my hubby come flooding back. "Here is the world's simplest bread...", Anna (the author) said to us from the French Bread recipe...well, we had to try that one! Her bread recipe has been made time and again since our first attempt and has to be noted as one of our all-time favorites.
Thomas' writing style encourages me to try new things. Just hearing the word souffle makes my knees get a little wobbly (or should that be wizzley :) - no one likes to be a failure in the kitchen and souffles produce many of those! Anna writes, "don't be frightened off", along with two pages of the best darn information I've read anywhere about how to perfect a souffle. Yes, yes...even I can do that!
An invitation to entertain your family and friends. Any number of menu ideas can be gleaned from this cookbook, plus Anna dedicates a whole chapter just to menus, along with her notes on each. From simple all the way up to the more elaborate meals, epicures, novice to seasoned will be hearing the mmm! sounds that people make upon eating good food.
Take me back to the 70's! From cover to cover the happy, hippie inspired pencil drawings by Julie Maas make this cookbook really special. I love browsing the pages, recalling the sweet smell of spices from the Orange Curry (pg 254) or nibbling on bites of Marinated Vegetable Salad (pg 110). With over 250 more recipes to try, I suggest digging out your maxi dress, sans the shoes and head on into the kitchen with The Vegetarian Epicure...70's style!  
Brief About
Happy eating to you! ~Anna Thomas
Published in 1972, The Vegetarian Epicure is a timeless classic. Not only does the author offer up delectable dishes, her writing style is warm and inviting. Illustrations by Julie Maas, sprinkled throughout the cookbook, are playful reminders of life in the 70's.
Creating Good Food Memories
Grab Your Copy Today
Vegetarian Epicure

A friendly informal tone and some splendid recipes have made this a perennial bestseller. For all who love the fruits of the earth and the art of cooking. A classic with ...

Vintage
Ad
"If any one thing can elevate one's cooking from edible menus to a magnificent repertoire of seductive dishes, it is the art fo the sauce." ~Anna Thomas, From The Vegetarian Epicure
Links to More Information
Reviews and Celebrations
Do You Own a Copy of The Vegetarian Epicure?
You can help celebrate the 40th birthday!
I was recently contacted by David Ellis from David's Table asking me if I would like to participate in a 40th birthday celebration for Anna Thomas' cookbook, The Vegetarian Epicure. After reading through his post, I grabbed my camera and my copy of the cookbook to lend my voice to the birthday celebration. 
David says, "If you have a copy, email me a snapshot of it complete with food stains, tattered covers, and dog-eared pages. The messier the better!" and send your photo directly to him at myvepic@davidstable.com. Entries will be added to his Facebook page.
Visit his post, The Vegetarian Epicure Turns 40, to read David's take on The Vegetarian Epicure, as well as an interview with author Anna Thomas.
Have You Ever Heard of The Vegetarian Epicure?
Have your say
More Cookbooks by Anna Thomas
In Closing...
My original review of The Vegetarian Epicure, written late 2010 over at Squidoo, remains on the first page of Google. This says a lot to me about this timeless cookbook, as well as writing about our passions.  
If you are interested in joining this community of writer's I invite you to join me, write about your passions too!
---
Disclosure: This page generates income for authors based on affiliate relationships with our partners, including Amazon, Google and others.