How to Cut Your Own Hair - Long Hair
I cut my hair, and think that, depending upon the style you are looking for, you can too. I'd like to do my best to show you what I and others do to cut their own hair.
You can save money cutting your own hair
It's easier to cut if it's long
I grew my hair and all it's layers out for a year, the time had come to get a haircut.  It could have been cut a little at a time as it grew, but I've been putting it up on hot days, and enjoying having long hair on the cold days. 
But it's been getting out of control, and it was time to decide whether to call and have it cut, or do what I used to do years ago, cut my own hair. 
If you are planning on wearing your hair straight and not in any particular style, it's not hard to cut your own hair at all, whether you're a man with long hair, or a woman.
by Claudia aka happynutritionist
Updated 8/31/14

Cut Your Husband Children Family's Hair
You can save a lot of money this way
Professional Body Toolz Hair Cutting Shear Set
How to Cut Straight Bangs
A little trick some may know, and some may not
My first attempts at cutting my bangs were to simply cut them straight across...very blunt looking, which is fine if you are going for the blunt bang cut, but a problem for me because my bangs tend to curl up on each side.
Because they would curl up on each side, my next idea was to pull them all in one bunch in the middle of the forehead, and down above the nose line, decide how long I wanted them to be, and cut.  The results were slightly better because the sides stayed a bit longer than the middle, but it always needed a little fixing after it was done, and you know how that goes, you cut - it doesn't look even - you cut again, still no luck.
Then I heard or read a little trick years ago that has worked fine.   Here is what you do:
While you hair is wet (if you try this with dry hair it's easy to miss stray hairs), pull the hair that will make up your bangs together to the middle of your forehead, using the bridge of your nose to center them, and hold them down the middle of your forehead.
Decide where you are going to make your cut...remember, and this is important...your bangs will appear shorter when they dry, so don't cut them too short your first try using this method.
Now the "trick", twist all the hair 5 or so twists, and then with a single even cut, cut off the hair at the length you would like. 
The first time that you do this, cut it longer than you think you should to get an idea of how much it will shorten when dry.  You can always wet the hair and do it again if you need to.
This method gives the hair a very slight uneven edge that is more natural....it doesn't appear blunt and you shouldn't have to do much, if any, "fixing".  If you're going for the blunt look, you can try to even it off yourself, or maybe you are a candidate for the beauty parlor or hair salon.
Cut Your Own Side Swept Bangs
Have you ever cut your own bangs or hair?
You can Use the Same Trick on Your Hair
If you do this with care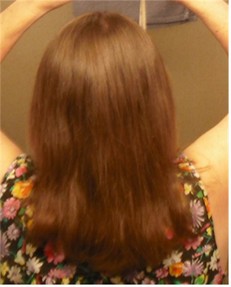 It's not easy to take a picture of the back of your own head, and I know it's only a so-so picture, but this is how my hair looked after I cut off about 4 inches in just 2 cuts.
I was going to call my neighbor who is a hairdresser and has cut my hair for over 20+ years. My hair was wet, and it was time to decide, dry it and put it off another day, week, month...call my neighbor...or cut my hair myself. 
I used to cut my own hair by parting it exactly down the middle in the back, pulled it around to the front, then cut it evenly on each side. Then my husband would trim off the "point" that formed in the back because the hair in the back was longer than the front.  He evened it off for me.
Then it struck me, what if I did the same thing with my hair as I did with my bangs.  I thought and thought, then figured, why not, the worst that could happen is that I'd call my neighbor to come to my rescue if something went wrong. 
So here is what I did:
After cutting my bangs the way I described earlier, I parted my hair all the way from the top of my head down the middle of the back of my head and pulled the hair to the sides...my hair was still wet.
I wanted to get rid of my old layers with all the split ends, so put hair elastics at the point I wanted to cut on each side. 
I made very sure the hair was even by laying the hair over my shoulders in front of my chest.
Then, I did exactly what I had done with my bangs, held the hair out to the side just above my shoulder, twisted the hair, and cut exactly the same amount off on each side.
I used my blow dryer so my hair would dry straight, and what you see is what I got:-)
I didn't need to trim anything, and it is not blunt, but natural looking.  I told my husband to take a look for anything that needed trimming when he got home, and he said it looked great! Yeh!
Cut Your Own Hair Video
No, this isn't me...dare I say "I wish"?
---
Disclosure: This page generates income for authors based on affiliate relationships with our partners, including Amazon, Google and others.