How To Make and Eat a Cake Pop
by clouda9
Step aside cupcakes - at least for a little while - give tiny cake bites on a lollipop stick a try! Recipes and more inside.
Cake Pops - Join In On This Baking Revolution
One cake ball, one nibble at a time
Go ahead, I double dare ya...try these totally fun recipes and ideas for cake pops.
Two ingredients get you started... add a lollipop stick some melted chocolate, a few candy sprinkles and your cake pops will be the hit of any party or social celebration. 
How cute are those rainy day cake pops? A special thank you to Jeannie for encouraging us to...bake and be creative with our cake pops!
Easy Cake Pop Recipe
I love making 'em with red velvet cake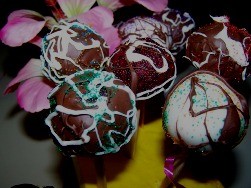 1 box of cake mix, your favorite 
1 container of frosting, to compliment the cake mix 
Bake the cake recipe as indicated on the package. Completly cool.
In a large bowl crumble your prepared cake, making sure there are no large chunks of cake. Add the container of frosting and mix throughout until all the cake crumbles are coated.
Form into balls and place in a freezer safe container, layers divided by wax or parchment paper. Place in freezer for 15 to 30 minutes or until ready to decorate. Yield - approximately 35 cake balls
Cake pops photo - My first attempt at making cake pops for my sister's birthday dinner. I decorated a box with birthday paper, little love notes and placed it over the cake pop display. When we were ready for dessert she 'opened' her present...everyone ooh'd, ahh'd and ate! 
Cake Pops or Cupcakes?
It's totally up to you!

Love! Cupcakes!
Hello! Cake Pops!
---
Easy Steps to Making Cake Pops
You'll want to try this at home! ;)
Cake Pop Check List
What you will need to make a basic cake pop
Cake - baked and crumbled
Frosting - homemade or ready-made
Large bowls - one to mix cake/frosting and one microsafe for candy melts
Candy melts - good quality milk, dark or white chocolate is best
Lollipop sticks - 4 to 6 inches long
Waxed or parchment paper or silpat
Candy or sugar sprinkles - colors to compliment the season or the reason
Strofoam block or cake pop stand - to display your noshalicious bites
Cake pops are bite-sized so most anyone, even those on a diet, can enjoy this sweet treat!
Cake Pop Supplies
Getting prepared to make cake pops at home
Cake Pop Tips
Ideas to inspire you to make cake pops too!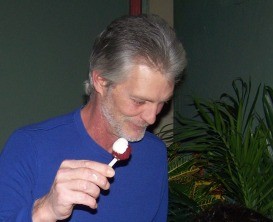 I'll say right off the bat, I'm not a pro cake pop maker, although I do know enough about baking and cooking that I feel good about giving you a couple of tips for success...
Powdered food coloring - use it versus liquid drops to color your cake, frosting and or sugar sprinkles. A little goes a long way and provides intense colors without changing consistency.
Chocolate candy coating - if you melt in the microwave start with 30 seconds, stir and if not melted put in for 10 to 15 seconds, stir and repeat at 10 to 15 seconds intervals until completely melted to assure chocolate does not burn.
If I can get my husband (pic to the left) to make a cake pop, well...I'm more convinced than ever that you can too! ;)
Cake Pops Are Tasty Eye Candy
Inspiring you to design
All About Cake Pops
Links to More Information
How To Make a Cake Pop Stand
Display your cake pops on this easy-to-make stand. Photo how-tos are included.
Valentine's Day Cake Pops
From the queen of cake pops, Bakerella, comes these cuddly little bear cake pops. I'd suggest these for the more advanced cake pop maker's.
Cake Pops Halloween Style
This gal shows off here labors of baking-love with these Halloween inspired cake pops. Now even I can do that!
Custom Cake Pops
A feast for your eyes! Once you have a cake pop recipe down you can easily customize 'em, for any occasion.
4th of July Cake Pops
Three cheers for the red, white and blue! Cute, cute too!
NOW How To Eat a Cake Pop
Savoring every bite!
Grandma made a cake pop and this little guy thoroughly enjoyed every last bite...right down to the chocolate on the stick! All us gobblers-of-sweets, umm that would be moi',  could learn a lesson or two here. ;)
Popular Cake Pop Books
Ideas, recipes and more!
In Closing...
Make cake pops simple to the sublime...it's up to you and what you really wanna do!
If you are interested in joining this community of writer's I invite you to join me, write about your passions too!
---
Disclosure: This page generates income for authors based on affiliate relationships with our partners, including Amazon, Google and others.