How To Make A Swedish Sandwich Cake
by brl
Known in Sweden as "smörgåstårta", these sandwich cakes are absolutely wonderful. Here is the recipe for how to make smörgåstårta and some really great pictures.
There is an absolutely wonderful dish called, in Swedish, smörgåstårta (smur-gohs-tohr-ta) that very few people outside Scandinavia are aware of.
I had never heard of it until I moved to Sweden, but after my first bite I was hooked!
A smörgåstårta, or sandwich cake, is a savory cake made with bread, a sour cream/mayonaise "frosting" and just about any type of sandwich food you can think of.  It is assembled like a layer cake but is more of a meal than a dessert.
There are loads of smörgåstårta recipes in Swedish all over the web, read on to see how to make a smörgåstårta in English and see some mouth-watering pictures.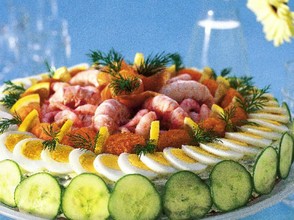 Smörgåstårta
Smörgåstårta on Wikipedia
Smörgåstårta
is a Scandinavian cuisine dish that is popular in Finland, Denmark, Sweden and Estonia. This salty cake is compositionally similar to a sandwich, but it has such a large ...
Typical sandwich cake fillers and toppings
These are typical ingredients, but you can add anything you would put on a regular sandwich.  It's all up to you!
Crayfish/Crawfish
Caviar
Fresh dill
Avacado
Liver Paté
Sliced Salmon
Egg Slices/Wedges
Grapes
Tomato Slices/Wedges
Shrimp/prawns
Lemon Slices/Wedges
Lettuce
Sliced ham
How to make a smörgåstårta
This video is in Swedish but you'll be able to follow the process he uses to make a smörgåstårta.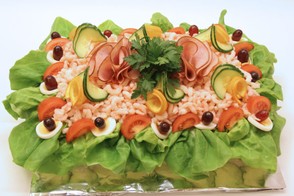 Smörgåstårta
How To Make A Smörgåstårta
My method of making a sandwich cake
Bread provides the foundation in any smörgåstårta.
You can use any bread you like, however, white bread is usually what is used. Get an unsliced loaf of bread and slice it horizontally. The slices can be any height, but aim for standard sliced bread size and try to make them all the same height. You can also use slices of white bread with the crust cut off to make rectangle smörgåstårta, "glued" together at the edges with butter.
Size doesn't matter, you can do little sandwich cakes with single slices of bread or big ones with loaves of bread.
The "frosting" is comprised of equal parts mayonaise and sour cream or creme fraiche,  plus as much lemon juice as tastes right to you.

Now that you've got your "cake" and "frosting" it's time to put them together.  Do this in the same manner you would a layer cake, alternating bread and "frosting" with a "frosting" layer on top.  Be sure to frost the whole thing.

It's a nice detail to add a some of the toppings between the layers but don't use anything to big or chunky otherwise the sandwich cake will be lumpy (which is actually okay but not my way of doing it).  

Now it's time to decorate the cake. You can be as creative as you wish, there are no rules when it comes to smörgåstårta decorating. I usually use salmon (in lox form, cured not cooked), tomato wedges, avacado (don't add until serving time), shrimp/prawns, hard-boiled egg wedges, fresh dill, caviar, and grapes. 

After you are done decorating, cover with cling film and place it in the refridgerator overnight.  If you are in a hurry a couple of hours is fine, but overnight is best.
In Sweden you can find sandwich cakes in grocery stores and bakeries in both large and single-serving sizes.  They can be quite pricey and I've gotten pretty good at making them myself.  I like to make them when I'm in the States and have to take food to a function.  People either love them or hate them, but they're always a talking point.  And if people don't like them... more for me!
Have you ever tried a Swedish sandwich cake?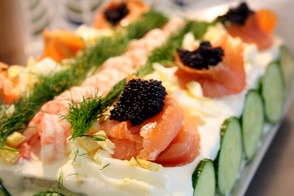 Smörgåstårta
Favorite Swedish Recipes (Dover Cookbook Series)

Delight family and friends with hundreds of the best Swedish dishes prepared right in your own kitchen. From typical smorgasbord items — pickled herring, creamed lobster, meatba...

$7.95 $2.99
Swedish Cakes and Cookies

A full-color guide to delectable Swedish cakes and cookies—3.4 million copies sold in Sweden, a copy for every Swedish family!Swedish Cakes and Cookies has become a modern class...

$17.95 $7.97
Fäviken

Faviken is the first major cookbook by Magnus Nilsson, the 28-year old chef whose restaurant is located on a 20,000 acre farm and hunting estate in Northern Sweden. It has recen...

$49.95 $31.96
Swedish sandwich cakes look...

My Swedish Immigration Authority smörgåstårta story.
Do not try this at home.
I moved from the US to Sweden in 2003.  I had gone through the entire immigration process and was given one year permits for both residence and work.  Just before my year was up I had to re-apply to be able to stay on in Sweden.  If approved the Immigration Authority would give me permission to stay on for one or three years, after which time I would have to re-apply again.
In the application I wrote a heart-felt letter about how I loved Sweden and wanted to stay with my husband and newborn daughter... it was good.  At the very end, as an afterthought, I wrote "Plus, I really enjoy smörgåstårta and we don't have it in my country."  
When I was called into my interview, naturally I was nervous because they were deciding my fate.  Turns out there was no need to be worried.  The interview lasted 6 minutes, 5 of which the officer spent giving me her smörgåstårta recipe.
I was granted permanent work and residence permits.
Even more smörgåstårta pictures!
Click here for more great reading by brl on topics ranging from gifts for yoga lovers to Full English Breakfasts and lots of fun stuff in between.
---
Disclosure: This page generates income for authors based on affiliate relationships with our partners, including Amazon, Google and others.