Jewish Smoked Salmon | Lox
Lox is a Jewish delicacy that is usually eaten on bagels with cream cheese, but can be used in many other recipes.
Lox is a Jewish delicacy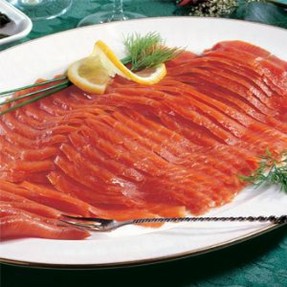 All smoked salmon is not created equal, and Jewish smoked salmon, called lox, is not the same as the standard smoked salmon that you get from your regular grocery store. Lox is a Jewish delicacy that is usually eaten on bagels with cream cheese, but can be used in many other recipes.
While I like many other versions of smoked salmon, lox feeds my soul, because I have been eating it for my entire life. It is not a food that I eat very often, because it is quite expensive, but when I do, I enjoy every bite.
Lox is salmon that has been cured in a brine which includes water or oil, salt, sugar, and spices. Lox is made either salty (belly lox) or not salty (Nova Scotia lox or Nova lox). When I was younger, we ate the belly lox more often, but with the better understanding of healthier eating and reducing salt, most people eat Nova Scotia lox.
Buying lox
Lox usually comes in very thin slices in small quantities, because it is expensive, and can be found in any grocery store that has a Jewish community around it or in any Jewish grocery or delicatessen in the refrigerator section or fish section. You can also buy lox online at Amazon, but make sure it is lox and not smoked salmon.
Lox is usually sold in vacuum packed packages, and should be refrigerated at all times. You can freeze lox, but it won't be the same afterward. Freezing changes the texture of the lox. Lox is best eaten the day you buy it or the next day, and in most households will be gone as soon as you put it out.
Preparing and eating lox
There is really no preparation necessary for lox. Unless you buy it in a large piece, it is already sliced and ready to eat. Lox is meant to be eaten cold, but there are some recipes where lox is added to a heated dish. Most people eat lox paired with cream cheese or a similar spreadable cheese on bread, matzah, or a cracker.
Most Jewish breakfast or brunch events will include lox and bagels. Typical sides to add to your lox and bagels are slices of red or sweet onion, slices of tomato,slices of cucumber, lemon, and capers.
However, lox is also good with any type of bread, and any creamy cheese. For instance, lox would be a good pairing with Havarti cheese or Brie cheese.
Other uses for lox
Just like any other fish, lox can be used in other ways most often for appetizers or breakfast items. Lox would make excellent bruschetta appetizer with a light cream cheese, slice of cucumber, and a sprinkle of fresh chives. Lox is also very good cut in small pieces and sprinkled over mesclun greens. Lox should be used in any recipe in small amounts as a flavor enhancer or additive because it has a strong flavor.
For hot dishes, lox is traditionally cooked into scrambled eggs with onions. It would be equally good inside an omelet with chives and a Havarti cheese. Recently I had a quesadilla made with a flour tortilla, lettuce, lox, cream cheese, tomato, and chives. This could be served hot or cold.
I prefer lox cold, but I know many people who love lox added to eggs. Remember that you do not need to cook the lox, so you can just add it into any recipe right before you are finished for flavor and to warm it.
More Jewish Recipes
Jerusalem: A Cookbook

A collection of 120 recipes exploring the flavors of Jerusalem from the New York Times bestselling author of Plenty, one of the most lauded cookbooks of 2011.In Jerusalem, Yotam...

$35.00 $19.61
The New York Times Jewish Cookbook: More than 825 Traditional & Contemporary Recipes from Around ...

From the food pages of The New York Times comes this authoritative, wide-ranging Jewish cookbook. With almost 800 well-tested recipes by Times food writers, this collection incl...

$40.00 $21.99
The Gourmet Jewish Cookbook: More than 200 Recipes from Around the World

From modern spins on classics, like Schnitzel Noodle Stir Fry and Matza Granola, to make-ahead meals, like Passover Beef Lasagna, to sophisticated dishes, like Veal Chops with M...

$29.99 $16.66
Joan Nathan's Jewish Holiday Cookbook

Jewish holidays are defined by food. Yet Jewish cooking is always changing, encompassing the flavors of the world, embracing local culinary traditions of every place in which Je...

$35.00 $12.96
The Book of Jewish Food: An Odyssey from Samarkand to New York

A monumental work--the story of the Jewish people told through the story of Jewish cooking--The Book of Jewish Food traces the development of both Ashkenazic and Sephardic Jewis...

$45.00 $19.90
The New Jewish Table: Modern Seasonal Recipes for Traditional Dishes

The New Jewish Table explores the melding of two different cooking cultures, seasonal American and Eastern-European Jewish, sharing the mouth-watering recipes that result from t...

$35.00 $12.86
Lox is best with the freshest ingredients
Lox is a food that tastes best with the freshest ingredients. As I mentioned above, it does not freeze well, and your best experience would be to buy lox, then go to the local farmers market for the vegetables, and bread. Then get your friends together and eat the lox on a Saturday or Sunday morning. Remember that lox is a speciality, and savor it.
---
Disclosure: This page generates income for authors based on affiliate relationships with our partners, including Amazon, Google and others.