Littering And Our Wildlife
by ravenko
What effect does littering have on our wildlife?
Does Littering Affect Our Wildlife?
People are littering all around the world, but does anyone really know what the effects are of littering on our wildlife. It's bad enough that us as humans have no regards for each other when it comes to throwing our garbage wherever we please. But what about the wildlife that live and share our planet.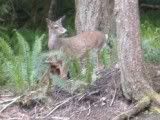 I live in a rural area and share my living space with a few different species of wildlife, just across the road from my house lives a small pack of coyotes as well as wild deer and I can't forget the owl that lives in my yard. People seem to think on a regular basis that my road is their personal dumping grounds in order so that they can avoid the dump fees. There isn't a day that goes by that someone in the night hasn't dumped their garbage somewhere along my road.
Then there are the people who throw their garbage out the window of their vehicles while driving along our highways. Is it so hard to hold on to your litter until you reach that next pull-out that has a trash can, or that next restroom that you know you're going to eventually stop at.
While Humans Are Sleeping
In most cities and towns while we as humans are sleeping our wildlife comes out to seek food. Here in my town the racoons, skunks, owls and even the coyotes are out at night, searching for food. They are trying to supply food for not only themselves but their young as well. Most of you probably think they are a nuisance, but did you know we are not the only race or breed that inhibits this planet we call earth.
This owl lives in my yard and everynight we hear him as we fall asleep. We are killing our wildlife with our garbage, litter, trash depending on where you live and what you call it. 
We need to start caring about not only the planet that we live on, but our wildlife as well. What would the world be like if we lost all of our wildlife due to our own carelessness. There's so many things that we can do to protect our wildlife, the first place to start and the easiest is to put all of our trash, garbage, litter where it belongs in the land fills or like we call it here the dump. 
Litter Causes Death To Our Wildlife?
Throwing our litter out into the world causes many different effects on our wildlife. Glass that breaks can cut the feet of foxes, coyotes, wolves and may even lead to blood poison if an infection sets in. Plastic especially from six-packs of cans can become wrapped around bird's necks causing strangulation, or they might use them to build a nest causing their young to be trapped. Recently here on the coast of British Columbia a mother bald eagle had built her nest using some fishing line a careless fisherman disgarded. After the babies hatched one became tangled in the line and as people around the world watched by a live web cam that had been placed in the nest, we all felt a sense of helplessness. Then a crane company donated a bucket crane for the day while two volunteers went up to the nest to untangle the baby eagle. If it hadn't been for the live web cam that baby eagle would of surely died. Turtles that can live up to 70 years are also able to become tangled in this too.
Rotten and old food that has spoiled over time can cause food poisoning just like it does for humans. Small animals trying to survive can become trapped in small jars as they seek out food, thus causing no way of escaping and eventually die. In Florida a small black bear cub had gotten his head stuck in a plastic jar while searching for food. Throwing that half eaten sandwich out of your vehicle window can cause wildlife to venture out onto the highway to eat it causing death as their hit by another vehicle. 
Save the Animals, Save Our Planet
How Much Do You Know About Litter?
         When A Plastic Bag Decomposes?            
Approximately 1000 Years
When A Glass Bottle Decomposes?
The Time Frame Is Unknown
When A Tin Can Decomposes?
Approximately 100 Years
         When A Plastic Film Container Decomposes?
Approximately 30 Years
When Does Wool Clothing Decompose?
Approximately 5 Years
---
Disclosure: This page generates income for authors based on affiliate relationships with our partners, including Amazon, Google and others.