My Arizona Pages
by darciefrench
A collection of my Squidoo lenses about Arizona, in particular Sedona AZ
For The Love Of Arizona
I have travelled to Sedona, AZ three times, and also written a book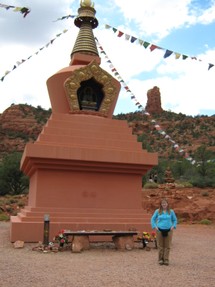 I am in love with the beautiful, awe inspiring red rock geography of Northern Arizona. The countryside is unlike most of the rest of the globe. Sedona, AZ, is particularily stunning with its rich red desert rock mesas. The soil in the area is the same color as the rocks, also a reddish-orange color.
There are affectionate names for various rock formations in Sedona, like Snoopy Rock (shaped like Snoopy from Charlie Brown), Bell Rock (shaped like a bell, of course) or Chimney Rock (another obvious moniker).This is me pictured at the Buddhist Stupa in Sedona on my second visit to Sedona, AZ in September, 2009. That's Chimney Rock peeking out behind the Buddha statue.
I've travelled to Sedona AZ from BC, Canada three times. Once by greyhound bus, once by car, and once by plane. I enjoyed the bus trip and the car trip the most, as I got to see all the places on the way. When we went via car, we drove in a tiny little hatchback car through the Snoqualmie Pass in January, all the way to Sedona through the Nevada Desert. We had the kid and the dog with us, and we had a great time.
In tribute to Arizona being one of my favorite places in the world, I've written a selection of squidoo lenses on Arizona. 
Karma's Story by Darcie French
The book I wrote about my first trip to Arizona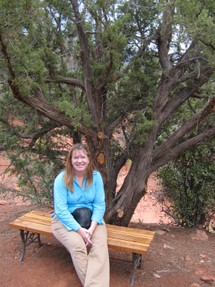 My first trip to Sedona, Az was in 2008. It was after I had both experienced a spiritual awkening and a mental health breakdown. I had spent most of the year 2007 in meditation, and focusing on reading the book "I Reality & Subjectivity". At the end of the year, I expeirenced a spiritual emergence or awakening, illumination, etc. A few months later, my energy swung the total opposite way and I faced the deepest depression of my life. To try and help myself, I went to Sedona AZ to see my favorite spiritual teacher, Dr David R Hawkins. He'd written many books I'd read, and given many lectures I'd seen on tape about healing and recovery; I wanted to meet "my teacher" in person. It was a magical trip all around, and I experienced a healing that has been unsurpassed in it's nature and quality since. I treasure the time I spent in Arizona, and the book I wrote gives the accounting.
Karma's Story by Darcie French
The Squidoo Lens I wrote about my first trip to Arizona
Have you travelled to Arizona?
Visiting Arizona
Arizona Squidoo Lenses
My articles on traveling to Arizona
---
Disclosure: This page generates income for authors based on affiliate relationships with our partners, including Amazon, Google and others.