Panasonic LV61 A Electric shaver Review
by Wizzthingz
One of the most expensive shavers available, but also one of the best. Does it offer value for money though?
How Good is the Panasonic LV61-A Shaver?
Note that it is identical to the Panasonic ES-LV81-K except that it does not come with its own separate cleaning and docking station.
Buy Panasonic LV61-A Shaver
In the following review you will see how the Panasonic LV61-A tops all of the three and four blade models out there by using a FIVE blade cutting system, getting ever closer to the perfect electric shave.
If you want to go to the top of the range with your electric shaver, then you cannot go any higher than the Panasonic LV61-A.
Panasonic LV61-A Shaver Review
The charging requirement is clearly indicated by the LCD; there is a full charge option that takes an hour and lasts 14 days or a quick 5-minute charge option that allows you to use the shaver for one shave.
Appearance-wise this shaver makes an impression straight away, when you take it out of the box. The gun-metal dark blue color and classic ergonomic handle with the 10-level blue LCD battery indicator and circular chrome on/off switch on the front, make it something you want to hold in your hand and it looks great in the bathroom too.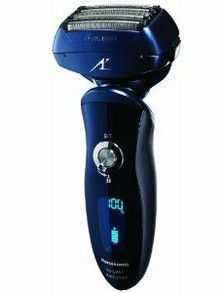 Panasonic LV 61 A
This unit is also designed to be taken traveling and features a travel lock and travel case, as well as automatic voltage adjusting.
As well as the five 30-degree Nanotec blades, arranged with five precision arc foils covering them, the LV61-A has Panasonic's trademark powerful motor is at the core of the unit.
This means that not only does it offer increased precision and closeness, but the power may be a step up from what you have experienced with other shavers – at 14,000 RPM that's just about as high as it gets. Most razors are 8,000 – 12,000 RPM.
Together with this, its pivoting head makes it easy to use and less likely to create any redness or irritation in hard-to-reach or sensitive areas. You can turn and flex it to any position to make shaving easy.
Irritation is also reduced by the extended cutting area provided by the five-bladed head, which reduces friction and "scrape" against the skin.
For users who prefer shaving in the shower, the Panasonic LV61-A can be used wet or dry. This can soften bristles and whiskers and opens the pores, as well as giving you the option to use shaving cream or gel.
With this model there is a light that indicates when cleaning is required. There is no cleaning station, but it does feature a sonic vibration cleaning mode that speeds up the motor and assists with the manual cleaning under running water.
Like most high-end Panasonic razors these days there is a good pop-up trimmer for detailed work on mustache, sideburns and goatee.
Summary of Pros for Panasonic LV 61 A Shaver
The 5 blades cannot be beaten – they are the sharpest on the market.
The 14,000 RPM power output makes a big difference to the comfort of the shave too.
Regularly features high up in Top 10 shaver reviews and receives very positive feedback from users.
It can be used wet or dry.
Summary of Cons for Panasonic LV 61 A
Cannot be used with the cleaning station from the Panasonic LV81-K model.
The price! At $500 this is a significant investment. You may be able to find it a little cheaper online.
Replacement blades and foils are an extra $50-70 every year.
Overall Summary
While many people may faint at the though of spending $500 on an electric shaver, the value for money is seen when you spread the cost over the entire life of the shaver. The daily use cost becomes minimal.
This unit can best be summed up in the words "pricey" but "classy and high performance".
Panasonic LV-61-A Shaver on Amazon
---
Disclosure: This page generates income for authors based on affiliate relationships with our partners, including Amazon, Google and others.