Philips Norelco 1150x/40 2D SensoTouch Shaver Review
by Wizzthingz
The Philips Norelco 1150x/40 2D SensoTouch is considerably cheaper than its 3D cousin, but do the savings make it worth it?
Should You Buy the Philips Norelco 1150x/40 2D?
If you've been looking for a new shaver to buy, either for yourself or as a gift, you'll have probably read some reviews for the SensoTouch 3D model that Philips Norelco make. While that model does offer a few extra features over the SensoTouch 2D, I'm not entirely convinced that it's necessary to pay the extra cost and I'd urge you not to discount the 2D model out of hand.
To me, the difference between the two models is noticed mainly with the GyroFlex cutting system. On the 2D model, the cutting heads work with considerably less mobility which means the shaving action feels slightly less smooth.
The consequence of this is that the 2D is considerably cheaper than the 3D as you can see if you click on either of the 2 price comparisons below…..
Buy Norelco 1150x/40 Electric Shaver on Amazon
The 1150x/40 2D model has many of the same features of the 3D model including: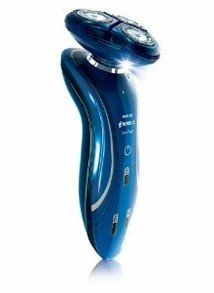 1150x/40
Appearance - What You Get
The 1150x/40 model is an almost futuristic metallic blue color with some additional black detailing - it has a non-slip rubber grip that makes it easy to use even if your hands are wet.
When you hold the shaver it has a solid feel to it, but as it weighs in at around 1lb, that's no real surprise.
The 2D SensoTouch comes with the patented Philips Norelco triangular pivotal shaving head which almost seems to perch at the top of the razors neck.
As well as the shaver, this unit comes with a charging base unit, cleaning accessories, and protective head cover.
Main Features
The GyroFlex heads work in a circular motion and pivot so that they tilt inwards to follow the facial contours.
DualPrecision heads cut longer hairs first then lift the stubble and cut again to ensure a really close shave.
A low friction shaving surface called SkinGuide reduces irritation making it a good choice for those with sensitive skin.
Use with shaving cream or gel gives you the option of wet or dry shaving.
Long lasting lithium ion battery gives up to 40 minutes shaving time on one charge.
Quick charge option available
Maintenance and Cleaning
The manufacturer recommends you clean the unit after every shave. In reality, none of us are going to do that, but a quick rinse under water and a brush with the cleaning kit once a week should be enough in most cases.
At the same time you should probably empty the hair capture chamber as this can build up pretty quickly.
Price - Buy Philips Norelco 1150x/40 2D Shaver
The 2D model will cost in the region of $80 - $100 online at Amazon, while the 3D model can be almost double that amount.....
In Conclusion
In my opinion this is a great little shaver that offers really good value for money. It might not be as sophisticated as it's more expensive cousin, but if your budget is a bit tight, this might just be one of the best electric shavers you can find and is certainly worth a look.
---
Disclosure: This page generates income for authors based on affiliate relationships with our partners, including Amazon, Google and others.