Pie Recipe With Peaches and Cream
by kimbesa
My homemade pie recipe is a family favorite dessert. Especially good with fresh peaches. An easy, single crust peach pie to make often.
Homemade Peach Pie - Easy and Awesome
Fresh fruit makes it special - a cool summer treat
My favorite peach pie recipe makes summertime a great time for pie! Come to think of it, anytime you're looking for a fruit-filled, luscious dessert, pie can fill the bill. People who like pie are often passionate about good homemade pie, with a flavorful filling and tender crust.


The recipe below for Peaches and Cream Pie is based on an old family favorite, and it is outstanding with fully-ripe fruit. This recipe will also help satisfy both the pie eaters who like fruit pie, and those who like cream pies.

Early peaches come into groceries and markets starting in May, and will continue through the summer peach season, that generally ends by October. Look for fruit that is firm but smells of peaches, and is free of brown spots and mold.

Also, this pie is easiest with freestone peach varieties, where the center pit comes cleanly away from the pulp. You can use cling peaches, but you'll have to cut the fruit away from the pit.  Redhaven, Fairhaven and Elberta are just some of the varieties you'll find on the market.

Serve pie on large dessert plates, for a generous slice and to allow for a scoop of ice cream on the side. In the photo: Vintage Syracuse pie plate in the Lancaster pattern, circa 1950. The gadroon edge of the plate is a little bit like a crimped pie crust edge.
Recipe For a Single Crust Peach Pie
Especially good with fresh peaches
Peaches and Cream Pie
Unbaked pie shell for a 9-inch pie
2/3 cup white sugar
4 tablespoons all purpose flour
¼ teaspoon salt
1 cup whipping cream (but not whipped)
3 to 4 large fresh peaches, or 7 or 8 canned peach halves

Prepare the pie shell according to your recipe or package directions. Preheat oven to 400 degrees.

Make the cream component by mixing together the unwhipped cream, sugar, salt and flour. Set aside.


Peel and slice fresh peaches into the pie shell. Pour the cream mixture over them and lightly shake the pie to evenly distribute. Bake at 400 for about 35 minutes, then turn down to 350 degrees for an additional 10 minutes.

Let the pie cool completely before slicing. Keep leftovers (if you have any) in the refrigerator.
More Tips for Peaches and Cream Pie
This pie recipe is flexible
If you use frozen peaches, thaw and drain thoroughly before use
If you like blueberries, try adding a few to this pie
If you enjoy this pie, make two! This pie works well as a cool breakfast on a hot summer day, as well as for dessert

As for the crust, I've had good results with packaged, refrigerated pie crusts. When I get more practice with a scratch crust, I'll use that more often. Good pie crust is an art.
How to Choose Fresh Peaches
Vintage Syracuse China Pie Plates
Once you serve pie on these larger plates, you'll want to use them all the time, especially for pie and ice cream.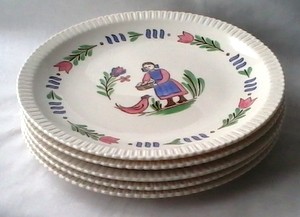 Lancaster pattern by Syracuse
Vintage Syracuse China on eBay
Collectable and charming to use, too.
More of My Wizzley Articles
---
Disclosure: This page generates income for authors based on affiliate relationships with our partners, including Amazon, Google and others.