Retro Bathroom: Shower Curtain
Retro style is very much in style, and a bathroom is the perfect place to show off your retro home decor.
Decorating a Retro Bathroom
If you like a retro look, and want to redecorate your bathroom, now is a good time to buy bathroom decor. A lot of companies have sales on bathroom decor this time of year, and you can find some great deals on Amazon. Retro style is very much in style, and a bathroom is the perfect place to show off your retro home decor. In this article, we are going to explore the retro looks available for shower curtains.
If your bathroom has a full sized shower or bathtub shower combination, a shower curtain is an easy way to add color and patterns to your bathroom decor, and it can be easily removed if you get tired of the design. Also, shower curtains are a relatively inexpensive way to redecorate a bathroom, because you can replace the shower curtain yourself, and even a brand new shower curtain, liner, and shower curtain hooks for under $100.00.
Design a Retro Bathroom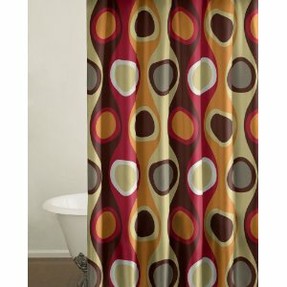 Retro style is in right now, and brings back a lot of memories for anyone who grew up in the 1960's, 1970's, and 1980's. The psychedelic swirls of color remind us of our past, and comfort us in our homes. And really now, how can you resist this retro shower curtain pictured to the right. The design is fun, simple, and makes a statement.
Once you have decided on your color scheme for decorating the bathroom, the shower curtain should be your first accessory, because a shower curtain takes up a large amount of space, and will set the tone for the rest of the bathroom design.
Retro Circles Shower Curtain
Kikkerland Shower Curtains
Retro: Simple Geometric Designs
Most retro designs are simple, repeated, geometric designs or geometric designs slightly askew. On this page, I have listed example of several styles of retro shower curtains that would look great in a bathroom.
As you can see, predominant designs are circles, squares, dots, stripes, and the iconic symbol of the 70's, the peace sign. Many of these designs come in more than one color, and by clicking the link provided, you can see what the color options are for each design.
The biggest design impact of the retro eras of the 60's and 70's, were the massive use of color interwoven in the design. For instance, tie dye was prevalent and has lasted to this day, as well as rainbow colored floral designs, and the ever present peace sign. The symbols represented peace and harmony amongst all diverse people, and that message is still a good one now.
Retro Stripe Shower Curtains
Retro Flower Shower Curtain
Retro Peace Sign Shower Curtain
Retro: Peace Sign and Flower Power
While I personally have no desire to bring back some of the retro hair styles, I do love the colors and patterns of the retro era. If you were in high school in the 60's and 70's, who can forget flower power.
Retro floral designs make wonderful shower curtains in a retro style bathroom, as well as on shower curtain hooks and other bathroom accessories. As a matter of fact, you can buy bathroom accessories in sets to match your retro shower curtain. I have listed just a few possibilities below.
The peace sign is another retro symbol that makes a great retro back splash for your bathroom. You can have a shower curtain with just one big peace sign or lots of peace signs as a pattern. Then you can add retro peace sign cups, waste basket, and tooth brush holders to your retro peace sign bathroom.
Retro Bathroom Accessory Set
Ad
Retro: Movie Shower Curtains
If you love reminiscing about retro movies, music, and books, then you will love the line of retro shower curtains from Kikkerland. Kikkerland has an entire line of retro shower curtains that have silhouettes of iconic retro entertainment figures.
Examples are Yellow Submarine Shower Curtain, Jaws Shower Curtain, and Psycho Shower Curtain. My personal favorite is the 20,000 Leagues Under the Sea Shower Curtain.
More Retro Bathroom Ideas
---
Disclosure: This page generates income for authors based on affiliate relationships with our partners, including Amazon, Google and others.