Romantic Gifts for Men: Dog Tags | Silver | Gold | Stainless Steel | Titanium
If you are looking for a romantic gift for your man for Father's Day, Anniversary, or a birthday, dog tags look great on men and they can be custom made in gold or silver.
Real Men Wear Dog Tags
Dog tags are becoming more and more popular as men's jewelry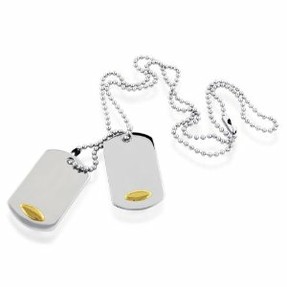 When I was growing up, the men I knew did not wear jewelry other than their wedding band, class ring, or dog tags from military service.  However, today jewelry for men is a growing market in many segments of the population.  It is no longer considered unmanly to wear jewelry.  Men wear rings, bracelets and necklaces routinely.
So while it is true that my father does not wear jewelry, many other men that I know, do.  One of the most popular growing jewelry items for men to wear are precious metal dog tags.  Dog tags as jewelry have grown out of the usage by the military for dog tags as ID badges.  Soldiers can wear them under their clothes, and they are hard to destroy, so that they can be identified.
However, dog tags have developed quite a bit from the original usage.  Many men wear dog tags because they like the look, because they have a saying engraved on them, or as a romantic connection to their loved ones.  If you know your man will wear jewelry, then dog tags are a good romantic gift for him for a birthday, Christmas, or Valentine's Day.  Or you can give him dog tags with a prayer before a long journey to help keep him safe.
Men's Titanium Fleur-de-lis Dog Tag Necklace
Lord's Prayer Dog Tag Pendant Necklace
Men's Dog Tag Styles
Everything from gold to titanium
Most dog tags that are given as romantic gifts for men, are made from precious metals such as 14k gold, sterling silver, platinum, or titanium which is fast becoming the men's jewelry metal of choice.  You can also find dog tags that are made with inlays of one metal into another, for instance, a gold cross inlayed into a sterling silver dog tag.
Other options are oxidized silver, or engraved dog tags with designs such as the fleur de lis, or written sayings or prayers.
Dog tags are worn by military men in just about every country, so the designs cross cultural boundaries and religious boundaries.  With fine jewelry dog tags, you often have the ability to custom order your own saying, date or significant words to be engraved to make the gift completely personal.
Personality and Distinction: Designer Inspired Titanium Gunmetal Finish Greek Key Dog Tag Pendant for Men on a Stainless Steel Ball Chain
Dog Tag Chains
Ball chains are the most popular
The majority of dog tags are hung from a ball chain.  Ball chains are available in about any metal, including gold, and are extremely flexible, yet hard to break.  They fasten easily with a small rice shaped connector, and they do not look feminine in any way.  They are the best choice for dog tags.
Most men wear their dog tags on a 24 inch or longer chain so that they can hang under their shirts and won't get in the way.
Dog Tag Pricing
There is a wide range of prices on dog tags
Depending on what the dog tag is made of, the price can vary widely.  You can find dog tags as inexpensive as $15 or $20 dollars including the chain, and the price goes up from there.  It is not a good idea to get plated dog tags, for instance gold plate or silver plate.  Plating is a very thin layer of metal over another metal.  For instance, gold plate is usually over silver.
The reason that I do not recommend this type of finish for dog tags, is that they will get a lot of rubbing and wear and tear against the surface because they are usually worn under clothing on a long chain.  This means that over time, the plating will wear away.  You are better off saving up for the solid gold or sterling silver, or getting a lower cost metal.
---
Disclosure: This page generates income for authors based on affiliate relationships with our partners, including Amazon, Google and others.