South Carolina State Dance - The Shag
by petunia
The state dance of South Carolina is the shag. Originating at the beach in the 1940's, everybody in SC shags, from the little ones to grandparents! Come join us!
Shaggin' on the Beach in South Carolina
Dancin' Barefoot on the Beach is great fun!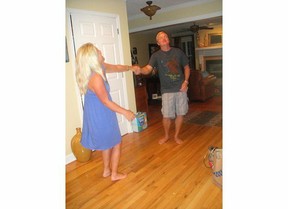 The shag started at the beach in the 1930's and 1940's.   In 1984, South Carolina named the shag as the official state dance.     A slowed down jitterbug, the shag is danced to upbeat music we call "beach music".   We even have a State Shaggers Hall of Fame for the very best of the best!
In South Carolina, almost everybody dances the shag.  I hope you will watch at least one of the videos on this page.  You will notice that people of all ages dance the shag.  There are the celebrated experts, of course.  But the rest of us just dance the shag and have a good time!  I heard someone say "nobody watches you if you are not any good at it, so don't worry about it - just have fun."  And that is great advice.
Just this past week at a wedding reception, a gentleman told me "you don't look self-concious out there at all."   Of course not!   I don't dance to entertain anybody but myself!   :)  We were dancing in the living room, kitchen and hallway from the time I was 9 years old.   In the late 50's and early 1960's, we sisters danced with each other and with our mom.  And sometimes we danced with a doorknob on a swinging door.  We learned the steps and we danced for fun!  The object was never to "do it right" although as teens we certainly wanted to "look good on the dance floor".   We danced in the Episcopal Church parrish house and we danced in the Presbyterian Church activity room.  We danced in the scout hut and we danced in the high school gym.  We danced in our friends' homes and we danced in their garages.   Our teen years were filled with dancing the shag to that fabulous 1950 and 1960 music.  
We danced to the music of Fats Domino, The Drifters, The Platters, The Showman, Bruce Chanel, Jackie Wilson, Chairman of the Board, and all the super stars of beach music.   There has been no music like it since those days!
A few years ago when our daughter and son-in-law were married, our daughter danced with her dad as most brides do.  But they danced to Miss Grace and they shagged!   I hope our grandchildren will carry on that tradition.
This page is an introduction to the shag.  Watch the competitive young folks in the junior championships.  Watch the dancers at our favorite spot in Murrells inlet.  
You have not learned about the shag until you have watched at least one of these videos.
Want to learn the shag before your visit to South Carolina?  There are videos that will teach you.  We look forward to your visit.  Come dance on the beach with us.  We'd love to see you!
Want to see how the real old-timers dance?  Visit The Blue Marlin at Garden City Beach!   You will see them dancing with their walking canes!  Old shaggers never quit -- no matter how old we get!
Shaggin' at Creek Ratz
One of our favorite places to dance - Murrells Inlet SC
Junior Shag Champions
These youngsters are fun to watch!
Learn to Dance Carolina Shag Volume 1

The Carolina Shag is the perfect dance for beach music, oldies, and rhythm and blues. It's easy to learn and can be danced in a variety of social settings, including ballrooms, ...

The Dance Store LLC

$30.00 $25.75
Carolina Shag Basics Plus Vol. 1

Carolina Shag - Basics Plus - Vol. 1 by Charlie Womble and Jackie McGee. Charlie Womble and Jackie McGee are nine-time National Shag Dance Champions in addition to being U.S. Op...

Only $16.73
S is for shag - Our State Dance
Quick lesson in the basic step
Can you dance the SC Shag?
Would you like to learn?
Important SC Shag Links
The SOS Site
Dates for SOS, where to stay, officers, everything you want to know about SOS
Tilghman Resort
Beautiful condos on the beach - one of the official sponsors of SOS
---
Disclosure: This page generates income for authors based on affiliate relationships with our partners, including Amazon, Google and others.