The Stages of Change Model
by Marelisa
You may have noticed in your own life that making a change is not like flipping a light switch. Instead, it's a proccess that you move through, step-by-step.
Introduction to The Stages of Change Model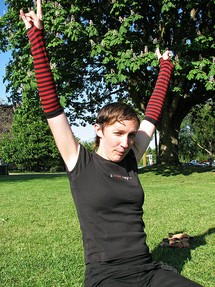 How many times have you wanted to make a change in your life, but you've failed? For example, you may have thought about doing any of the following:
Starting an exercise program
Training for a marathon
Going on a diet
Giving up smoking
However, you think about these things, but you don't actually do them. Or, maybe you do take action: you diet for a while, or you stop smoking for a month, but then you go right back to your old behavior. Psychologists have identified the process people go through when making changes in their life; they've named the process "The Stages of Change Model".
This model was introduced in the late 1970's by researchers James Prochaska and Carlo DiClemente who were studying ways to help people quit smoking. It consists of five stages.
Knowing how this process works will help you to make permanent changes in your life. Find out more below.
---
(Image: Victory!)
The Stages of Change on Wikipedia
The
Transtheoretical Model of Behavior Change
assesses an individual's readiness to act on a new healthier behavior, and provides strategies, or processes of change to guide the individual through the stages of change to action and ...
The Five Stages of Change
Here are the 5 stages of change:
Precontemplation: At this stage the person isn't even thinking of changing.
Contemplation: The person begins to think that the behavior that they're engaging in is problematic, or they think of a new behavior that they would like to adopt, and they start weighing the pros and cons of changing.
Preparation: The person has made the decision to make a change, and has started to get ready to change by doing things such as gathering information.
Action: The person has modified his/her behavior and there have been positive changes in his/her life.
Maintenance: The person is working to prevent relapse; this stage can last indefinitely.
Stages of Behavior Change
Interview - Precontemplation
I. Precontemplation
The Stages of Change
Precontemplation is the first stage of "The Stages of Change Model".
Those who are in the Precontemplation Stage are in denial and they're not even considering changing their behavior.
People in this stage think and say things like the following:
"I don't need to change."
"I don't even think  I have a problem."
As an illlustration, someone who leads a sendentary lifestyle and gets very little physical exercise, and who has no intention of starting an exercise program, would be at this stage.
II. Contemplation
The Stages of Change
Contemplation is the second stage of "The Stages of Change Model".
To continue with our previous illustration, at this stage the person begins to realize that their lack of physical activity is a problem.
They start weighing the pros and cons of starting an exercise program.
Then they make the decision to take action within the next six months.
III. Preparation
The Stages of Change
Preparation is the third stage in "The Stages of Change Model". This stage combines intention with behavior.
The person in our illustration who has made the decision to exercise has bought sport clothes and is taking small steps to become more active. They've written down some physical activity goals that they want to achieve.
Is there a change you're currently trying to make in your life?
IV. Action
The Stages of Change
Action is the fourth stage of "The Stages of Change Model".
In this stage the person in our example is exercising regularly. For example, they may be doing half an hour of cardio five days a week, lifting weights three times a week, and riding their bicycle to run errands whenever the weather permits.
Action Stage: Exercise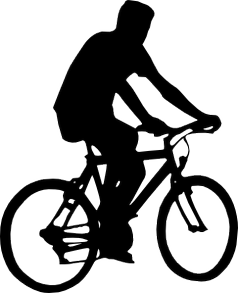 Bicycling
V. Maintenance
The Stages of Change
The fifth and last stage of "The Stages of Change Model" is maintenance.
Once the person in our example has reached the goals that they set for themselves during the Preparation Stage, they need to keep taking action in order to make physical activity a regular part of their lifestyle and avoid slipping back into their old behavior.
Relapse
Relapse is not a stage of the process, but it's something that can happen at any moment. Just remember that if you do relapse, it doesn't mean that you've failed. Regardless of which stage of the process you were at when you relapsed, you can get back on track.
Keep in mind that before you make a permanent change in your life, it's possible that you may relapse several times. For example, smokers are notorious for relapsing.
However, the fact that you've relapsed several times doesn't mean that you'll never be able to make a permanent change. It just means that you need to be more aware of the triggers that cause you to relapse, and create a plan to avoid these triggers.
How to Live Your Best Life
How to Live Your Best Life
---
Disclosure: This page generates income for authors based on affiliate relationships with our partners, including Amazon, Google and others.