Summer Activities: Hiking at Cleveland Metroparks Squire's Castle
If you are looking for something to do this summer in the Cleveland, Ohio area, take a trip to Squire's Castle for a picnic, walk, or hike through the nearby forest.
Good Weather in Summer Makes Hiking a Pleasure for Enthusiasts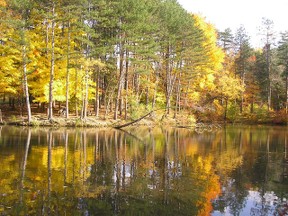 In Cleveland, where I live, pretty much everything we do is predicated on the weather.  Cleveland's weather is highly changeable, and so when the weather is clear and warm, in the summer, we all run outside to get as many outdoor activities in as possible.
Luckily, there are many gorgeous parks in the Cleveland area, the largest group is called the Cleveland Metroparks system, that has an "emerald circle" around the city.  One of those parks is called the North Chagrin Reservation which runs along part of the Chagrin River and includes Squire's Castle, the remnants of a home built in the 1890s by Feargus B. Squire for use as the gatekeeper's house for his future country estate which was never completed.  Squire's Castle has become a popular spot for picnicking, walking, hiking, running, and horseback riding.  There are also many groups who choose Squire's Castle as a place for a company outing, or family reunion.  There are many marked trails for hiking through the woods, both short and long, and horse trails as well.
Hiking and Walking in North Chagrin Metroparks
Trails are well maintained and marked
One of the things that is great about visiting Squire's Castle and the North Chagrin Reservation is that the entire park is extremely well maintained.  If you come in the front entrance from S.O.M. Center Road in Willoughby Hills, then you will find the park visitor's center and gift shop immediately inside.
Whenever the visitor center is open, you can get a colored park map which includes all of the trails listed with their lengths, and whether they are a loop trail, horse trail, or bike trail.  Trails range in length from about 1/2 mile to 3 miles, and vary in level of difficulty.  Along each trail, you will be able to see many natural streams, ponds, vegetation, and some of the trails go up and down, and around hills that will give you a good workout whether you are walking or running.
Squire's Castle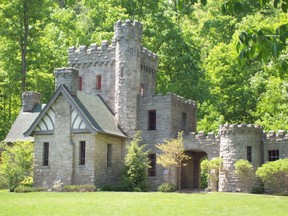 Squire's Castle, while intact, is just a shell of a building.  Many weddings take place in the castle, and even more wedding pictures.  However, most of the time, Squire's Castle is open to the public to explore, and enjoy the structure while picnicking, playing, and walking in the area.
Behind Squire's Castle are two trailheads, one which just is a short circle behind the castle, and another which goes up a steep hill into the forest behind the castle, then joins another trail which is about a 1 1/2 mile loop.  This is a great hike for the intermediate walker or hiker, and the trail is always kept in excellent condition.  One time I hiked this trail with my family and a huge tree had fallen across the trail.  The only way to continue was to climb over the tree.  By the next week, the park workers had cut a trial wide path through the tree and left the rest there where it had fallen.
Everything is left as natural as it can be, while making sure that the trails are safe for beginners.
Trail Markers
If you do not have a good sense of direction, you should take a park map with you.  It is easy, even with the excellent trail markers to get turned around and lost on the trails.  This is especially true if you hike the loop trails.
Loop trails are trails that are basically a loop or circle that ends back at the beginning.  These are good if you don't want to end up a few miles from your car, when you finish hiking.  However, it is easy to miss the trail marker and start on the loop for the second time.  So taking the map with you will help.  Or you can tie a ribbon at the beginning as long as you take it with you when you leave.
The trails are all marked with brightly colored trail markers both at the beginning and end, and throughout the trail, so you don't make a wrong turn.  There are also spots where trails combine or intersect throughout the park.
North Chagrin Reservation and Squire's Castle
More Places to Visit in Cleveland
---
Disclosure: This page generates income for authors based on affiliate relationships with our partners, including Amazon, Google and others.