Unique Chocolate Truffles for Valentine's Day
With all the chocolate in the world to choose from, it is hard to select just the right ones for Valentine's Day. So I did it for you. Here is a guide:
Chocolate is the Sexiest Candy Around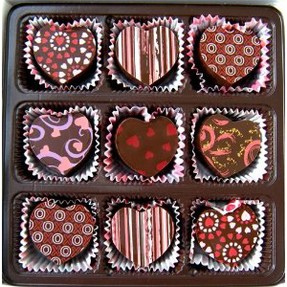 When it comes to food, and especially to sweets, there is no sexier food than chocolate.  Chocolate stimulates the senses, and has a flavor that lingers on the tongue long after you are finished savoring it. 
Chocolate also pleases other senses besides your taste buds. The texture of chocolate feels good to us; the smell of chocolate tantalizes us, and the caffeine in chocolate gives us a small kick.  There is no question that chocolate is one of the most sensuous foods around, one of the foods of love.
Therefore, it is not surprising that chocolate is one of the traditional gifts for sweethearts on Valentine's Day.  Chocolatiers around the world look forward to Valentine's Day each year, as anxious husbands and boyfriends look for the perfect box of chocolate to romance their wives and girlfriends. 
Not all boxes of chocolate are the same, as chocolatiers' recipes vary from country to country, and from rival to rival.  Chocolate sales are highly competitive, and the best chocolate recipes are guarded fiercely by the chefs who create them.
Of all the chocolate varieties, the one that is considered top shelf is the chocolate truffle.  Truffles are luscious, creamy, and delicious.  They combine the best of chocolate with other delicate flavors, and are often decorated on the outside to represent a theme or holiday.  The box pictured here is clearly meant for a romantic gift, on Valentine's Day or another romantic occasion.
Dove Chocolate Truffle Hearts
Show Your Love with Chocolate Truffles
There are not too many women, or men for that matter, who would not love to receive a delicious box of chocolate truffles for Valentine's Day.  As you can see by the selection of chocolate truffles on this page, there are truffles made by almost every chocolate company, and the price for chocolate truffle range depending on the chocolate maker, the ingredients, and where you buy the box of truffles.
However, with chocolate, it is indeed true that you get what you pay for, so you should choose the best chocolate truffles that fit into your budget for a gift.
The more handmade the truffles are, the more expensive they will get.  This is the cost of the time it takes for one person to hand decorate or manufacture the candy.  However, better chocolatiers have higher quality chocolate, and each piece will have less air than in lower priced chocolates.
Lindor Truffles Assortment
Ad
Valentine's Day Luxury Chocolate Truffle Gift Box
Ad
A Small Amount of Chocolate Gives Large Rewards
It doesn't take a lot of excellent chocolate to please someone you love.  The better the chocolate, the less you need to eat to enjoy the unique taste and feel.  Chocolate truffles are usually made with combinations of milk, dark, and white chocolate, nuts, liqueurs, and fruits in various combinations.  It is best if you know ahead of time what your lover will desire to eat the most, as many people prefer either fruits or nuts, or one type of chocolate over the other.
Some chocolate truffles have cream fillings, while others may be filled with nut butters, such as almond butter, or a fruit meringue.  An assortment box should tell you what is inside, so that you can judge for yourself as to which assortment is best.
For instance, some people love chocolate covered cherries, while others can't stand them.  Make sure to take the time to find out what will be appreciated.
More Valentine's Gift Ideas
---
Disclosure: This page generates income for authors based on affiliate relationships with our partners, including Amazon, Google and others.