Vegetarian Frozen Foods
by LadyLynn
Some of My Favorite Vegetarian Frozen Food Companies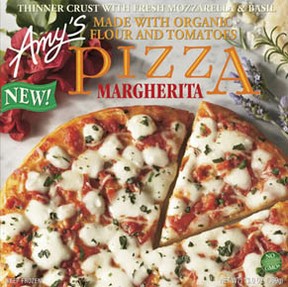 Not only is vegetarianism getting to be more popular, but there are many types of vegetarian and vegan frozen foods that make eating healthy easier than it has ever been before.  I have included some of my favorite companies that make vegetarian frozen foods here, along with an explanation of some of their products and where you can find them. 
Please feel free to use the comments section at the bottom of the page to recommend more.
Amy's Vegetarian Frozen Foods
Some Great Tasting and Healthy Vegetarian Meals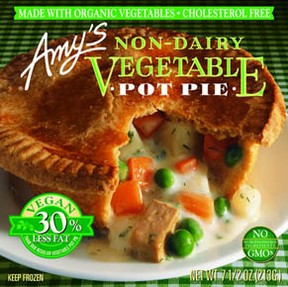 i have been a big fan of Amy's products for a long time. Rachel and Andy Berliner started the company in 1987 when their daughter Amy was born, and so their named their new company "Amy's."
The pot pies were an early product of Amy's because vegetarians missed the taste of pot pies and no commercial vegetarian pot pies existed. Today, there are various varieties of pot pies (including the vegan one pictured here) as well as dozens more vegetarian frozen foods, soups and more.
The company has progressed steadily, adding many new products and developing a fan base, and many of their products are now available in supermarkets, Wal-Mart and whole food stores.  The product line is so large that it is difficult to find all of the Amy's products in one location, but you can usually find at least some of them in a store near you. Not all of Amy's products are vegan, but they are all vegetarian. Even the ones with cheese use no animal rennet. There are also some products with soy cheese.

More Info:
Amy's Facebook Page
Amy's Web Site
Cedar Lane Vegetarian Frozen Foods
Not All of Cedarlane's Products Are Vegetarian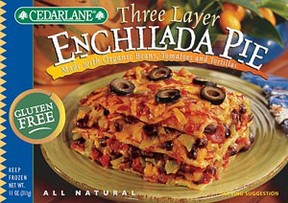 Not all of Cedar Lane's products are vegetarian, but some of them are.  This enchilada pie contains cheese, but the label states that it is rennetless cheese which means that it uses milk but not animal enzymes in the production of the cheese.  This particular product is made of organic corn tortillas, organic black beans, green chilis and cheddar cheese and cover them in a delicious salsa-style sauce with fresh cilantro and chunks of fresh tomato, topped with black olives. It is my favorite of their products, although they do make several others. Be sure to read the label if you have questions about the ingredients.
More Information:
Cedarlane's Web Site
Cedarlane on Facebook
Tandoor Chef
Great Indian Food Meals in the Frozen Foods Section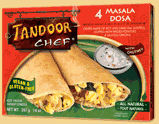 Indian food lends itself well to vegetarian dining, and I am a huge fan of Indian food. One of the major suppliers of Indian food is Tandoor Chef, which makes a variety of vegetarian as well as vegan frozen foods that are easy to prepare.

Tandoor Chef products are getting easier to find. I first found them at Whole Foods, which carries a small selection in my town.  I have also seen them at selected supermarkets, but the best place to find them is at an Indian food specialty store.
More Information:
Tandoor Chef's Web Site
Tandoor Chef on Facebook
Tofurky
Meat Substitute Items for Vegetarians and Vegans

As I add companies to the list that provide vegetarian or vegan frozen items, I have to also include the Tofurky brand, which is provided by Turtle Island Foods Inc.
Tofurky has been around for a little while and has gained recognition primarily for providing vegetarian Thanksgiving meals by way of a tofurky roll that simulates turkey for vegetarians. They also provide other meat substitute products.
The items that I discovered this morning are their Tofurky pizzas, which are new. These are vegan pizzas that use the trademarked daiya cheese as well as the tofurky meat substitutes for their pizzas.  I just tried the Italian Sausage pizza, and it was very good. Tufurky pizza is also available in Pepperoni and cheese varieties.
How often do you eat frozen vegetarian meals?
Is it closer to....
Vegetarian Themed Posters
More Vegetarian Information
My Lenses on Squidoo
---
Disclosure: This page generates income for authors based on affiliate relationships with our partners, including Amazon, Google and others.