Why I Bought My Father a Barnes and Noble Nook (Instead of a Kindle)
While I am an avid Amazon shopper myself, I decided to go for a Barnes and Noble NOOK for my 80 year old father, and here is why.
This is the NOOK Simple Touch™ That I Bought My Dad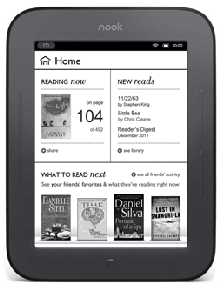 My father is turning 80 this year, and he is still as sharp as he ever was, although he might be just a bit slower on the uptake.  However, he loves gadgets, as long as they are not too complicated, so my husband and I thought an e-reader would be a good choice for a birthday gift.
My parents travel quite a bit, and spend the cold winter months in Florida.  They both like to read, and learn, so the idea of an e-reader made sense.
I asked around to people who had e-readers, and after careful consideration decided to buy my dad the NOOK Simple Touch™ made by Barnes and Noble over the other choices including the Amazon Kindle.  The final decision was not based on the actual ability and user friendliness of the device, but on the customer service potential of the Barnes and Noble brick and mortar stores that could be accessed by my father in pretty much any location, certainly here in Cleveland.
Features to Consider
When trying to decide on a model and a brand of e-reader to choose for my father, we specifically decided to NOT pick the newer models that combine the e-reader features along with the tablet features.  Although that would be a better choice for me to have, my dad is not the type of person who surfs the internet.  Actually he really does not use the internet much at all, except to send email, and occasionally look for hotel reservations.  The more my husband and I talked about which model to buy, the more we thought that the simpler models would be better.
We thought that just learning how to use the book features of the e-reader would be enough of a culture shock, and that it would be best to get an e-reader that would be less complex, easier to use, and had simple directions.
Deciding on a Brand for an E-Reader
There are several companies that make excellent tablets, but since we didn't need those features, figuring out which e-reader to pick essentially came down to the Barnes and Noble NOOK, and the Amazon Kindle.  If I was buying for myself, I would probably have chosen the Kindle, because I am constantly online, on Amazon, and rarely do I go into a Barnes and Noble store.
For my dad, though, in the end the factor that decided me, was that he would actually be able to walk into a Barnes and Noble store, with his NOOK, and talk to a sales person to learn how to use the device or if he had any problems.  My parents are not used to shopping online, and communication is always better in person when you need help.
Before we made the purchase, I went into the local Barnes and Noble, talked to a clerk about the functions, and bought a gift card so my dad could buy a couple of ebooks. 
NOOK Simple Touch™ Size
I really like the size of the NOOK Simple Touch™.  The NOOK is about the size of a 5" x 7" greeting card, and it is very flat, maybe 1/4" from back to front.  It is lightweight, and easy to put in a jacket pocket or purse, or the side pocket of a weekend travel bag, briefcase, or computer bag. 
There are several types of covers for the NOOK, but I didn't know if that was something that my father would want, because a cover automatically makes the NOOK bigger.
Using the Library
We gave the NOOK to my father last week, and I was thrilled to hear that the next day, he and my mom went to Barnes and Noble, got the NOOK registered, and learned how to use it.  This confirmed my idea that being able to go to a store would be a good choice for them.
They were very happy to learn that they could download library books to the NOOK from any computer to read for free, and that is most likely how they will use it the most.  (I bought it for my father, but I think my mother will use it too.)  It will be perfect for reading on a plane or in hotels in the evenings when they are winding down their day.
6" Touchscreen
There are several other features of the NOOK Simple Touch™ that you can read by click through the link, but the one other feature that I wanted to mention was the 6 inch touchscreen.  I do not have the best eyes myself, and I liked the easy readability of the touch screen, and how easy it was to use.  Since my father has some arthritis in his hands, I thought that the touchscreen would actually be better than actual buttons, and there are lots of ways to adjust the screen to make it easier to see and use.
---
Disclosure: This page generates income for authors based on affiliate relationships with our partners, including Amazon, Google and others.