Women in Panties: History and Perceptions
by jblack
Discover the rich history of female intimates and the reasons for the naughtiness factor associated with women in panties.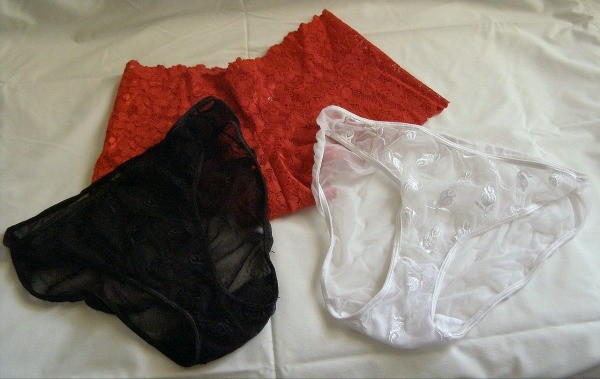 Examples of Women's Panties
Panties (plural of panty), is primarily used to refer to underwear worn by women.  According to Dictionary.com, the word originated in the U.S. and is peculiar to the English spoken in America.
According to Jacquelyn Mitchard, author of the article, "Things We're Too Old to Say," published in the March 2011 edition of the AARP Bulletin, "Nobody should say panties, even toddlers."  Mitchard terms the word "infantile, diminishing, and eroto-weird."  Panties is definitely a word those over 50 should drop from their vocabulary according to Mitchard.  Instead she suggests, "Let's say underwear, smalls or simply point."
Mitchard's article fueled my curiosity about why the word panties has undertones of eroticism, even naughtiness for many Americans.  Panties are so eroticized by some that psychologists consider them one of the most common fetish articles, says Psychologist-anywhere-anytime.com.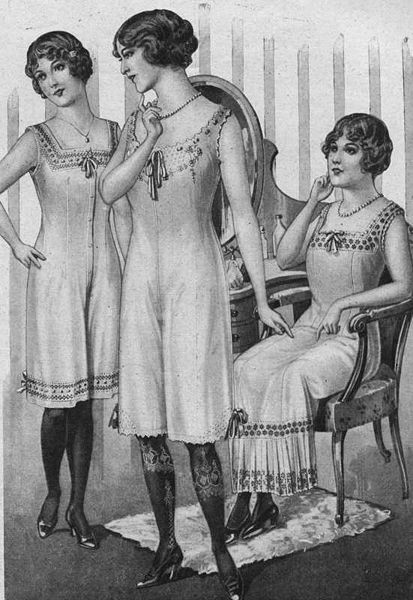 Women's Underwear Circa 1913
Creative Commons Image via Wikimedia Commons
From Pantaloons to Girls in Panties
Before there were girls in panties, female underwear served strictly pedestrian purposes related to modesty and hygiene.  Lingerie Diva.com says that some form of a loose fitting undergarment was worn as underwear by women for the purposes of "modesty and warmth as early as the 1400s."  According to the source, female underwear designs continued to evolve but were mostly knee-length to ankle-length affairs well into the early 1900s. 
During the evolution of the various styles, according to Lingerie Diva, female underwear was generally referred to by the actual style or trade name fashionable at the time, (e.g., Pantaloons, Union Suites, Bloomers, and Step-ins) or simply called drawers.  Due to the cultural shifts that occurred in the 1920s, dress hemlines began to rise and that dictated that the length of female underwear be shortened.  That suggests that changes in outerwear fashions likely contributed substantially to the changes in underclothing styles. 
The designs for female unmentionables changed dramatically by the 1960s from plain, white, loose-fitting undergarments to more colorful, decorative, and hip-hugging designs.  In part, according to vintageskivvies.com, the changes came about as a result of the integration of new fabrics like Dacron and nylon into the production of underwear.   These new fabrics, developed during the 1950s, permitted manufacturers to produce female underwear in a rainbow of colors and fanciful designs.  The new fabrics also made it possible to incorporate elasticity into the waistbands and leg openings. 
According to author Valerie Steele, the appearance of bikini panties coincided with a change in attitudes towards undergarments among women during the feminist and hippie movements of the 1960s and 1970s.  The skimpier, brief designs were simply more comfortable and practical for wearing with the jeans and miniskirts popular during that time.
Examples of Available Styles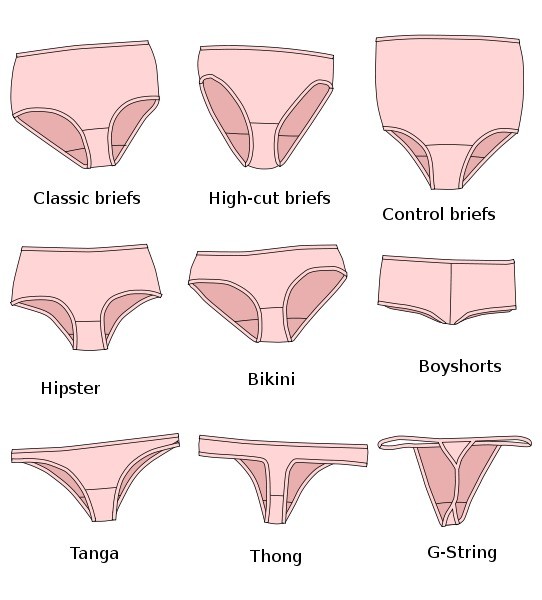 Variety of Styles Available
Creative Commons Image via Wikimedia Commons
From Granny Panties to Sexy Panties
Underwear choices for women have grown exponentially since bikini panties appeared on the scene in the 1960s.  Some styles, like Classic briefs (sometimes referred to as "Granny panties"), that extend from the tops of the legs to above the waistline, providing full rear coverage, continue to essentially serve the original modesty and hygienic purposes of underwear.   Yet a quick perusal of a lingerie retailer website like Victoria's Secret shows the variety of other panties styles available to women today.  These "sexy panties" styles are likely most responsible for the connection people often make between the word panties and the erotic.  Styles that women have to choose from today include;
Thongs
Hiphuggers
Bikinis
Cheekies
Briefs
Boyshorts
G-strings (or V-strings in the case of Victoria's Secret)
Shapewear panties
Not only is there a tremendous variety of styles available, female panties today come in a wide range of colors, materials, and decorative patterns.
No Panty Lines
It's is rather elementary to understand the playful naughtiness connotation some associate with panties.  We need only ponder the strategic parts of the female anatomy that panties cover and then reflect on how certain styles seem intentionally designed to showcase those parts and even to partly reveal them.
Thongs and G-strings for example provide minimal rear coverage, thus providing glimpses of the female posterior that have historically been hidden from view.  The lack of rear coverage however, does serve a legitimate purpose unrelated to enticing exposure. 
As explained by TLC's style expert, Stacy London, "visible panty lines and bunching" are fashion fuax pas when it comes to panties.  Thongs and G-strings provide a "no panties" look, eliminating unsightly panty lines and bunching, without women having to resort to going commando.  Given the design of the female anatomy, hygienic considerations are one of important reasons for wearing panties.  Even styles that offer minimal rear coverage cover the necessary territory in front needed for sanitary purposes.
In spite of Jacquelyn Mitchard's feelings on the subject, panties will likely remain the decisively popular term for women's underwear.  Careful cultivation by the media and ad industries of the erotic connotation associated with panties will likely keep the word firmly rooted in American vernacular.           
Sources:
"panties."  Dictionary.com Unabridged. Random House, Inc. Web. 12 Jan. 2012.
Mitchard, Jacquelyn. "Things We're Too Old to Say." AARP Bulletin.  11 Mar. 2011. Web. 12 Jan. 2012.
"Understanding Fetishism." Psychologist Anywhere Anytime. Web. 12 Jan. 2012.    
"Panties History." Lingerie Diva. Web. 12 Jan. 2012.
"History."  vintageskivvies.com. Web. 12 Jan. 2012.
Steele, Valerie. The Corset: A Cultural History. New Haven, CT: Yale UP, 2007. Print.
"Panties." Victoria's Secret. Web. 12 Jan. 2012.
London, Stacy. "Panty Primer." Oprah.com. Web. 12 Jan. 2012.
Learn More
Lingerie Ladies

Gianna, also known to the world as Brooklyn, and her girl Remy, took the cleaning service by storm. Now, these are not your average Molly Maid chicks; they go by The Lingerie La...

Lingerie: A Modern Guide

Covering the fun, often deliciously risqué, history of lingerie, you'll meet the first innerwear-as-outerwear model (a 5000 year old Snake Goddess in a corset!), take a peek ben...

$9.99 $2.94
Exposed: A History of Lingerie

Lingerie is a subject of enduring fascination. As the final barrier to the fully nude body, it is simultaneously modest and erotic. This compelling and eye-catching publication ...

$40.00 $24.25
The Bare Essentials: A Passion for Lingerie

This invaluable guide pays homage to the silk, satin and lace (or sometimes the Lycra and pvc) that has evolved to become the 'bare essentials' of every woman's wardrobe. Offeri...

$15.95 $7.30
Lingerie: The Evolution of Seduction (Nanobook)

A colorful and titillating pictorial history of the sexiest attire of all.Lingerie has always been the ultimate tease in ladies' attire, a statement of style, elegance, provocat...

$29.95 $7.76
La Perla: Lingerie and Desire

A gorgeously illustrated book showcasing the exquisite high-end lingerie from the world-renowned Italian brand La Perla. La Perla is celebrated for its sophisticated, sexy, and ...

$85.00 $29.04
Updated: on 01/12/2012, jblack
---
Disclosure: This page generates income for authors based on affiliate relationships with our partners, including Amazon, Google and others.