Wordfeud
by brl
Wordfeud is a two-player wordgame, much like Scrabble, played on iPhone and Android devices. There are more than 8 million players worldwide!
I play Wordfeud quite a bit.  Both with friends and random strangers.  It's a lot of fun!
Wordfeud is a game you can play on your smartphone that is a lot like Scrabble.  You play with another person and can have up to 30 different games going at once with up to 30 different people.  
You can start a game with a Friend (someone you have added to your Wordfeud friend list), Contact (someone from your phone's contact list) or a Random Opponent (Wordfeud will find you a player).
The object is to build words for points, highest amount of points at the end of the game wins.  Words can be built horizontally or vertically and must touch at least one letter of a word already on the board.
Give it a try!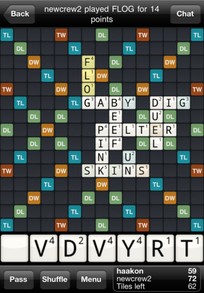 Wordfeud
Wordfeud Languages
Games are allowed in the following languages:
Danish
Dutch
English (International)- SOWPODS
English (US)- TWL
French
Norwegian
Spanish
Swedish- All word forms.
Swedish (strict)- Base forms only, no endings or conjugations.
To start a game in a language, click on the plus sign in the top right corner, then Dictionary, then select the language.
Add me on Wordfeud!
Leave your Wordfeud name here so people will find and add you!

Here is my name and I would like to play in another language (please specify)
Here is my name and I would like to play in English
Winning Wordfeud Strategies
Find DW (double word), TW (triple word), DL (double letter) and TL (triple letter) squares before you start figuring out what word you will play and try to build on those squares.
Put high value letters on DL and TL whenever possible.
Take your time to make sure you play a really good word.  You have up to 72 hours between plays so there is no hurry (however, after 72 hours without a move you will forfeit the game to your opponent).
Always try to play all seven tiles at once.  That is hardly ever possible but try every time.
When playing in English, use S sparingly.  It's only one point at the end of a word and may be better used to build off another word.
Familiarize yourself with two-letter words that are allowed.  QI can generate 66 points when played horizontally and vertically and the Q is on a TW square.  Two letter wordlist
Invest in a Scrabble dictionary.  
Practice, practice, practice!
Wordfeud Letter Values
English
| Letter | Count | Points | Letter | Count | Points |
| --- | --- | --- | --- | --- | --- |
| A | 10 | 1 | N | 6 | 1 |
| B | 2 | 4 | O | 7 | 1 |
| C | 2 | 4 | P | 2 | 4 |
| D | 5 | 2 | Q | 1 | 10 |
| E | 12 | 1 | R | 6 | 1 |
| F | 2 | 4 | S | 5 | 1 |
| G | 3 | 3 | T | 7 | 1 |
| H | 3 | 4 | U | 4 | 2 |
| I | 9 | 1 | V | 2 | 4 |
| J | 1 | 10 | W | 2 | 4 |
| K | 1 | 5 | X | 1 | 8 |
| L | 4 | 1 | Y | 2 | 4 |
| M | 2 | 3 | Z | 1 | 10 |
Passing A Turn And Swapping Tiles On Wordfeud
Passing- If you are absolutely stuck and can't play anything or are strategically waiting to play a word, you may pass your turn.  You won't gain or lose any points and the turn will automatically go to your opponent.  Be aware that if you pass three times in a row you end the game (standard end scoring rules apply).
Swapping Tiles- You are allowed to swap out one or more tiles anytime during the game as long as there are at least seven tiles in the "bag".  You will lose your turn in doing this, but sometimes it may be a necessary evil.
What's the difference between SOWPODS and TWL on Wordfeud?
The easiest way to think of it is the difference between how Americans spell a word (TWL) and how the rest of the English-speaking countries spell the same word (SOWPODS).  TWL and SOWPODS are official systems used in Scrabble competitions.  Competitions using American English use TWL and competitions using British English use SOWPODS.
Some examples:
USA              Rest of the world
color             colour
tire                tyre
aluminum      aluminium
license           licence
center            centre
recognize       recognise
monolog         monologue
ameba           amoeba
ton                 tonne
Click here for more great reading by brl on topics ranging from gifts for yoga lovers to Full English Breakfasts and lots of fun stuff in between.
---
Disclosure: This page generates income for authors based on affiliate relationships with our partners, including Amazon, Google and others.