Am I Ready to Start a Home Business?
by thewahwife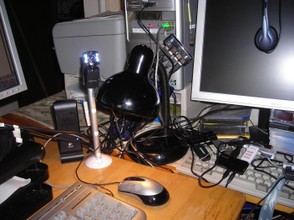 Am I Ready to Start a Home Business?
Owning a business is something that brings me a lot of joy and pride. Little compares to having a successful business and knowing that success is a direct result of the blood, sweat and tears you have shed a long the way. But, this path is not for everyone. And it may not be the best path for you right now. So, how do you know when you are ready to start a home business?
Do You Have the Traits Necessary to Start a Home Business?
Over the last four years I have chatted with  many other business owners. Some are extremely successful. Some have been in business far longer than I and are still struggling. While there may not always be a direct connection, a lot of us that have become successful have a few key traits...we are all a little nutty. Not nutty in a necessarily bad way, but we all seem to be a bit obsessive, workaholics, chronic list makers and of the mindset that failure is not an option. If you think you are ready to take the plunge and want to start looking into businesses you can start from home, ask yourself the following:
Am I ready to make sacrifices?
Have I prepared mentally and financially?
Are the other people in my household supportive and willing to make these sacrifices with me?
Am I dependable?
Can I maintain a schedule while in the midst of numerous distractions and last minute changes?
Am I ready to network and market myself and my business?
Do I have a plan of action?
Am I going to see this through, or am I more likely to be starting yet another venture next week?
If I Start a Home Business, What am I Really Getting Into Then?
It is unlikely you are going to start a home business today and have a full schedule next week.
You are likely going to lose some (a lot) of sleep.
You are likely going to have to make some tough sacrifices of your time and financially while you get things going.
You are no longer going to be able to clock out at 5. If something is due today, you are responsible for ensuring it is done...regardless of what time the clock says.
You are going to have distraction after distraction all day long. It is up to your to stay on track.
You are going to have to morph into your own little salesman. There will no longer be someone else taking care of the marketing, landing clients and ensuring there is work. That person is you.
When nothing is going right, it is up to you to fix it. You can no longer point fingers at "the other guy". That other guy is you.
If you are still reading this, you may be ready to start a home business of your own. Get your rest. Make your plan. Have your finances in order to get you through your start-up phase. Get into that mindset that failure is not an option. If you can zig when the rest of the world zags, you are likely going to be just fine.
---
Disclosure: This page generates income for authors based on affiliate relationships with our partners, including Amazon, Google and others.