Barnes and Nobels Nook: The Simple Touch Reader
by AJ
Barnes and Nobels Nook is certainly competing well against the Amazon Kindle! And now they have introduced The Simple Touch eReader.
Barnes and Noble Simple Touch eReader
Touch Screen Technology comes to The Nook
Sony's ereaders have had touch screen technology for awhile now, and finally Barnes and Noble have caught up with their All-new Nook, which they are calling The Simple Touch Reader.

Early reviews of Nook's new eReader, is hailing it as a superior device when compared to the Kindle Wi-Fi, which retails at the same price of $139.
Barnes and Nobels All-New Nook: The Simple Touch Reader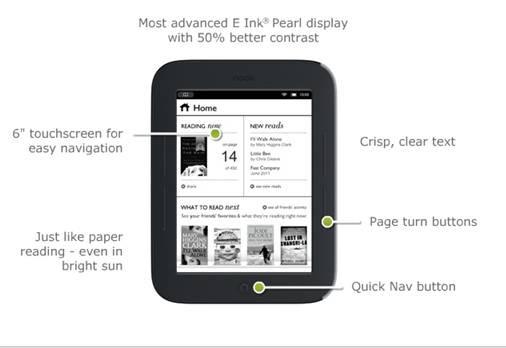 The Simple Touch eReader
New features on the Simple Touch eReader
Reduced "ghosting"
e-ink is at risk of "ghosting" but Nook now incorporates anti-flashing technology, which cuts down on the annoying ghosting effect that appears when you change page.The Nook also uses the same 6-inch Pearl e-ink screen as the Amazon third generation Kindle.

The compact Simple eReader is coated with soft-touch paint, which gives the device a smotth rubberized feel.

Barnes and Nobel have used zForce Infrared Touch technology to create a touchscreen, which should make navigation easier and instead of having the keyboard buttons located under the screen, the software keyboard only appears on the screen when you need it. Unlike the Kindle, which is yet to introduce a touch screen for this price.

And because there's no buttons, this means that the new Nook is reduced in size and is shorter and looks "squatter" when compared to the Kindle.

Although the Kindle offers 3GB of storeage, compared to the Nook's 2GB, unlike the Kindle, the Nook has a microSD card slot, enabling you to expand the storage to up to 32GB.

But it is the "staggeringly long battery life" as commented on by ZDNET that also gives the new Nook another edge over its rivals, with Barnes and Nobel claiming that the battery can last for two months with the Wi-Fi off. Something that the KIndle cannot match.

For those who want to be sociable with their eReaders, Nook Friends allows Nook owners to lend and borrow books from each other, that they can comment on to each other if they wish.

Nook Simple Touch eReader Features
What you get
* Touch screen with responsive zForce infrared touch technology
* 6-inch Pearl e-ink screen
* Change the size of the text
* Change the syle of the font
* FastPage allows fast scanning through a book or magazine
* Free Wi-Fi wireless connectivity
* 2GB of onboard storage
* MicroSD card expansion slot, add up to 32GB additional storage
* 800MHz OMAP 3 processor by Texas Instruments
* Battery charge can last up to two months
* Runs on modified version of Android 2.1 (no Android apps available, however)
Size and weight:
Dimensions: 6.5 x 5 x 0.47 inches
Weight: 7.48 ounces (212 grams)
Price: $139
Side view of the Simple Touch eReader
Only half an inch thick!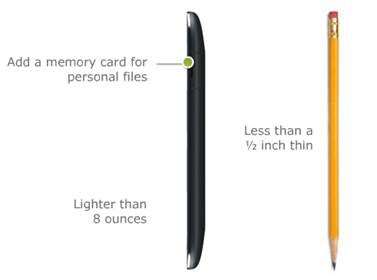 Side view of the Simple Touch eReader
Key Benefits of buying a Nook
* The new Barnes and Nobel Simple eReader supports EPUB, PDF, Adobe DRM, which will allow e-book borrowing from your local library
* Reads JPEG, GIF, PNG, BMP graphic files
* 2 million titles available: books, magazines & newspapers
* Free Nook reading apps so you can carry on reading on your smart phone or PC
* Personalize your nook with screensavers suppied or download your own photos
* NOOK Friends™ allows you to connect with other Nook owners so you can share books and discover new titles. NOOK Friends™ allows you to see your friends' favorite books and what they're recommending. Barnes and Noble's exclusive LendMe® technology allows you to swap books between Nooks.
New Nook Reviews
What the reviewers are saying about the new Barnes and Noble Nook
"All in all, it seems responsive and really pretty zippy for an e-ink device" - CNET
When comparing the touchscreen Nook with the new Kobo ereader and the third generation Kindle, PC World said : "With a sleek design and solid features, the Barnes & Noble touchscreen Nook is the standout e-reader out of the bunch."
ZDNET said:
"Barnes & Noble says that the latest Nook can run for two months with Wi-Fi off. That blows the current Kindle out of the water,"

You might also like
The Barnes and Noble Nook
The Barnes and Noble Nook could rival the Amazon Kindle especially with their...
Nook Tablet for Kids
The Nook Tablet is a new eReader and tablet pc from Barnes & Noble. It's new ...
---
Disclosure: This page generates income for authors based on affiliate relationships with our partners, including Amazon, Google and others.