Carbon Monoxide Alarms
by AJ
Carbon Monoxide Alarms are inexpensive to buy, easy to instal and can prevent a tragedy in your home.
Carbon Monoxide - an invisible threat to your family's safety
Our experience with Carbon Monoxide
On November 01, 2011, I got a huge shock. Two gas engineers were installing a new boiler for us and as they disconnected the old one, they found that a safety vent was not properly connected to the fan, which had been replaced a year ago.They were extremely concerned that Carbon Monoxide may have been leeching into our house.
While I have no idea about how a gas boiler works, I DO know about the dangers of carbon monoxide emissions, within an enclosed area. The news frequently reports on tragedies where adults and children have succumbed to the carbon monoxide given off by faulty or poorly maintained heating systems.
Whenever  we have had work done on our boiler, we have always used qualified gas engineers. However, even this was not sufficient to ensure that my family was not placed at risk and we are now really thankful that the boiler broke down and had to be turned off, even if we found it rather cool in the house for five days.
So now, eventhough we always have qualified people to repair and maintain our boiler, thanks to our recent experience, we will be installing a Carbon Monoxide Alarm.
Do you have a Carbon Monoxide Alarm?
The Dangers of Carbon Monoxide
Carbon Monoxide can be fatal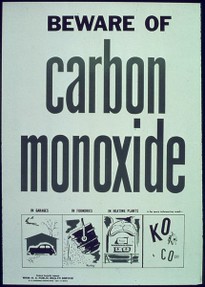 According to BBC Health Carbon Monoxide is emitted as a result of the incomplete combustion of natural or petroleum gas. If Carbon Monoxide is inhaled it impairs and reduces the blood's red cells' ability to transport oxygen around the body, starving the organs of oxygen.
The lost common sources of carbon monoxide in the home are associated with heating: gas central heating and gas fires.
Faulty ventilation, blocked flues and chimneys can all lead tio a lethal build up of Carbon Monoxide in the home and in the UK is the cause of approximately 50 deaths each year. The US Consumer Product Safety Commission reports that around 170 people die in the US each year.
Image credit: Picture is in the Public Domain and can be found at Wikimedia
Symptoms of Carbon Monoxide Poisoning
They vary in severity depending on the level of exposure
The symptoms of mild carbon monoxide poisoning will vary for each individual affected. The symptoms may be similar to those of other mild illnesses and so most medical professionals presented with mild symptoms, may not make the connection with Carbon Monoxide poisoning.
Symptoms can include:
common viruses such as colds and flu
food poisoning
headache
nausea and sickness
abdominal pains
sore throat
dizziness
dry cough
But if cold or flu symptoms are being experienced, carbon monoxide poisoning does not give you a high temperature.
In children, the symptoms can bear a similarity to a stomach upset, with nausea and vomiting.
In more severe cases of Carbon Monoxide Poisoning, victims can have a fast and irregular heart rate, hyperventilation, confusion, drowsiness and difficulty in breathing. There may also be seizures and loss of consciousness.
Some symptoms may be delayed and even occur occur a few days or months after inhaling carbon monoxide. These may include co-ordination problems, memory loss and confusion.
How to keep your family safe from Carbon Monoxide Poisoning
Simple measures save lives
In the UK, it is law that all gas appliances are fitted by a qualified and certified gas engineer, but you should still take these precautions:
Have all gas heating systems serviced annually
Never operate gas powered tools in an enclosed space, including garages and workshops, even with doors and windows open

Never use portable fuel-burning camping equipment or burn charcoal inside a home, garage, vehicle or tent unless it is specifically designed for that purpose

Never use gas appliances to heat your home

Never use unvented fuel burning equipment in any room where people are sleeping

Never run a car engine in a garage - even with the door open

During building work or renovations, ensure that no equipment or debris blocks any vents or chimneys

Do not cover the bottom of any type of gas or propane oven with aluminum foil.


This can impede the airflow through the appliance and result in the production of Carbon Monoxide

Fit Carbon Monoxide Alarms

Source: Consumer Product Safety Commission Carbon Monoxide Questions and Answers
Why Fit a Carbon Monoxide Alarm?
In the event something goes wrong a Carbon Monoxide Alarm could save your, or your family's life
My Husband works in the Buildings Sector as a Consultant to Goverment and other agencies. He knows all about the lethal dangers of Carbon Monoxide Poisoning and although he is probably capable of servicing our Boiler, he never goes near it. We always get in qualified Engineers to do the work. But, despite his qualifications, the last person to work on our Boiler made a simple but lethal mistake.
He failed to connect a vent properly and he put my family's life at risk!
Carbon Monoxide is an invisible and silent killer and sometimes, as our experience has shown, despite all the precautions you take, there's still the potential for tragedy.
Carbon Monoxide Alarms are inexpensive to buy and they are easy to fit. They require no specialist knowledge, just the ability to read instructions and ensure that the Carbon Monoxide Alarm is fitted in the correct location.
Give me a drill and a screw driver and even I could fit one!
Carbon Monoxide Alarms in the UK
Search at Amazon.co.uk
---
Disclosure: This page generates income for authors based on affiliate relationships with our partners, including Amazon, Google and others.