Dreamboats and Petticoats
by AJ
Dreamcoats and Petticoats, the high energy, feel good 60s musical - I've seen it and it's fab!
Tickets to Dreamboats and Petticoats
A Great Gift!
For Christmas 2011 my daughter and her partner gave hubby and me tickets to see the London West End Musical Dreamboats and Petticoats. So January 19, 2012 saw us catching the train into London for what turned out to be a hugely enjoyable evening.
If you like musical theatre then I can guarantee that Dreamboats and Petticoats will blow you away with the non-stop music and high energy perfomance from a cast of only 16 people.
However, what made this show stand out for me was that five characters made up a band who, together with two girls on Saxophones, played the music live on stage.
With a total of 45 - yes FORTY FIVE - musical numbers, it made for one heck of a performance!
Music from Dreamboats and Petticoats
The Playhouse Theatre
Northumberland Avenue, City of Westminster
Originally known as The Royal Avenue Theatre when it was built in 1882, The Playhouse Theatre is next to Charing Cross Station on the Thames Embankment. Close by are Big Ben, the Houses of Parliament and across the river you can see The London Eye.
In 1907 the Theatre was rebuilt, following damage done to it by masonry falling from the Railway Station and renamed The Playhouse.
In 1951 the Playhouse was taken over by the BBC as a recording studio for live performances including The Goon Show, Hancock's Half Hour and Steptoe and Son.
Early radio performances by various up and coming rock bands also featured, including The Beatles and The Rolling Stones. Paul McCartney returned to the Playhouse in 1987 to launch his world tour.
The BBC left the Theatre in 1975 and despite several proposals regarding its use, it lay unused until novelist and playwright Jeffrey Archer bought The Playhouse in 1987, following its restoration to its original 1907 decor by Robin Gonshaw.
Following various subsequent changes in ownership, The Playhouse Theatre was bought by The Ambassador Theatre Group in March 2003.
Image Credit: Photo below used with permission of Martin Addison via Wikipedia under Creative Commons 2.0
Scott Bruton plays Bobby
Former X Factor Contestant
Scott Bruton first caught the eye of the British TV watching public when he made it to the final 12 of the X Factor in 2008.
Born in 1988, Scott appeared in local theatre while quite young and then went on to study drama and performing arts at college. Following graduation his first job was as a Blue Coat at the British Holiday Parks, Pontins and it was at this time he was encouraged by friends and family to audition for the X Factor in 2008. Scott's mentor was Simon Cowell, but he was evicted from the show after Week 3.
However, despite not saving Scott in the sing off, the XFactor Judges predicted that Scott had a great singing career ahead of him. Scott's big break came when he landed the lead role of Bobby in the original West End Cast of Dreamboats and Petticoats in 2009. This is currently Scott's second run as Bobby.
Scott Bruton brings a vulnerability to the part of Bobby, that has you rooting for him, right from the start. He does not have a "belter" of a voice, but it is perfect for Roy Orbiosn songs like Only The Lonely
Sam Attwater plays Norman
Winner of UK ITV's Dancing on Ice
Prior to landing the role of Norman in Dreamboats and Petticoats, unlike the other Male Lead, Scott Bruton, Sam Attwater had already established himself as an actor, singer and dancer, appearing in Stage Musicals and Film, as well as TV.
Sam's really big break came when he joined the cast of the popular BBC Soap East Enders.
However, his dancing ability really came to the fore when Sam appeared in Dancing On Ice in the 2011 series and came out the clear winner, with his professional Ice Dancing partner Brianne Delcourt. Saam then went on tour with Dancing On Ice and skated alongside former Olympic and World Ice Dancing Champions, Jayne Torville and Christopher Dean.
Sam Attwater made his London West End debut in July 2011, when he took on the role of Norman in Dreamboats and Petticoats.
Sam's portrayal of Norman has a necessary caution about it. I say necessary because it would be all too easy to go completely "over the top" and make Norman so confident and brash that it would be hard to like him. Yes, Norman IS confident but his confidence brings a lot of humour to the role.
Sam Attwater is very much at home singing and dancing on the live stage and his strength was demonstrated in one lift that reminded me of his performances in Dancing on Ice.
Image Credit: Photo below used with permission of vagueonthehow via Wikipedia under Creative Commons 2.0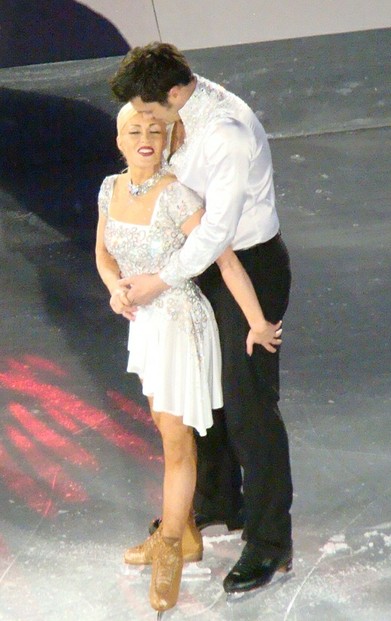 Sam Attwater in Dancing on Ice
Charlotte Jeffery plays Laura
previous shows include Hairspray and Mamma Mia
This is Charlotte's first leading role in a West End Musical, although she did "cut her teeth" in Mamma Mia, Hairspray and Les Miserables. Charlotte was a member of the ensemble, while also under studying and playing the role of Lisa in Mamma Mia and Amber and Penny in Hairspray.
Charlotte also played the role of the young Eponine in Les Miserables.
Charlotte Jeffery plays the young dreamer Laura brilliantly. Although the character of Laura seems to be shy, there's a strength and determination about her and this certainly comes through in her strong singing voice.
Susannah Allman plays Sue
her first major lead role
Susannah Allman has appeared in several West End Shows, although "siren" Sue is her first lead. Credits include Patty in Grease, Peggy in Godspell and as a member of the ensemble in Sweeney Todd.
Susannah has also appeared in films.
The character of Sue is the typical "tart with a heart". At first she seems as though she can be b****y and also ruthless as she uses to Bobby to make Norman jealous but in the end she realises how much she has hurt Laura's feelings and apologises. So it is hard for the audience not to like her.
My personal review of Dreamboats and Petticoats
I loved it!
Because I am very involved with Amateur Theatre, the problem with me when I go to see a show is that I can't just sit and watch the performance. I have to check out how I think they are doing the effects, how much lighting there is, who is playing the music (for instance, is it live or backing tracks?), how they use the staging and the props....
The danger with that is that I may miss something on stage. But with Dreamboats and Petticoats, the show is just "so audio", that if I sneeked a peek around the stage and the lighting, "to see how it is done", then I did not miss much.
Boy was the show just "so audio" and if you don't like non-stop 60s music then do not go!
I guarantee that you will be tapping your feet and wanting to sing in the aisles, not long into the show.
More Music Music from Dreamboats and Petticoats
The Cast of Dreamboats and Petticoats
Young, energetic and enthusiastic
Young, energetic and enthusiastic - well most of them are young! There's two older characters: Phil, played by Roger Martin, who is a fairly well known face on British TV, and Frank/Southend Slugger/Father Nugent/Compere/Cameraman - all played by the extremely talented and funny Mike Lloyd.
Mike Lloyd can also play the trombone and he did, live, during some of the musical numbers.
Each of the performers brought something special to the show. Not just the lead characters, but the rest of the cast too. But what made this show really special for me was the seven musicians who played practically non-stop through a huge song list of FORTY FIVE 60s hits.
We had keyboards, bass guitar, guitar, lead guitar and drums, often accompanied by Tenor Sax and Baritone Sax. And all the musicians played singing and dancing characters too - even the Drummer had lines and everyone knows the Drummer normally says nothing!
Stills from the Dreamboats and Petticoats Tour
The Plot of Dreamboats and Petticoats
Yes, there's a story to accompany the music
Most of the action takes place at St Mungo's Youth Club, which is run by Bobby's Dad, Phil.
15 year old Laura (who turns 16 during the show) is in love with the sweet, good natured Bobby, who is a friend of her brother, Ray.
But, not realising how Laura feels, Bobby only has eyes for Sue (who is not as bad as she makes out to be), who of course is only interested in older boys who have a job and can drive.
Enter the handsome, confident Norman who only has eyes for Sue but he plays hard to get. So Sue turns her eyes on to Bobby, to try and make Norman jealous, which really upsets Laura.
When Norman and Sue finally get together, during a day trip to Southend, they break up after one of those "Grease" moments when Norman tells the other boys what he actually did not do with Sue on the beach.
Norman, in an attempt to make Sue jealous, starts paying attention to Laura....
Does Laura end up with her True Love Bobby? Does Bobby realise that Sue really is not the girl for him? Does Sue forgive Norman? Or does Norman surprise everyone by preferring the sweet, innocent Laura?
You'll have to see the show to find out.
Another Review
by AJ Ashley
---
Disclosure: This page generates income for authors based on affiliate relationships with our partners, including Amazon, Google and others.