Endangered Furry Squirrels and Endorsable Fuzzy Politicians
by bobsimpson
Squirrels and politicians both have the same survival skills.
Vote for me and I will fight for you. Notice there are no jokes about nuts.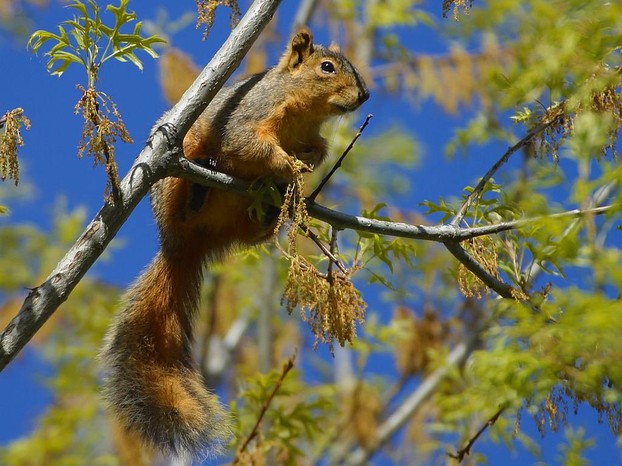 Squirrels and Politicians
Squirrels and Politicians
Next door, up on the roof, there was scuffling with shingles scrapping and sounding like someone rapidly sand-papering.
A hawk floated inches over the squirrel. The falcon had perfectly timed his sortie. The brown wings fanned out and stalled the flight directly over the squirrel.
Spring loaded talons were outstretched, poised to crushingly snap into the sides of Mr. Furry Squirrel. The scene was deadly: a PBS nature documentary, grainy CNN war footage, or an altercation on The View. 
I thought the squirrel was dead because there was the freeze frame just before impact where the predator pounces and the life drains out of the captive.
But…the squirrel had not seen any recent nature documentaries. So he just commenced to do
The Roof Top Squirrel Shuffle which he performed for my benefit and his family members back home in the oak tree.
He darted from one side of the roof peak to the other. Five times, he re-crossed over the roof peak, all the while moving along the roof line toward the front of my neighbor's house.
Three seconds later, Mr. Lucky-Day Squirrel was safe. The hawk's committed flight plan was not able to adjust to The Roof Top Squirrel Shuffle. With some frantic wing fluttering, the hawk rose and retreated, pretending he had meant to miss the squirrel and was just out having fun. 
My first thought? What was that stupid squirrel thinking? There he was, on top of the long expanse of roof with no cover, at noon. At that time of day there was no shadow to show the hawk's approach.
How did he know to break into his escape dance? Perhaps some innate instinct, an ESP of sorts, Essential Squirrel Protection.
So what does this have to do with politicians? 
When you consider a contender, and like squirrels they are all the same, please don't vote for the candidate with strong convictions on anything. Go for the guy or gal who has the best record of wavering and vacillating on all issues, even the unimportant ones.
Rule out any candidate that you think has some underlying family values and morals. If a politician has been indicted and later exonerated, this is a prize candidate for your vote. It shows just how resourceful he can be in a tight situation.  
The moral: To survive in this world or on a roof somewhere at noon, you have to be willing to switch sides, perhaps many times and sometimes quickly.
Browse suggested reading from Amazon.com with absolutely no obligation.
---
Disclosure: This page generates income for authors based on affiliate relationships with our partners, including Amazon, Google and others.