Eva Zeisel's Remarkable Life
by BrendaReeves
Eva Zeisel, a world renowned industrial designer, famous for her work in ceramics, died on December 30, 2011 at age 105.
Éva Amália Striker
An Artistic Genius is Born
Eva Zeisel entered the world as Éva Amália Striker on November 13, 1906 in Budapest, Hungary. Passionate about the arts, Eva enrolled at Budapest's Magyar Képzőművészeti Akadémia Hungarian Royal Academy of Fine Arts, at the age of 17, as a painting major. Eva's concern that painting wasn't a practical profession led her to apprentice herself to the last pottery master in the medieval guild system. When she graduated as a journeyman, she began working for German ceramic manufacturers.
Pottery by Eva Zeisel
Collector Items
Early Career
Timeline
Eva began her career in 1928 in the Black Forest region of Germany. She worked for  Schramberger Majolikafabrik for two years, creating whimsical designs for tea sets, vases, inkwells and many other ceramic items. From there, Eva moved to Berlin and designed for the Carstens factories.
In 1932 Eva made what was supposed to be a visit to Russia, but she decided to stay taking on several jobs in the Russian ceramics industry. During this time, she inspected ceramic factories in the Ukraine and designed for the Lomonosov and Dulevo factories. Eva eventually became artistic director of the Russian China and Glass industry.
Eva's life took a harrowing turn on May 26 1936 while living in Moscow. Falsely accused of joining in on an assassination plot against Joseph Stalin, Eva was arrested and imprisoned for 16 months. Twelve of those months were spent in solitary confinement. During this time, the Soviets tortured and attempted to brainwash her. Her friend Arthur Koestler published a novel in 1941 on totalitarianism titled "Darkness at Noon."  It was based on her experience. "You never knew when the door would open and you would be shot," Zeisel said. "So you learned to rule out the future." When she was finally released, she thought the guards were taking her to be executed.
In 1937, Eva was expelled to Vienna, Austria. A few months later the Nazis invaded, and Eva made it onto the last train out which took her to England. Once there, she became reacquainted with her friend Has Zeisel. They married and set sail for the United States.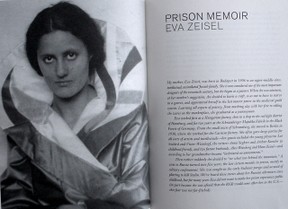 .
Life in America
A New Beginning
Eva quickly established a career in the United States designing for several well-known companies: Hall China, Rosenthal China, Castleton China, Western Stoneware, Federal Glass, Heisey Glass and Red Wing Pottery. Her mid-century work took on anthropomorphic, abstract forms of the natural world and human relationships. She molded sensual and practical curves creating pieces that nestled such as her mother-and-child salt and pepper shakers. She professed to recapture the "magic language of things."
At the Pratt Institute in New York, she developed and taught the first course for the ceramics industry. In 1946, a one-woman show named "Eva Zeisel: Designer for Industry" was presented at the Museum of Modern Art.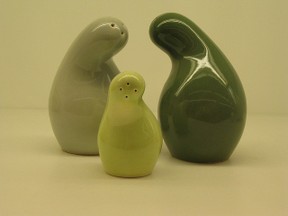 The End of a Remarkable Life
Eva took a break from designing during the 1960's and 1970's. She returned to work in the 1980's continuing to work past 100 years of age. As recently as 2010 she released two designs through her website: Eva Zeisel Lounge Chair and Eva Zeisel Salt & Pepper Shakers. It is for her mid-century designs that she is most admired. These vintage pieces are highly collectable and in museums all over the world. 
Eva Zeisel Forum
Eva Zeisel Originals
Eva Zeisel Forum
Eva Zeisel
Eva Striker Zeisel
was a Hungarian-born industrial designer known for her work with ceramics, primarily from the period after she immigrated to the United States. Her forms are often abstractions of the natural world and human ...
Los Angeles Times
Eva Zeisel Obituary
---
Disclosure: This page generates income for authors based on affiliate relationships with our partners, including Amazon, Google and others.