Health and Safety on Computers
by AJ
What do you know about health and safety on Computers? Do you know about all the health risks associated with using a Computer?
Computer Health and Safety
Do you use a Computer for your work? Whether you use a computer to work at home or in an office, whether you use it for 40 or 4 hours a week, your health is at risk. This page will show you how to reduce those health risks by teaching you "workstation ergonomics".
Cartoon drawn by my Daughter
A child's eye view of her Work at Home Mum!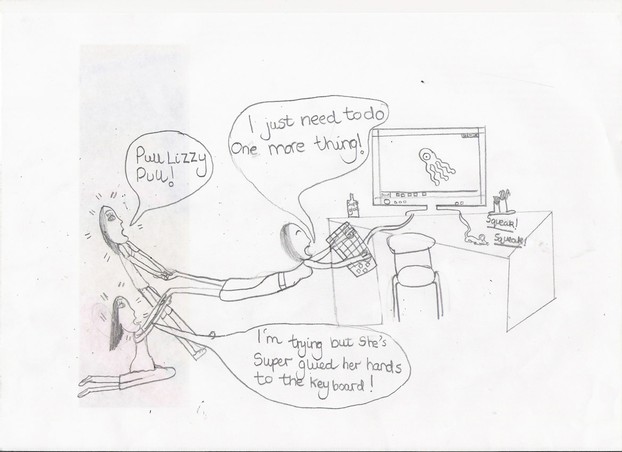 Cartoon Copyright AJ - all rights reserved
ICT Health and Safety
Some of the risks
The more hours a day you spend at a Computer the more you risk developing a computer-related Repetitive Strain Injury (RSI), which can include  Carpal Tunnel Syndrome, Tenosynovitis, Bursitis and Tendonitis. Using a Computer can also cause back pain, eye strain, headaches and very serious health issues related to sitting down all day.
It is generally accepted that preventing these problems is a lot easier than curing them (both for our health AND our pockets), so it is worth while taking a few easy precautions and learning about workstation ergonomics and the strain we place on our bodies, not just our arms, wrists and backs but also on our hearts, circulation and metabolism.
Do you have any health issues that you think are caused by working at the Computer
Wrist pain? Back problems? Headaches? Anything else?
What are Work Station Ergonomics?
Setting up your Computer and desk so that you reduce risks
Workstation Ergonimics are basically the position of your PC SCreen, keyboard and mouse in relation to your body. Poor work station ergonomics may lead to injuries - yes, really!
1. Your Computer Monitor should be an arm's length away from you

"But I work with a laptop!", I hear you cry.
Laptops are made for temporary use, while you are on the road away from your office. If you do not want to go to the expense of having a PC AND a Laptop, then consider investing in a separate monitor, keyboard and mouse when using the laptop when you are not travelling.
This will enable you to position the screen, keyboard and mouse in the best positions to reduce the likelihood of injuries.
There's some excellent (and inexpensive) wireless keyboards and mice available. I even use them for my PC these days, it makes for less of a tangle of wires on my desk.

2. The top of the monitor should be roughly level with your eyes and directly in front of you.

If you need to raise the height of your monitor, you can buy a monitor stand, or do what I do, have a shelf at the back of the desk, that is specifically for the monitor.

Do not have your monitor placed at an angle or off to one side, which means you cannot sit straight at your desk.

3. Your back should always be well supported by your chair
Sit up, don't slump or round your shoulders (sorry if I sound like your Mother at the dinner table - heck I sound like ME at the dinner table!)
   

Wireless Keyboards and Mice
Great for using with a Laptop
Monitors and Monitor Stands
Use these for an Ergonomic Workstation
Ad
More tips to help you set up an Ergonomic Work Station
4. Your keyboard should be roughly at the same height as your elbows when your arms are down by your sides (sitting down, NOT standing up!)
It is important that your forearms are level as you type or sloping down very slightly, to ensure you are not lifting or hunching your shoulders as you type.

5. You should be able to sit with your feet flat
If you cannot reach the floor (because you are making sure your elbows are at the same height as your keyboard), use a foot stool - even a box will do.

6. Have a chair with an adjustable height control
If you do not have an adjustable chair, use a cushion to raise yourself.
How you should work at your Computer
The way you sit while working at your PC is important
Once you have set up your Computer Workstation correctly, it is important to ensure that you do not cause strain to various parts of your body by the way your are sitting and working.

Avoid resting your wrists on your desk as you type and use your mouse. Your wrists need to be striaght, not bent and your arms and hands should be able to move freely and without restraint. Wrist rests should NOT be used while actually typing or using the mouse - only use them for resting in between typing and mouse clicking.

Are your shoulders hunched when you type? You are probably not sitting high enough. Adjust the height of your chair or get that cushion!

Try using your mouse with either hand and swap regularly. This avoids over-use of one hand and if you are already showing signs of RSI in your normal "mouse hand", then swapping will help.

Take regular breaks!

You need to take a 10 minute break every hour when you are working, particularly if you are researching and writing articles (like here on Wizzley!). It is all too easy to become absorbed and lose track of time. So you could try some break reminder software.
Best Selling Height Adjustable Computers Chairs
Ideal for working at the PC
Eye Strain when using a PC
How to look after your eyes
Always work in a well lit environment and make sure the available light around your workstation reduces the glare from the screen. If the overhead lighting casts shadows on your keyboard or is badly located, then get a desk lamp and position so that it gets rid of the shadows.
My Desk Lamp is actually a SAD Lightbox, so not only does it give me the illumination I need when natural light is reduced, it also gives me the boost I would get from sunlight.
However, you can also get anti-glare filters that will fit over your computer screen to help prevent discomfort and eyestrain.
Every so often you should look away from the screen. It is bad for your eyes to be focussing on objects that are the same distance away all the time - a perfect excuse for gazing out of the window!
Anti-Glare Screen
Helps prevent eyestrain and discomfort
Computer work causes stress!
Take a break
I am sure that if my PC was not wired in and so heavy, there's times when I would have lobbed it out of the window! Try to be relaxed when you use your PC. If you find yourself becoming stressed and shouting at it, then it is time to take a break!
We all know that sitting for hours a day watching TV is bad for us. So what is the difference with sitting at the PC? Errrrr...not much actually. OK, sitting at the PC may be more stressful than watching TV, but did you know that your heart, circulation and metabolism are affected by the amount of time you spend sitting each day, typing away to get that next article finished and published before we move on to the next one?
You will find more information about other extremely serious health issues caused by sitting down for too long on my related page Health and Safety: Computers.
Health and Safety: Computers was the topic I discussed with Joan and Kate on
Giant Squid Open Mike on Tuesday, 05 July 2011.
I have a regular slot on Giant Squid Open Mike on Blogtalk Radio
on the first Tuesday of each month
5pm EST (USA)
10pm GMT (UK)
More about Health and Safety when using Computers
All about other serious Health Risks
Workout at Wotk Day
Health and Safety at Work
Workout at Work Day
How to make sure that sitting at the computer all day does NOT cause you serious health problems!
---
Disclosure: This page generates income for authors based on affiliate relationships with our partners, including Amazon, Google and others.