Ironman Gravity 4000 Inversion Table Review
by selecteddee
Got back pain? Is an Inversion Table for you? Back pain sufferers have been touting the benefits of inversion for years. I review the Ironman Gravity 4000 Inversion Table here.
Ironman Gravity 4000 Inversion Table Features
Features Make Inversion Safe And Enjoyable
Ironman Inversion Tables have been offering relief to back pain sufferers for years, as well as those looking to maintain good back health. Regular gentle stretching of the spine can greatly reduce the pain and discomfort endured by those suffering from poor posture and/or back injuries.
Considered one of the best brands on the market today, Ironman Inversion Tables are very good value, sturdily constructed and often have features often found on more expensive versions.  Read on to discover whether the Ironman Gravity 4000 Inversion Table is the right one for you and your needs.
Features of the Ironman Gravity 4000 Inversion Table are:
Heavy duty, durable, sturdy, constructed frame made of tubular steel. When turning yourself upside down, it is very reassuring to know that the Inversion Table you are using is going to not break or fall over.

Powder-coated frame for scratch-resistance. Powder-coating offers good looks as well as protection from any possible knocks and scratches.

Holds up to 350 pounds in weight. Big plus for anyone considering the Ironman for relief from weight-related back problems. At 350 pounds capacity, there are very few people that this unit could not be capable of holding safely and comfortably.

Tough rubber, non-skid floor stabilizers. When inverting, it is absolutely vital that the unit remain completely still, and the tough rubber non-skid stabilizers ensure this, even when set on slippery surfaces, such as smooth polished tile, or vinyl flooring.

Folds up easily for storing when not in use. This is a great feature for those not wanting to leave the unit in view when not in use.

Measures 26W x 65H x 49D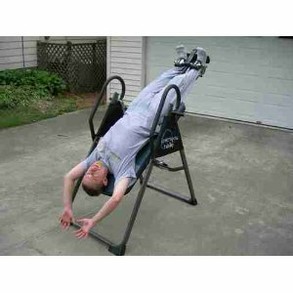 Enjoying A Gentle Stretch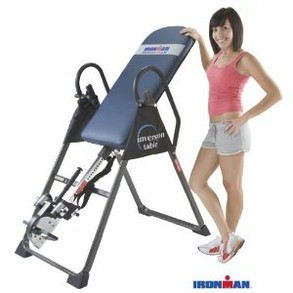 Sturdy Construction
Up to 90 degrees inversion angle. This is an ideal angle to allow the spine to gently stretch out and have all weight taken off it. Very soothing for users suffering from back pain and stiffness.

The vinyl covered back support is padded with thick memory foam. Makes inversion completely comfortable for the back, and provides full support for the entire length of the back without being too hard on the spine and hips.

Adjusts up to 6' 6". At 6' 6" this unit would be suitable for almost everyone. Adjusts for a wide range of heights.

Weighs 82 pounds. This is a manageable weight for most men, and for many women, to be able to pick up and move when necessary.

Ergonomically molded ankle cushions for the ankles. Provide comfort when being suspended by your ankles in the inverted position. As your weight is anchored at your ankles it is imperative that undue pressure is not put on them, and these cushions ensure the ankles are held comfortably in place.

Lumbar pillow that can be removed. Additional support for the spine, the lumbar pillow helps with spinal alignment. When not needed, the lumbar pillow can be easily removed.

Safety handles of extra length. It is very important that returning to the upright position is as easy as possible, and the extra length of the handles on this unit make it easy to reach them and flip back upright.

Vinyl safety side covers. There are parts that could cause a finger to be pinched if caught, so these safety covers reduce the possibility of that happening.

Three levels of inversion, easily adjustable, gives the user several options for the degree of angle of inversion. Beginners may prefer to try the inversion level at the lesser angle and progress up to the full 90 degree angle when they are ready.

Adjusting ratchet ankle locking system can be activated with the palm of the hand.

Easy to assemble, and is able to be assembles and ready to use in as little as 30 minutes.
What Others Say About The Ironman Gravity 4000 Inversion Table
With over 190 reviews on Amazon.com users gave the Ironman Gravity 4000 Inversion Table an impressive 4.7 out of 5 stars. Feedback from Amazon verified purchasers indicated their impressions of the table with comments that included:
"I don't feel like I am going to fall at all, and the table itself is very heavy and sturdy" - TheLivingExample

"I just want to say how impressed I was about this product. Not only could I not pass it up with its price, but from the research I did on all inversion tables I could find, this one surpassed them all" - C.C.C.

"If you're looking for a big man's inversion table, you won't be disappointed.
The height setting actually goes up to 6'9" despite the description saying 6'7"" - David W. Earl

"I like the fact that you don't have to put on special boots to use it" - Jerry
Conclusion Re: Ironman Gravity 4000 Inversion Table
The Ironman Gravity 4000 Inversion Table is very good value for money and is a heavy duty, strong, stable unit. The one negative observation from users was that the table is a bit heavy, and therefore not as easily moved as they would have liked. This is a point to consider if you don't want the unit set up permanently. A man of average / normal strength would have little trouble, but a woman of small stature may find it difficult to move. That given, I highly recommend the Ironman Gravity 4000 Inversion Table to anyone looking for back pain relief, or just for overall well-being.
Ironman Invertion Tables on Amazon.com
Ironman Gravity 4000 Inversion Table

Whether you want to reduce back stress or fatigue or stimulate your blood circulation, the Ironman Gravity 4000 inversion table makes a great household accessory. The ...

Ironman /

$169.00 $119.26
Teeter Hang Ups Ep-950 Inversion Table With Healthy Back DVD (2011 Model)

You've seen us on TV, you've heard of your favorite athlete using a Teeter... your neighbor even has one. Now it's your turn to try Teeter Hang Ups, the inversion market ...

Teeter Hang Ups /

Only $579.00
Ironman Gravity 1000 Inversion Table

Whether you want to reduce back stress or fatigue or stimulate your blood circulation, the Ironman Gravity 1000 inversion table makes a great household accessory. The ...

Ironman /

$199.00 $147.00
---
Disclosure: This page generates income for authors based on affiliate relationships with our partners, including Amazon, Google and others.