Jack Russell Terriers
by BrendaReeves
Jack Russell Terriers make wonderful pets for the right person or family. To avoid regrets, do the research before bringing one into your life.
Local Animal Shelters
High Rate of Abandonment
Visit any county or city animal shelter, and you'll probably find at least one Jack Russell Terrier, if not more. Unfortunately, many people adopt these cute, feisty little dogs without doing their homework, and they quickly end up abandoning them at animal shelters all over the country.
As the owner of a Jack Russell (JR), I can tell you first hand about the unique characteristics of this dog. I brought the breed into my home as a companion and playmate for my golden retriever, Jessie. At the time, the one year old Jessie had the energy of five Jack Russells, and I had had enough of playing tug-o-war and fetch. It did the trick. Jessie and her new playmate, Jasper, took to one another and they're still wrestling six years later.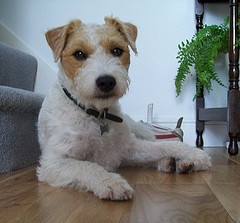 Parson's Jack Russell
Spunky Little Dogs
High Energy Companions
Personality Traits
Happy dogs
Intelligent
Protective
Playful
Affectionate
Loyal
Watchdogs
Energetic
Personality Match
Are You Ready for A Jack Russell
These happy dogs smile constantly. Will Rogers never met a man he didn't like, and I never met a depressed Jack Russell.
Watch out! JRs are intelligent, and they'll outsmart you every time. They play constantly, so make sure someone in the home likes to play: another dog, children or you.
Jasper greets strangers enthusiastically when invited onto his territory by a household member. However, if someone he doesn't know comes in the backyard uninvited, he bites. I put up a taller fence after Jasper nipped a few visitors when they reached over the fence to pet him. He's doing what he's supposed to do, but I might get sued and Jasper might get carted off to animal control for the long sleep.
You may not think of JRs as affectionate. They're very affectionate, but it's usually on their terms. They like to play lapdog, but not for long with so many interesting things to explore outside.
These dogs like to bark which makes them great watchdogs. However, keep it under control so the neighbors don't report you to the noise ordinance police.
The JR never runs out of energy. I find it a plus, but you may not.
Adoption Considerations
Pros and Cons
With every good dog, there might come a few undesirable traits. Consider these before bringing home a JR:
Excessive barking
Nipping
Biting
Small children might be a problem
Escape artist
Runners
All of the above problems are fixable or avoidable in the first place, but you need to start training with your JR the moment you bring it home.
They can be nippy and you need to nip that in the bud right away. Biting can be another problem. Don't even let it begin.
Never hit your Jack Russell when disciplining. Like any dog, it makes a JR aggressive and it's cruel. Read some of the many great books on dog training or employ the help of a professional dog trainer.
Small children might be a problem. If you bring your JR home as a puppy and raise it with a small child, a problem shouldn't occur. Don't adopt an older dog that wasn't raised around children.
Jack Russells never run out of energy. They need an abundance of exercise.
These escape artists wait vigilantly for the chance to escape out the front door. That occurs for Jasper when we let down our guard. If he's successful, he runs wild through the neighborhood christening every curbside mailbox. I've given up trying to cajole him home with a treat. One time, I found him zig-zagging down the street on the tail of Bugs Bunny. Rabbits and christening mailboxes win out over treats every time. When I'm leaving home, I make Jasper sit and stay until I get out the door. However, my 88 year old mother opens the door without thinking and Jasper makes his get-a-way.
Now that you know the pros and cons of owning a Jack Russell, you might think a lab looks like a good dog. If you're still determined to get a JR, save one from the animal shelter. With children in the house, look for one that likes children. When very small children live in the house, it's best to get a puppy and raise the two together. Definitely take your Jack Russell to obedience training and enjoy your new family member.
---
Disclosure: This page generates income for authors based on affiliate relationships with our partners, including Amazon, Google and others.