Living with Grandma in Glasgow, Scotland
I spent the years between 1968 and 1969 living with my grandmother in Glasgow, Scotland. It was a good year.
Early years
Cumbernauld
When I was ten years old my parents decided that we were moving to Canada.
My father was born in Newfoundland and wanted to go home. He had joined the British Navy during World War II and had stayed. He met my mother, fell in love, and they were married in 1946. I don't know what took him so long to go home. I think he saw that there were more opportunities for him in Canada. 
At the time, we were living in Cumbernauld; a new-town close to Glasgow. My father was employed planting trees around the town. We were living in a nice row house with a backyard. I went to a primary school within walking distance of our house. It was a pleasant enough little town to grow up in. There were woods surrounding the town; we picked wild raspberries and caught tadpoles in ponds.
Glasgow, Scotland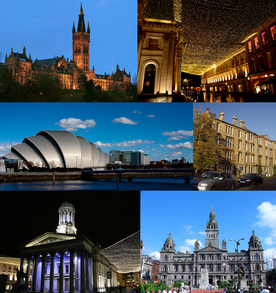 Glasgow montage
Grandma's apartment
When we moved, my father went ahead to Canada to look for work and a place for us to live. In the meantime, my sister, my mother, and me all moved in with my grandmother in her huge flat in Glasgow. My older sister stayed as she was already married at the time with two kids. She eventually moved to Glasgow in the following months. My grandmother lived on the top floor of a Victorian row house on Hill Street, or tenement as they were known then. It was a huge apartment. It was so big that she had 2 lodgers from the local university staying with her and still had room for the three of us. It had high ceilings with large windows. My mother was given the largest bedroom at the back of the apartment. It was large enough for a double bed and a sitting area. The windows looked out onto the large garden area in the back which was shared by at least 8 3-story row houses. My sister and I each got small bedrooms.
The kitchen was huge also. It had a large walk-in pantry and was big enough for a kitchen table that sat at least 8. The apartment was very beautiful. It had crown moulding around the ceiling with wonderful plaster designs around the ceiling lights.
I was a little afraid of the walk up. In those days the houses had not been refurbished like they are today. The walls were black; it was a dark walk up. I was afraid to go down to the very bottom where you went to get out back. It was very dark and scary. If I did go down there alone, I went down as quickly as possible.
I had a lot of family in that building and the adjoining ones. My great-aunt and her husband lived downstairs from my grandmother. Her daughter lived around the corner in another building with her husband. Her ex-husband lived close by too. I spent a lot of time with my various cousins, who were mostly younger than me.

Pleasant memories
I have pleasant memories of that year in Glasgow. It was the end of the 60s. I used to go to dances down the street on Saturday afternoons, where there was lots of psychedelic decoration and music. I was never without a transistor radio that year, and many years after that. It was a great time for music and I loved all of it. I made friends with the kids who lived across the street. We were always out playing soccer or hide and seek. We got into all sorts of mischief like ringing door bells and running away. Other times I played with myself, kicking a soccer ball against the front steps of the building.
I remember at that time kazoo's were a big fad and we all had to have one. The first time I went to a movie without my parents was while I was living in Glasgow. I was allowed to walk down to the theatre where Planet of the Apes was playing. I remember that it made me feel so mature.
The school I attended was your typical inner-city school, surrounded by a high fence. The doors were locked during school hours. They served school lunches to everyone but I didn't like the food very often. I remember being made to eat some mince and potatoes that didn't taste right or do without dessert. And if I recall correctly the dessert ended up being tapioca which I hated anyway. I remember that I went out into the playground and threw up after that lunch.
Time to leave
My mother, my sister, and I were very sad to say goodbye to our extended family but we were looking forward to what the future would bring. And we missed our father and couldn't wait to see him. Sadly, I never saw my grandmother again after we moved. In 1973 she died of cancer. My mother had gone over for a few months to care for her. I didn't get back to visit Scotland until the 80s. Then everything had changed. The apartments had been cut up into smaller apartments. My grandmother and great-aunt were dead. My great-aunt's daughter lived in a ground floor apartment in the building.
I often think of that year as a very happy time, even without my father. I had lots of friends, lots of places to explore and lots of great music to listen to.
---
Disclosure: This page generates income for authors based on affiliate relationships with our partners, including Amazon, Google and others.