Make Extra Money Online
by Thom
How to make extra money online
Can you make money online?
I started looking for a passive income in 2007 as the US job market began to tank.  I was looking for work form home opportunities I could do in my spare time, which would generate some additional money per month.  
I landed on the internet, and so I had to start learning about the different aspects of what the internet had to offer and the different ways to make money online. 
Most of the ways to make money on the internet will deal with utilizing Google Adsense on the sites you are working on.  Google Adsense are advertisements put on almost every website and blog.  However, this is a chicken and the egg thing as you need a website to apply to Google Adsense and you need Google Adsense to make some money on the web.
The first thing you must do is get started so you can start learning and start accumulating properties across the internet.  Earning money online is an accumulation task, you don't need to be a technical person, you just need the drive to start.  So get started today by picking one of the ways below and keep trying until you find one that is right for you.
What ways can you make money online
There are a few ways to make money online, through blogs, article writing, and participating on various website.  There are pros and cons to each of these and depending on if you are a creative person or a research and update person there are different options.
When writing articles and blogs, a couple of things to start learning about even before creating your first article is SEO, SERP, keyword optimization, and backlinks. 
SEO or Search Engine Optimization is the utilization of keywords naturally within your text that the search engines, think Bing and Google, will know what your article is about.  
SERP or Search Engine Rank Position is where your page ranks when a keyword is searched.  Typically, the top 10 pages will receive the lion's share of visits.
Keyword Optimization is understanding what keywords are being searched for within your topic.  Google's keyword tool is a great way to look at search terms and provides you with alternatives.
Backlinks are the other websites that are pointing at your website.  Natural backlinks are the best, whereas backlink farms have been recently penalized by Google.
Wizzley for writing articles
Wizzley is an article site that allows you to create a single web page about a topic of your choice.  Wizzley was started by a few people I met from another article writing site which I wlll review in a moment.  I've been writing on Wizzley since May 2011, which was the month the site was launched to the public and believe this is one of the best sites for creating articles which in turm will earn you additional income by utilizing your Adsense, Amazon, and All Posters affiliate accounts, more on these later.  The service makes money by utilizing your affiliate ID's for 50% of the impressions and Wizzley's for the other 50%.  You will also receive 10% of the impressions of anyone signing up under your referral code.
The drawback with Wizzley is that you do need affiliate accounts to make money, so if you don't have these, you need to start your online portfolio and then sign up for the accounts as you will need a web page for the companies to validate your online portfolio.
Wizzley provides what I like to call ongoing income.  If you have popular pages on Wizzley, then they will keep earning you money and each page you make builds on itself.
Sign up for Wizzley today and start writing articles.
Zujava - Another Writing Site
Write about your life and earn some extra money
Zujava is another writing site like Wizzley and Squidoo.  Zujava started in 2012, so it is just starting off, however, like Wizzley, it was founded by a Squidoo veterans.  I started writing on Zujava in January of 2012 when I crated my first Leaf.  A Leaf is the page you create and publish on the platform.  Within your leaf there are many modules and my favorite type of modules for making money like Amazon and eBay, a text module, a you tube video, and a photo module.
As with most writing sites, you get out of it what you put into it.  The more you learn about writing online, the more you will get out of it, and the more money you will make.
Squidoo for Writing Articles
Squidoo is another article site, that allows you to create a single web page which is very similar to Wizzley.  I have my alter ego on Squidoo as Lensmaster Onefootputt. I have created approximately 180 articles (called lenses) on Squidoo since I joined in October 2008.  My portfolio of Squidoo lenses generates approximately $200 per month and during the 2011 holiday season produced upwards of $500 a month (see my earnings in the graph below).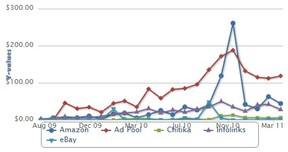 Squidoo splits 50% of the revenue to receives with its lensmasters, so instead of signing up for affiliate accounts, Squidoo has already done this for you and shares with its lensmasters the rewards based on two systems.  First, advertising is put in a pool where lenses are rewarded based on a ranking system within Squidoo called lensrank.  This is getting to be very competitive with over 1 million lenses in existence.  As of April 2011, the top 2000 lenses were receiving about $30 a month, lenses 2000-10,000 were receiveing about $5 per month and lenses 10,000-85,000 were receiving $1 per month. 
You can also receive income when using Squidoo's Amazon and eBay modules.  When a visitor to your lens clicks on one of these modules and buys something, you receive 50% of Squidoo's commission.
Sign up for Squidoo today and start earning money online.
Writing your own Blog
Writing your own blog is probably one of the more lucrative ways of making money on the internet.  You will need to create a blog and places like Blogger and Wordpress make it easy to get started.  However, getting started is the easy part, Wiriting a blog is hard work, I have one blog and have continually run out of things to write about.  Once you have established your blog, then monetizing the blog would be your next step.  You monetize a blog by adding ads and affiliate links.  Google adsense is an easy way to add those ads you see on most websites, where affiliate links through places like Linkshare, Pepperjam, Amazon, Commission Junction, Shareasale, and Google Affiliate Network
Create Lists and Earn Cash
If you like creating lists, then checkout Best Reviewer.  Best Reviewer allows you to create Tep 10 lists, Top 5 lists, or any top lists that you want.  Your earn money with Best Reviewer by having an Adsense account and earn money when people visit your lists.
Join Best Reviewer today and start earning money on the internet.
Using Affiliate Links
Google Adsense, Viglinks, Commission Junction, Linkshare, Google Affiliate Network, and more
Once you start receiving steady traffic to your blog or articles, it is time to put affilliate links or ads onto your site.  Google adsense is by far the most popular way to monetize a website as it provides the people willing to pay per click to go from your site to theirs.  These take the form of an ad which you see all over the internet.
Affilliate sites provide the mechanism to connect with companies to drive traffic to their site via a banner ad or a text link.  These provide a great way to cut out the middle man like Squidoo and receive the full commission.  Amazon runs their own affilliate site, but most companies utilize an intermediary to handle the tracking of links.  When starting off, try to limit the number of different affilliation companies you utilize so that your commissions add up towards the payout.  Spreading yourself too thin means that you end up below the payout threshold on all the sites and that gets frustrating.  I utilize three right now, Commission Junction, Google Affilliate Network (combines its money with Google Adsense), and Linkshare.
Another company I like is Vigilink, this company has taken most of the affilliates and provided access through its link.  Vigilink will take part of the commission, just like Squidoo or Zujava, however, if there is a company that rejected you, this is an alternative.  For example, I had been trying to get into the Macy's affilliate program for a year and finally decided to use Viglink instead.
Answer Questions and Earn Money
Another website I have tried is Webanswers.  Webanswers is a question and answer site which allows you to ask and answer questions and at the same time earn some money utilizing Google Adsense (see a pattern here).  I haven't earned a lot from Webanswers, but I have realized I'm not much of a Q&A guy.
Sign up and try Webanswers today.
More pages to help you learn about the internet
Track your Neighborhood and Earn Some Extra Cash
Another way to earn money I have currently begun playing with is a site called Locationary.  Locationary provides an interface which allows you to track businesses in your neighborhood.  You receive shares and points for everything you enter or update on the site.  Your shares earn money and you can use your points to bid on quarters and nickels, but you'll need a lot of points.
Updated: 03/27/2013, Thom
---
Disclosure: This page generates income for authors based on affiliate relationships with our partners, including Amazon, Google and others.