Easy and Tasty Tomato Cheese Pie Recipe
by bizilady
My mom makes a tomato cheese pie that is a satisfying and tasty dish. Many people confuse this with pizza,but it's not the same.
Tomato Cheese Pie Origins
Immigrants have influenced the eating habits of the American diet today. The "melting pot" of new customs and food items that came to this country gave us our great selection of recipes for every taste and budget. The cheese and tomato pie is one of my favorites.
The origins of the tomato cheese pie seem to originate in the early 1900's when poor Italian immigrants settled in the Philadelphia and Trenton areas. The recipe is not the familiar pizza that we are accustomed to eating today, as it is made from less expensive and readily available ingredients. If you had some tomatoes, and a hunk of cheese, and made a crust, then a tomato cheese pie was a quick and filling meal. When money was tight and there were many mouths to feed, this was the ideal solution.
This is not pizza
poor mans meal
Today this "poor mans" meal can be prepared with many variations, depending on what part of the US you live in. In the Northeast where I grew up, pizza shops are everywhere. True pizza parlors, as we referred to them, required a hot brick oven,that needed to be fired up hours ahead of time. The dry heat made the pie bake quickly and evenly. It also gave it a unique taste.
People will confuse this with a pizza, but it's not. The crust is different and the pie has tomato slices, unlike a pizza that usually has tomato paste and or sauce.
The home version is the tomato cheese pie that my mom still makes today. Her recipe is very tasty and probably the best I've had, if I do say so myself. I know many people make this but I prefer hers.
Tomato Cheese Pie photo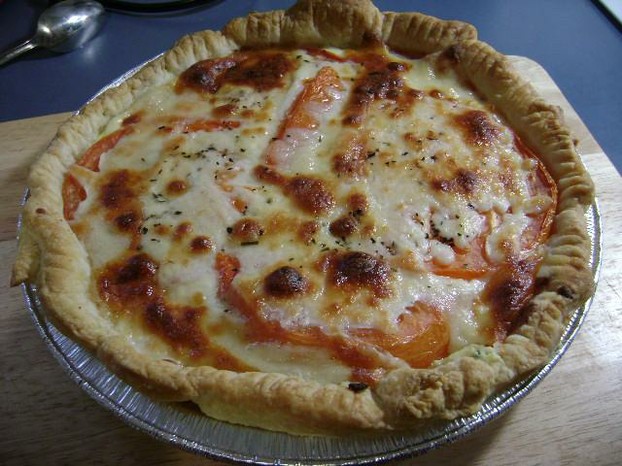 tomato Cheese Pie
Ingredients for making tomato cheese pie
It is important to know that you can't use ricotta cheese - you must have the crumbly ricotta salada cheese or equivalent!
Frozen pie crust thawed 9" and a disposable aluminum pie pan
1 very large ripe tomato cut into 1/4" slices (salt and lay out on paper towels to absorb moisture)
1 medium onion
2 tablespoon butter
2 cloves of garlic
1 teaspoon of dried basil or some fresh basil leaves
tablespoon olive oil
a pinch of salt and pepper
2 oz. ricotta salada crumbled -1/2 cup (Italian market has this)
a cup or two of shredded mozzarella or fresh mozzarella or shredded cheese that you like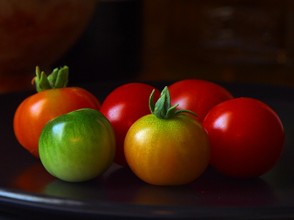 tomatoes green red still life ingredient
Directions for cooking the tomato cheese pie
1.Preheat oven to 400 degrees. Put the pie crust on a cooking sheet- prick bottom with fork and bake 8 minutes. COOL (I never use 400 degrees cause I think that's too hot - try the recipe on the pie crust)
2. Reduce oven temp to 375 degrees while pie crust cools
3. Chop the onion and cook in the melted butter for about 2 minutes
4. Add the garlic and cook another minute. Let it cool down
5. Spread the ricotta salada onto bottom of pie crust with some chopped basil
6. Spread the onion/garlic mixture on top of cheese
7. Place alternate slices of the tomato on top of onions
8. Place mozzarella cheese on top of that
9. Brush the top with olive oil
10. Bake 20-25 minutes. cool and eat. The pie was excellent but don't puff pastry crust!!
No better, quick and easy pie than this to enjoy
Tomatoes and cheese never tasted so good!
So there is the recipe for mom's tomato cheese pie.  Just have a few items such as ripe tomatoes, onions,almost any cheese, a ready made or easy crust and you're good to go!
There are many variations to this dish, such as adding bacon, different cheeses, chopped tomatoes,chopped meat, pork, chicken and so on. The best thing about this dish is that it is versatile. You can make it different each time.
I love to see the cheese brown as it bakes in the oven. The aroma of the basil and onions makes my mouth water. Anyone that wants a quick and easy dish that is satisfying and filling, then this is the one to try!
---
Disclosure: This page generates income for authors based on affiliate relationships with our partners, including Amazon, Google and others.