Plagiarism Definition
by AJ
What is Plagiarism? How do you avoid it?
The Definition of Plagiarism
in the Little Oxford Dictionary
According to the Little Oxford Dictionary, that sits on my desk, to Plagiarize is defined as:
Publish borrowed thoughts as original; steal from thus
The problem nowadays is that with the advent of the World Wide Web, so much information is instantly available in a form that is easy to simply copy and then pass off as one's own. It's not like the days when I was at school, when you had to research your homework using books from the library and then write it out and Heaven help you if you did not rewrite in your own words.
Now, everything you could possibly need is there, available in just a couple of mouse clicks. Copy and past is simple. Copy and paste and content theft is rife.
Why do people plagiarise?
Some of it is deliberate, some of it is in ignorance
With all the information available on the web, it is hard to understand that people can plagiarize in ignorance, but it does happen. New internet users and writers are often under the impression that because content is published and public, then it is there to be copied and pasted into other blogs, pages and websites.
Sometimes the Copyright Infringers think it is OK providing they credit the original author, but it is not.
Others infringe copyright, knowing full well what they are doing and this is blatent theft.
Examples of Plagiarism
What is Content Theft?
Content theft is committed when you take someone else's original work and post it on your site without their permission. As we have already stated, linking to the original source is not good enough. You need permission to reproduce anyone else's work and if you do not get it, then what you are doing is illegal.
Worse still are those who take content and then fail to credit the original source. The work is then assumed to be their's and the so called "author" deliberately presents it as such.
Examples of Plagiarism I have seen include:
Content copied from Wikipedia, where the source has not been credited - it is permissable to copy from Wikipedia, but only providing you link to the original source
Pages full of film reviews copied directly from the International Movie Database
Severe weather disasters, where content has been taken from the leading authority site on the specific topic
Pages about individuals and the content has come from local newspaper reports
Advice about what to do in an emergency - the content lifted from an authority site that deals with that kind of emergency
To be honest the list is endless.
What about pictures?
and photos?
The same rules apply to images as text. Taking photos, pictures, cartoons, drawings etc without the permission of the original owner is also content theft.
And you know, these days, there's really no excuse to steal someone else's pictures. There's so many sites that make images freely available for use, whether they are free pictures without the requirement of attribution, those that do require a simple attribution or those provided by Vendors, who allow you to promote them as affiliates.
The best line to take when checking out pictures for your sites is to assume you CANNOT use them, unless you find something that specifically says you can!
Another way to avoid all the pitfalls of using someone else's pictures is to take your own. This is a picture I use in a series of pages about Keeping Rabbits and is my own (copyrighted) photo, taken with a Nikon Coolpix Digital Camera.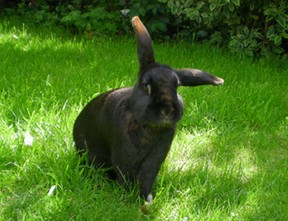 Nikon Coolpix Digital Cameras
Digital Cameras make it easy to take your own photos for your sites
Nikon COOLPIX A10

With the Nikon COOLPIX A10 Digital Camera, creating beautiful memories of your friends and family couldn't be easier-just point and shoot! Easy Auto Mode automatically picks the...

Only $81.99
Nikon COOLPIX L32 Digital Camera with 5x Wide-Angle NIKKOR Zoom Lens

The Nikon Coolpix L32 Digital Camera makes taking great photos and videos a breeze! Want better selfies or photos of friends, family and even pets? Use the Smart Portrait System...

$119.95 $111.99
Nikon COOLPIX B500 Digital Camera (Black)

The Nikon COOLPIX B500 Digital Camera (Black) feels great in your hands, whether you're zooming in with its super telephoto NIKKOR glass lens or recording 1080p Full HD video us...

Only $256.95
Nikon COOLPIX S3700 Digital Camera with 8x Optical Zoom and Built-In Wi-Fi (Silver)

It's hard to believe how much the Nikon Coolpix S3700 Wi-Fi Digital Camera offers. Share exceptional images from the S3700 to a compatible smartphone wirelessly--in a snap, usin...

Only $139.95
Nikon Coolpix L340 Digital Camera

Kit includes:♦ 1) Nikon Coolpix L340 Digital Camera - Factory RefurbishedThe Nikon Coolpix L340 Digital Camera has a superb 28x optical zoom telephoto lens with Vibration Reduct...

$145.46 $129.51
Nikon COOLPIX A900 Digital Camera (Silver)

20MP 1/2.3 BSI CMOS Sensor NIKKOR f/3.4-6.9 ED Lens 24-840mm (35mm Equivalent) 35x Optical Zoom Lens, 70x Dynamic Zoom 3 921k-Dot Tilting LCD UHD 4K Video Recording at 30 fps Bl...

Only $399.95
Sites that offer Free Images
But check out the Terms of Use First!!
AllPosters
AllPosters is a site where by joining as an Affilliate you can use their images in your content. As with any site like this you need to use the HTML supplied by the site to feature the images and you have the added bonus of perhaps making sales.
Amazon
Join Amazon as an Affiliate and then you can use their product images, providing you link to the product on Amazon. This is particularly useful if you want to feature images that are owned by major Corporations who protect their copyright aggressively, like Disney
Clker.com
Royalty free, public domain clip art
flickr
Many images on flickr are made available by the copyright holders. But do check as not all are available for commercial use.
Free Digital Photos.net
A great site offering great photos. Be sure to read the Terms of Use - one is that you credit the site AND the original photographer for all photos you use.
NASA
There's some wonderful images on NASA, that have been released into the Public Domain
Pixabay
All pictures on the Pixabay site are in the Public Domain and free to use without condition, unless the condition is required by law
Wikimedia
Wikimedia has a vast collection of images that are free to use. Be sure to check the Terns that allow you to use these images, particularly those that require you to credit the source and the license that allows you to use them.
Zazzle
You can use images from Zazzle providing you are a Zazzle Associate. You do not need to have your own Zazzle store to sign up as an Associate and not only can you freely link to their images, there's a chance of earning commission too. But be careful to read the Terms and Conditions
What about Coloring Pages?
Take care that you are not plagiarising!
Coloring Pages - this is a topic that is fraught with pitfalls!
Do a Google Search for free coloring pages and you get 24,300,000 pages! There's huge demand for coloring pages on every topic under the sun. And the use of computers and home printers mean that parents can quickly find something to keep the kids happy and quiet.
They just have to choose a topic and hey presto! There's the characters from the latest Disney Movie ready to be printed off and colored in by their adoring fans.
But wait a minute....aren't all Disney images copyrighted to Disney? Yes, they certainly are!
But what about the 8,400,000 pages that are offering Disney coloring pages as free printables? My guess is that at least 8,399,900 are probably illegal, probably more. The only sites that normally have permission to reproduce Coloring Pages depicting Disney Characters are official Disney sites.
It is the same with any Trademarked or Copyrighted character and when you think about it, why would anyone give permission for Joe Bloggs or anyone else to profit from their images that have taken a huge investment to develop?
"Everyone else is doing it" is no excuse and certainly is no defence in a court of law, so probably best not to follow the crowd.
How to avoid Plagiarising
Write everything in your own words
When you are creating content, sometimes you will write "off the top of your head". But other times you will want to research your topic, curate information from various sites online and add your own thoughts.
Any information you glean from your research needs to be re-written in your own words and definitely NOT presented as your own creation. And it is also polite to credit your sources by linking to them, with a clickable HTML link.
After all, they did a lot of work, that has helped you and the least you can do is acknowledge their contribution to your page and give them a Backlink.
---
Disclosure: This page generates income for authors based on affiliate relationships with our partners, including Amazon, Google and others.